Volkswagen Amarok – Driven
When I was a kid I loved playing around with my toy cars. I guess even with the odd dabble into 'conventional sports' it was always going to be just a matter of time before I ended up being back around all things vehicular when I grew up. I've been rather lucky in fact over the years and have been granted the opportunity to drive and ride all varieties of both four and two wheeled things. If it were possible for me to meet my 8 year old self, I think he'd be pretty happy with how things are working out.
But right now, well right now I get to be my eight year old self again. A rather nice person in Volkswagen has given me the adult version of my own Tonka Truck – the new Amarok. As you know VW make a rather widespread range of vehicles, but on the 'business end' of things they have Volkswagen Commercial Vehicles, which is in fact a whole independent entity that manufactures everything from the Golf sized Caddy right up to the enormous long wheel base 'Crafter' van that can, well almost, fit a Caddy inside (there's an idea, but maybe for another day).
The Amarok is actually something fairly new for VW Commercial, as they haven't had anything like it before. It would be easy to say that VW don't have the experience in this commercial jeep/pickup market like the others do, such as Toyota & Nissan. Yet VW have also had the opportunity to come at this with a fresh pair of eyes. After all, these types of vehicles aren't just a form of conveyance, for a lot of owners they're a mobile office where they can spend a large proportion of their day, so the practicalities as well as the performance have to be right.
My tasks therefore would have to reflect just what prospective owner's needs. First up was city centre driving. I don't drive big pickups too often, but when I do I'm reminded just how great it is sitting up high – the difference in terms of field of vision is great. Relatively skinny A-pillars also help in the Amarok. My only gripe when it came to parking was the lack of parking sensors – something I feel is a must in a vehicle of this nature, a really ought to be a standard feature. The manual gearbox was fairly refined but still had a non-car like feel to it, something that is being addressed with the introduction of an automatic option this year.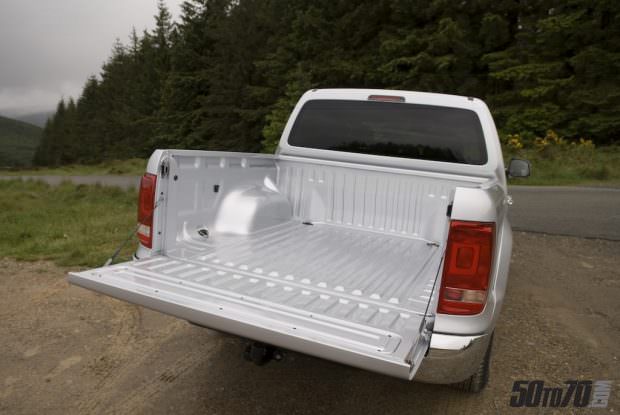 The rest of the cabin is spacious and has lots of useful little storage places and one of the more practical features I liked was a 12v socket on top of the dash, ideal spot for one in order to plug in your phone charger or sat nav while the rear cabin comfortably seats two. At the moment VW don't offer an option to have an extended load deck in place of the rear cab section.
Two engines are currently offered in the Amarok – 2.0 litre diesels which come in 122 bhp & 163 bhp forms, while there are three spec levels; the basic double cab, Trendline and the rather flash Highline.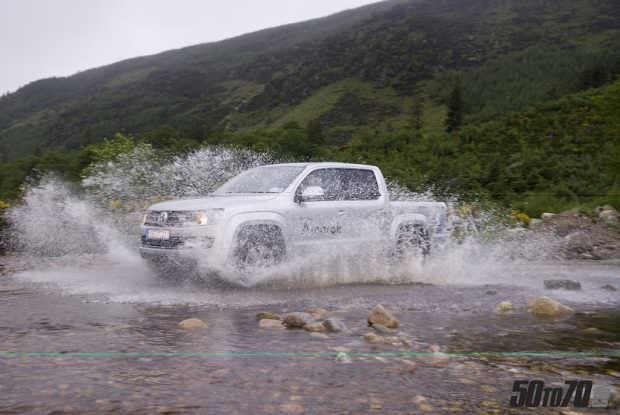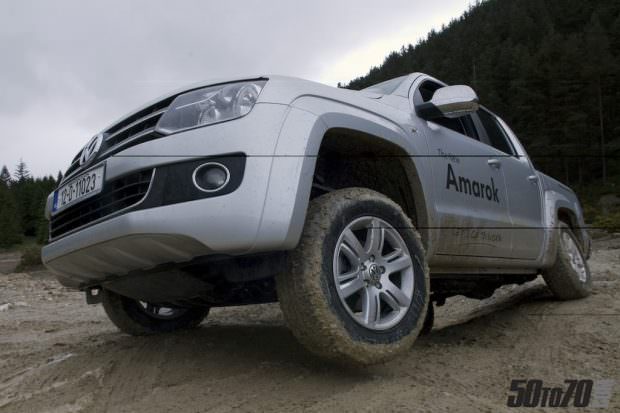 So the second perspective I wanted to look at with the Amarok was its off-road ability. I know many of you will see this as my excuse to go messing around but it is something that I genuinely need to test. Honestly. Since I don't have access to many building sites myself, I decided to go to a place that I know would be ideal to test out the Amarok's skills. The 249mm ground clearance was more than adequate for even some of the trickier obstacles  no problem. Even putting it through some proper articulation wasn't an issue while climbing loose surfaces was simple, something that was made all the more impressive as my test vehicle was on standard road-going tyres.
All messing aside, I did find the Amarok to have a good amount of practicality without feeling too utilitarian. Everything inside it feels pretty solid and it seems like it could cope well with a hard life. Relatively speaking it may be the new kid on the block but I wouldn't let that put you off, its certainly one to look at before you make any kind of decisions.
Test Drive Distance: 271.6kms
Road Tax band: €310 (Commercial)
Price: From €33,290 (€38,710 as tested)
Available: Now
For more images visit our Facebook page here
Got a question? You can tweet Dave – @lordhumphreys
Photos by Stuart Carrick