Spinning The Rear – MotoGP Race Report – Indianapolis
It's time to stock up on twinkies, grab a gallon of Dr. Pepper and rent a copy of Road Trip as we head out in the Winnebago from SoCal for round 11 of the MotoGP 2012 world championship, at the Indianapolis circuit. Indy for short, is famous for the Indy 500 in which people with very fast and powerful F1 style cars turn left for a few hours in order to win some milk.
Surely there is a better way to get your calcium hit? Known as the Brickyard from its historical layout, the MotoGP track does include part of the banking and a tricky and often slippery infield section. It's a track that rewards those with set-up for tractability on exiting the corners.
Qualifying on Saturday was a medical affair. Indy is notorious for an inner section that's more slippy than an eel dipped in grease due to the lack of action it gets throughout the year. First to go flying high was Casey Stoner of Repsol Honda who had an almost 500cc-esque highside, landing heavily on his ankles, tearing ligaments and needing to be stretchered off. Stoner thankfully was relatively ok and was quick to point out the poor carrying technique of the stretcher bearers and the inconsistent resistivity of air. Next up (and then quickly back down) was Ben Spies of Team Yamaha who launched the bike and himself down the T13  banking. A cruel blow, not least as Ben was on what could've been a pole lap. He managed to limp away but the same could not be said for his fellow countryman. Nicky Hayden had a crash that would not have been out of place on a Michael Bay movie. Nicky's southern fried noodle took a heavy hit and he was knocked unconscious. Thankfully he was ok apart from seeing some stars (and stripes!) but would have to sit out the weekend and will now also miss Brno. We here at 50to70.com wish him a speedy recovery. So with that carnage going around pole went to the fast all weekend, short all the time, Dani Pedrosa on the Repsol Honda. He was challenged briefly by Lorenzo, but Jorge had to settle for second ahead of the consistent Andrea Dovizioso on the Tech 3 Monster Yamaha.
With the morphine being dished out, the lights blinked out and the race was on. From the start it was the tough as nails Texan, Spies, sweeping round the outside of Ped-Bot on Turn 1. The stands erupted as Spies battled through the pain and the recent news he is to leave Yamaha by leading the pack around for lap 1. However the brickyard in true Yankee doodle fashion has a huge straightaway, and behind the super-sized Spies the happy meal-size Pedrosa was able to draft by for the lead. That should have been a podium for Spies but being about as lucky as a blind person at a Victoria's Secret backstage party, his Yamaha blew up on the home straight sending its internals, and Ben's chance of a strong points finish up in smoke. This gifted second to Lorenzo who was unable to reel in his compatriot partly due to the hilarious riding of wild-card Steve Rapp who blissfully ignored all the blue flags for an entire lap to hold up Lorenzo.
With the top 2 positions settled it was a mammoth battle between the usual suspects of Cal Crutchlow and Dovi on the Tech 3 Yamahas. Joining the party was the Honda satellite riders of Alvaro Bautista and Stefan Bradl. As the 4 riders battled it out it was the Clinica Mobile refugee Casey Stoner, who amazingly was riding and scrapping it out with the guys lap after lap with torn ankle ligaments. Stoner managed to claw his way over the gaggle to rise to 3rd position. But the fairy tale podium and the points that went with it were to be claimed by his ex-team mate Dovi who yet again parked himself on the podium in the dying stages on the race. With his seat gone at the factory Yamaha squad performances like that, it looks very likely that he'll be joining his olive oil brothers at Ducati.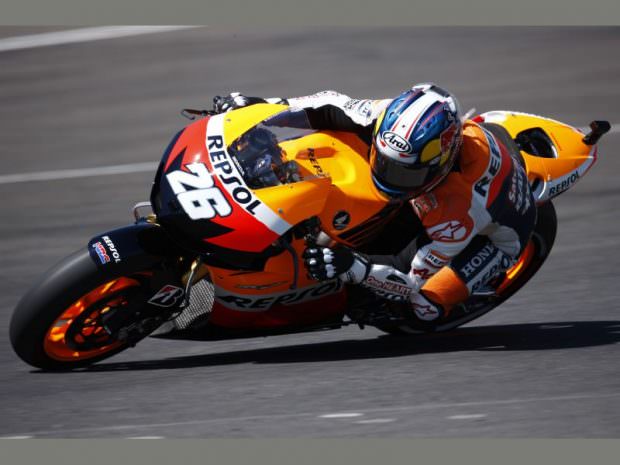 At the CRT end of the field Randy De Puniet on the Power Electronics Aspar looked like he was on his way when his clutch let go and with his team mate Espargaro looking very average it was twilight zone time (and I mean cool 80's TV series, not moping teenage vampire series). Part time GP racer, and full time clown, Yonny Hernandez managed to claim 9th and his first CRT win. Famous for being mostly upside down, its with great joy 50to70.com's favourite rider hits the top step.
Rider of the race goes to Casey Stoner who through gritted teeth, managed to complain about sycamore trees, frown deeply at the country of Brazil, all the while grabbing forth with his leg basically taped together. An incredible job.
Winners and Losers
Dani Pedrosa
He may not be the tallest even on the top step of the podium, but he hauled in the 25 points. With ill-luck hitting Stoner and Jorge Lorenzo looking not so spectacular his title race is firmly back on track. Can the skittle of MotoGP take it all the way?
Ben Spies
First dropped by Yamaha then accused of not giving his all at every race, Spies gave 110% only for the Yamaha to give out. With the most horrid run of luck continuing for the Texan, his 2012 season has been crueller than looking at Max Biaggi's hair weave.
Next up is the haul back to Europe, and the Brno race track. See you there.
JohnnyC