Volkswagen Cross Polo – Driven
Many years ago most car manufacturers had very simple and straight forward model ranges. You had small cars, medium cars, large cars and maybe 'something else', but that was pretty much it. If they were mainstream brands their model range was assembled in order of price point while a premium brand often (and still does in many respects) mirrored your position on the corporate ladder.
But more recently technological and marketing advancements have led to the creation of much more varied model ranges that are now very diverse. Volkswagen are one company that relatively speaking have kept this kind of thing under control. There hasn't quite been a model 'explosion' that some brands have set off but the makers of 'the people's car' are breeding some more diversity into their already very established and identifiable range.
One of their newest family additions is the Cross Polo. So what is it exactly, apart from an excuse for automotive journo's to rename it 'The Angry Mint'? Well the Cross Polo is the ideal candidate for anyone that wants something genuinely different in the looks department but doesn't want to go down the route of say a small SUV.
Designed as a breakaway from the standard Polo, the Cross Polo is clearly aimed to appeal to the outdoor / extreme sports junkie that wants to stand out from the crowd a little bit more. And Volkswagen have certainly succeeded at doing just that. My 'Reflex Silver' Cross Polo is dressed with beefed up black wheel arch extensions and rides on the standard 17" Budapest alloys which honestly look great. Ground clearance is increased by just 15mm but this gives it a very different and positive stance on the road.
Other standard features on the Cross Polo include climatic air conditioning, electric windows front and rear, ESP, ABS, front fogs and sports seats with a mesh like covering that is a comfortable as they are cool looking. You also get anodised roof rails (for your extreme sports equipment), beefed up bumpers and Hill Hold Control to help when you're presumably driving to the extreme locations where you partake in your extreme sports.
My test car was the 1.2 litre TDI diesel which despite its frugalness left me, shall we say, wanting more from the engine room. Despite its ability to merely sip tiny amounts of diesel I found the noise and lack of refinement to be a disappointment in what is overall a rather well appointed car. There is also a 1.2 petrol engine which I can imagine will offer a more pleasant driving experience.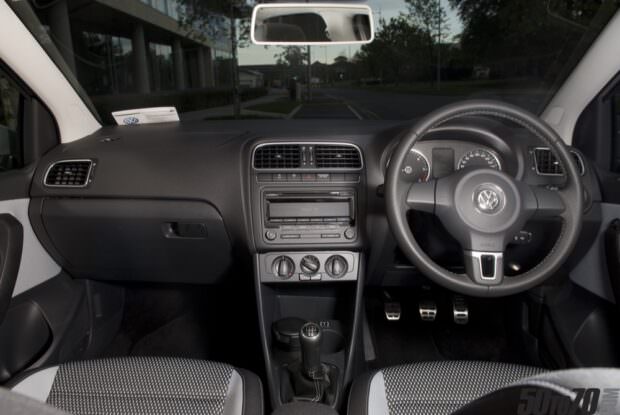 Inside, the cabin is virtually identical to what you will find in the standard Polo and this is no bad things. As you'd expect from German engineering the quality, feel and ergonomics are all above par and you do get the impression that this is a car that will wear the years of ownership well. Mine was also kitted out with the Ride Comfort Pack which included cruise control, parking sensors and a flat tyre indicator (well, you might get a flat when out in some extreme environments).
The Cross Polo isn't going to be for everyone, I can personally see how its looks can divide opinion. Me? Well I'd actually much rather have a Cross Polo over a standard Polo and with an engine that drinks from the green taps I think it would make a great alternative to conforming with the norm.
Test Drive Distance: 314.5kms
Road Tax band: €160
Price: From €18,835 (€19,730 as tested)
Available: Now
For more images visit our Facebook page here
Got a question? You can tweet Dave – @lordhumphreys
Photography : Stuart Carrick