Bentley Bacalar inspires private jet and helicopter
Gulfstream G650 private jet and Sikorsky S-76 helicopter given the Bentley Bacalar treatment inside.
If you're on the way to the nearest private aviation terminal in your gorgeous Bentley Bacalar convertible, you may want to be transported in similar luxury when you get airborne. Most aircraft have pretty horrid interiors. Can you imagine hopping from Bacalar to Ryanair 737? All those nasty blue vinyl seats? Bleurgh.
So, helpfully for the handful of stupidly rich people who can afford all three, Bentley has been working with one of its wealthy customers, who happens to own both a Bacalar and the private aviation company, Flexjet.
Ken Ricci, the cash-heavy person in question, has been a Bentley customer for over a decade and has had more than a few bespoke B-badged cars. Now that he's got a Bacalar too, Ricci worked with Bentley's customisation department, Mulliner (named for a famous coach-builder that once made bodies for Bentley) to create bespoke Bacalar-inspired interiors for his swanky sky-bound transports — a Gulfstream G650 and a Sikorsky S-76 helicopter.
Usually, Flexjet's colours are white with a red-gold chameleon contrast, but because Ricci's Bacalar is finished in a deep mint-green, appropriately called Julep, that was the colour that had to go on the outside of the aircraft.
Inside, both the Gulfstream and the Sikorsky seats are finished in the same copperhead shape and basket weave stitching on the Linen and Beluga leather as the Bacalar. The wood in the aircraft is the same 5,000-year-old reclaimed riverwood used in the car, and there are Satin Bacalar Bronze fittings too. Even the carpets get Bentley's signature diamond pattern weave and stitching.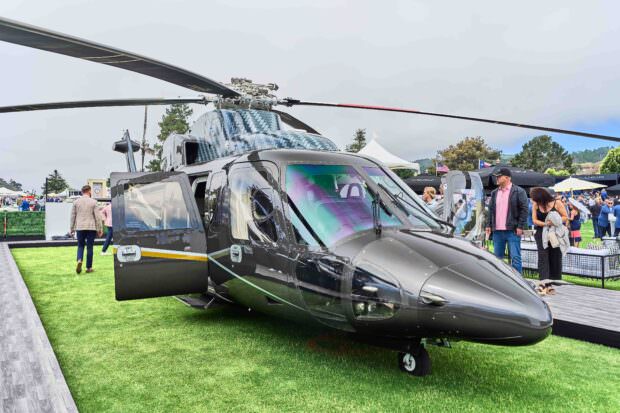 The Gulfstream has just had its first touchdown at the Farnborough private air terminal outside London. It was met on the tarmac by the first and original Bacalar – the development car known as Car Zero, as Mr Ricci's own Bacalar is still being hand-finished. The Sikorsky helicopter is in the US and made its public debut at The Quail, part of Monterey Car Week, in August this year.
Ricci's own Bacalar is also getting the Julep paint and customised tri-colour 22-inch wheels in dark grey satin with polished faces and Arctica highlights. The centres of the headlamps were colour matched to the Satin Bronze exterior brightware that can be seen on the waistrails and edging the Satin Carbon rear deck. The bonnet vents provide a visual accent, also being finished in satin carbon fibre, as were the wing mirrors. Satin carbon fibre also defines the 'power humps' behind the front seats, side skirts and rear diffuser. Exhaust finishers with Satin Bronze outers and matte black inners complete the look of the rear of the car.
Inside, there's a white and black cabin with Bacalar bronze accents and that Riverwood open-pore trim. Mulliner prides itself on the almost infinite amount of personalisation that a customer can undertake with a car like the Bacalar. "Uniquely designed details and features in the Bacalar's cabin emphasise the coachbuilt character of the car, with an almost infinite number of ways for customers to express their personal taste and commission a unique interior. From the use of precious inlays, unique finishes to the driver controls, to the 148,199 individual stitches needed to embroider the unique Bacalar quilt on each seat – the specification of every Bentley is a voyage of discovery, with even a 'standard' model being configurable in literally billions of ways."
And now, you don't need to leave it all on the ground. Come fly with me, indeed. Or at least, fly with Ken Ricci…