The Volkswagen Group Gen.Travel previews autonomous future 
The Gen.Travel is a design study from the Volkswagen Group exploring the future of Level 5 autonomous driving.
You're looking at the Volkswagen Group's vision of the future of autonomous travel. It's called the Gen.Travel, and it's a design study that will make its debut at the 2022 Chantilly Arts & Elegance event outside Paris.
There are a lot of interesting aspects to this concept car, one of which being that it is from the Volkswagen Group rather than any one particular brand. According to the official announcement, it is a real prototype vehicle that drives autonomously at Level 5. Its designers call it an Innovation Experience Vehicle (IEV); unsurprisingly, it's fully electric.
So what's the purpose of the Gen.Travel?
It's to give a realistic look at the future of mobility in the coming decade and previews how mobility-as-a-service might work. Volkswagen Group even goes so far as to say that it could be a sustainable alternative to short-haul flights.
According to Dr. Nikolai Ardey, Head of Volkswagen Group Innovation, "In the group-wide Volkswagen Innovation Research department, we are further advancing this idea, showing how our customers will be able to experience mobility in the future — for example, as a service. With Gen.Travel, we can already experience today what will be possible in the near future with innovative technology. Door-to-door travel at a new level. Emission-free and stress-free."
With Gen.Travel capable of doing all of the driving, it leaves its passengers to do other things from working to sleeping. The Volkswagen Group's Head of Design, Klaus Zyciora, explains: "The Gen.Travel offers us a glimpse of the travel of the future. It shows us what autonomous driving will look like in the future. The Gen.Travel embodies the visionary design of beyond tomorrow for the mobility of tomorrow. Efficient shaping characterises the extremely distinctive design. Thus, in an age of technical perfection and virtually unlimited possibilities, 'form follows function' becomes 'form follows freedom'. The automobile will not only be better, but also more exciting than ever before."
The exterior look is like nothing we've seen from the Volkswagen Group and is quite different from the SEDRIC concept shown in 2018. That also previewed a Level 5 autonomous vehicle, but it's clear how much the design has now moved on. The Gen.Travel is divided into two parts, with a vast glasshouse on top that maximises the view of the world as it goes by. In sections, this glass area drops to waist level.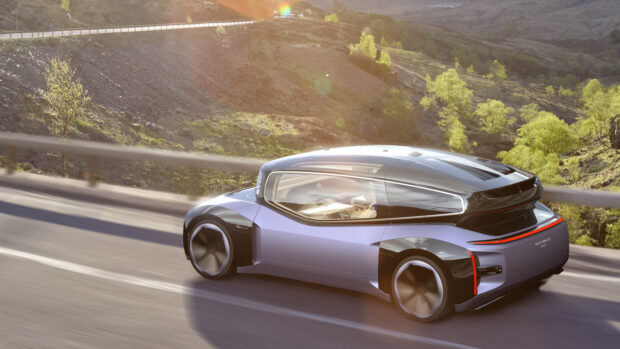 Large wing doors provide easy access to the cabin, which can be tailored to suit each journey as part of that Mobility-as-a-service offering. All surfaces inside are produced from sustainable materials mixed with either natural or recycled materials.
Those travelling for business can pre-order the versatile interior to be set up with four seats around a large table in the centre of the cabin. Ensuring that motion sickness isn't an issue when people are working on a screen, the Gen.Travel is equipped with dynamic lighting to create a nicer environment.
In other situations when passengers are taking much longer journeys, possibly overnight, the cabin can allow for the conversion of two seats into beds that fold out into a flat position, similar to what can be found in an airplane's business class. A specially developed restraint system ensures that passengers are kept safe even when lying down. The lighting system inside the Gen.Travel can also influence melatonin production to help passengers fall asleep more easily and wake up naturally.
For those with younger children, an augmented reality head-up display can keep the little ones entertained. That suggests that the Gen.Travel could also be used as a private shuttle to collect children from school or creche when parents cannot do so.
The Gen.Travel uses an active suspension setup with an eABC (electric Active Body Control) system. Powered by Artificial Intelligence, it can calculate vehicle movements in the lateral and vertical axes caused by acceleration, braking and corning before they occur and adjust the suspension at each corner to compensate. One other feature of the Gen.Travel is that it is capable of platooning, whereby several fully autonomous vehicles drive in close convoy to increase the driving range over longer journeys.