Design sketches preview new Honda Hornet
All-new Hornet set to debut later this year.
The Honda Hornet is a name that many will recall, and now it is set to be revived later this year with an all-new naked model. At the 2021 EICMA show, Honda announced that the Hornet name was to return, and new design sketches add more flesh to the bones, hinting at a model that will have quite an angular look.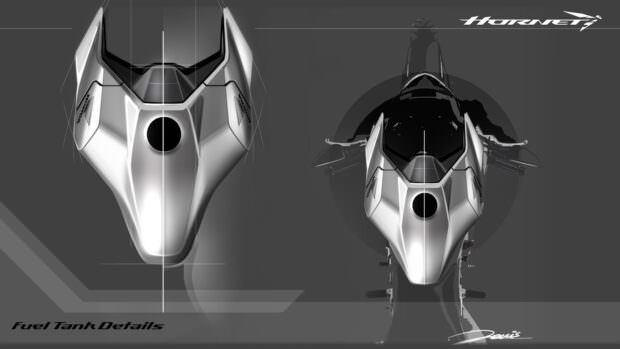 It is yet another model to come as the result of a collaboration between the European Research & Development Centres in Italy and Japan. Based in Rome, the office has already crafted the look of the CB650R, X-ADV and the CRF1100L Africa Twin.
The designer responsible for the new Honda Hornet is Giovanni Dovis. As part of the team working out of Honda's European R&D Centre in Italy, Dovis recently styled the ADV350. Revealing the latest design sketches for the Hornet, he said: "Honda's design philosophy is to create something pure and functional in an uncomplicated way – models which are both beautifully simple and emotionally appealing. The sketches show how the Hornet design concept promises agility, dynamism and light weight thanks to its slim proportions, pointy tail section and super-sharp lines. It creates a new compactly proportioned look, and has hallmarks of tension and aggression from front to back, outlining the Hornet's true sporting purpose."