The MINI Electric Pacesetter is the new Formula E Safety Car
MINI Electric Pacesetter takes over as Formula E Safety Car as the BMW i8 retires and could preview a new EV hot hatch.
There's a new Formula E Safety Car in town and it's called the MINI Electric Pacesetter. It replaces the BMW i8 as that model is no longer in series production. With MINI beginning its transition to an all-electric brand, not to mention its familiarity with fans on the city streets where most Formula E races occur, it seems like a perfect match.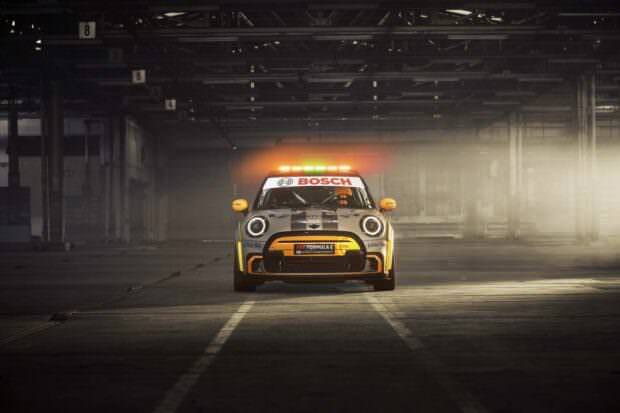 The car began its life as a regular MINI Cooper SE and involved teams from MINI Design, BMW Motorsport, FIA and Formula E. There is a more performance-themed look with prominent wheel arches on the MINI Electric Pacesetter's exterior to accommodate the car's 10mm track width increase and a more complex front bumper with splitters on either side.
A raft of changes on the inside ensures that it meets all the correct criteria as a Safety Car and serves as a suitable office for its driver, Bruno Correia. Around 130kg has been removed from the standard car, giving it a kerb weight of 1,230kg. Along with removing the rear seats, there is a welded-in roll cage and a new centre console made from carbon fibre. This unique unit is home to all of the bespoke controls that the Safety Car needs, including the roof lights.
That new roof unit integrates the Safety Car lights that the drivers following keep an eye on and includes a rear wing similar to that on the MINI GP. This item was 3D printed at the MINI factory in Oxford.
The powertrain remains the same, but performance increases due to the weight reduction, making it faster when accelerating to 100km/h by more than half a second. Suspension revisions include race-spec coilovers with three-way adjustment for rebound, compression, height and camber. The brakes are swapped in from the MINI GP road car, and it runs 245/40 R18 Michelin Pilot Sport tyres, just like the Formula E race cars.
"We have already shown how well driving fun and electric mobility go together with the MINI Electric," says Bernd Körber, Head of MINI. "However, the MINI Electric Pacesetter inspired by JCW goes at least a step further and blends the performance character of the John Cooper Works brand with electric mobility. This extreme version of the MINI Electric has been developed as the Safety Car in Formula E, so it is clearly not intended for use on public roads. But it does reveal one of the directions we could take with the electrification of the JCW brand. For me, the message is clear: electrification and John Cooper Works are a good fit."
We've already seen that MINI is considering an electric version of its most potent hatch. This will add to that story and hopefully ensure it's viability as a production model in the near future.