GTO engineering plans new 'Moderna' based on the 250 GTO
Ferrari recreation specialist say Moderna project is inspired by classic sixties racer.
So, let's say you fancy a Ferrari 250 GTO (and who wouldn't?) but lack the requisite €45-million or so, can turn to Ferrari engineering and restoration specialists GTO engineering. Last year, GTO launched a line of re-creation 250 SWB Revivals (based on the heartbreakingly gorgeous racer that came before the 250 GTO). These cars, which used the chassis numbers of crashed or written-off Ferrari donor cars, were essentially ground-up recreations of the original sixties cars, with each part carefully hand-made from original drawings.
Mind you, GTO also offered discreet modifications, including larger, more powerful versions of the V12 engine, and such modern niceties as USB charging points in the cabin. While a 'real' Ferrari 250 SWB would need a significant Euromillions win to fund its purchase, a Revival would set you back a mere Lotto win — they started at around STG£850,000 before options. 
Now, GTO is taking a second swing at the whole Revival thing, with a project that it's calling 'Moderna.' While the Moderna will look every inch the classic sixties sports-racer, it won't be a like-for-like recreation. GTO looks to be adding its own stylistic spin on things, creating what looks — from these initial sketches — like a half-way house between a 250 SWB and a 250 GTO. 
The Moderna will utilise lightweight materials
Underneath, the Moderna will use a spaceframe chassis with aluminium subframes, and a smattering of carbon-fibre to help keep the weight down to under 1,000kg. F1-grade carbon will be used for much of the body structure, although the doors and bonnet will be aluminium to preserve a more historic feel.
While the looks and feel will be classical, GTO says that it will incorporate modern racing know-how into the car. These features will include all-independent suspension (original sixties Ferraris used live axles at the back) and bigger wheels to be able to fit big, meaty brakes behind them.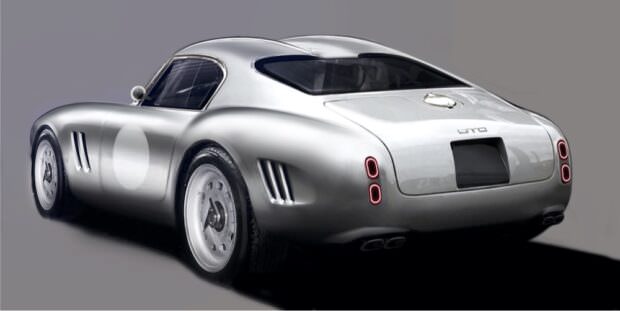 "It's exciting to finally talk about our new project – a car that we've been discussing, sketching, specifying and honing for some time. Now it's in development and we're working alongside some incredible technical partners, we're ready to lift the cover off the design renderings and initial sketches and explain the fundamentals of what makes this new car tick, explains GTO Engineering Managing Director Mark Lyon.
"We've learnt from building the 250 SWB Revival, and working on a range of Ferraris, that a car's weight and engine are two of the key ingredients to make a good sports car. So, we knew that this car should be under a tonne and powered by a quad-cam V12 – an engine format we are familiar with and developing in-house.
"To accomplish the desired light weight, carbon fibre will be used, which obviously wasn't available in the Sixties but a composite we will utilise alongside other materials. For example, the doors and bonnet feel and 'weight' when you open them, was something we knew we wanted to keep and that's why they'll be made in aluminium – they'll be lightweight but still give that 'reassuring' close and feel of a classic when the driver or passenger gets in and out, as well as opening and closing the bonnet."
Style-wise, the Moderna will get a 'double-bubble' roof, and the vents on the bonnet and side panels will be there for functional cooling reasons, not just for show. Items such as the lights, front and rear, and the exhaust will look period but will be updated with modern material and electronics to make them more reliable. With each car being built from scratch by hand, you'll be able to specify them any way you like, with the option to adjust major components such as suspension and gearbox.
GTO hasn't said anything specific about a price, yet, but taking the 250 SWB Revival's price as a baseline, you can safely expect the Moderna's tag to peep above the STG£1-million mark. And that's before you start on the bespoke options.
Right, down to the shops to buy some Lotto tickets, so…