Eye-watering new Fluo Capsule colours for Lambo Huracan
New 'Fluo Capsule' paint options for the atomic doorstop.
Let's assume, just for a moment, that you're not the sort of person whom your friends would describe as 'shy and retiring.' I'm going to take a wild guess that your shirts are from Dolce & Gabanna and the top three buttons are never done up. Your left wrist feels naked unless there's a solid-gold Rolex wrapped around it. Your feet never feel quite right unless you can feel the Gucci tag of your loafers brushing against your sock-less ankle. To match all of that, you're going to need the right car with the right colour options. Step right this way, sir or madam.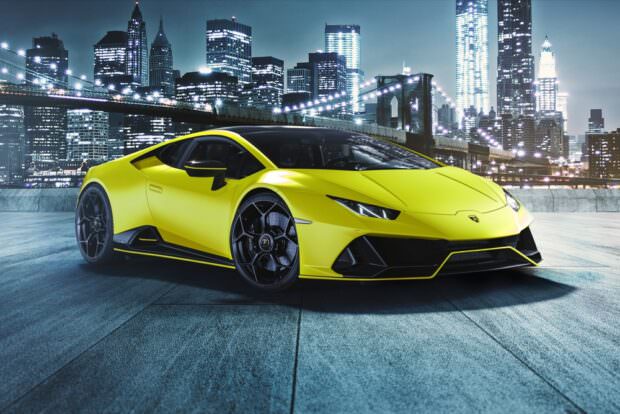 Lamborghini has just released a new set of colours for the V10-powered Huracan Evo. They're called 'Fluo Capsule', and we think that they're absolutely perfect for the sort of colossal bellend described above.
Lamborghini says that the new Fluo Capsule colours allow the Huracan to "adopt a striking exterior bicolour scheme that animates the car's dynamism and underscores its presence on the road." Not that we'd noticed the Huracan struggling to do so before, but in for a penny…
The five exterior and interior configurations include Verde Shock (green), Arancio Livrea (orange), Celeste Fedra (blue), Arancio Dac (also orange) and Giallo Clarus (yellow). All are combined with a matt black roof, front bumper and side skirts which get little highlight pinstripes picked out in the body colour. Lamborghini says that this lends "the car a sporty yet glamorous personality" which to be honest we thought it had already.
In the full-black interior, new sports seats are available instead of the standard comfort seats, in Alcantara or leather 'unicolour' with an 'EVO Sportivo' trim. The Start & Stop button cover and the Lamborghini shield embroidered on the headrest are finished in one of the five new fluorescent colours matching the exterior tones. The result, says Lambo, "is a highly technical interplay of contrasts, unlocking the expression of those who dare to be different in a young and stylish piece of street art."
We'll just have ours in metallic grey, thanks.