Five-banger engine for Audi RS Q3 Sportback
The Audi RS Q3 Sportback adds a niche within a niche in the company's SUV lineup, but we don't mind since it's getting that excellent five-cylinder engine.
If you thought that the regular Audi Q3 wasn't quite sporty enough, then you weren't alone. Audi also felt the same, leading to the creation of the Q3 Sportback. Dropping a more coupe-like roofline onto the company's junior SUV makes for a reasonably appealing design. Now it's about to get more desirable with the introduction of a 400hp RS version.
In usual RS fashion, this version gets beefier styling with larger intakes on the lower corners of the front bumper and a gloss black singleframe grille. Adding to the visual presence are wheel arches that are flared by 10mm. Audi fits all RS Q3 Sportbacks with LED headlights, and buyers can specify the more advanced Matrix LED units that include dynamic indicators. If you desire, darker trims that are specific to RS models are optionally available. The taillights at the rear also get the LED treatment. There are eight exterior paint options to choose, including exclusive Nardo Grey and Kyalami Green. And that's before you start getting into the more expensive Audi Exclusive range.
Inside, there's a blend of practical features and upgraded materials. Sports seats are finished in black leather and Alcantara upholstery with RS embossing. Just like in the latest RS 6 and RS 7 Sportback models, the RS Q3 Sportback gets two dedicated RS modes. The RS1 and RS2 buttons on the steering wheel means the driver can take a shortcut to preset configurations. In the rear, the bench seat can slide fore and aft by up to 130 millimetres to either benefit legroom or boost cargo space. Each of the three rear backrests can be adjusted in seven stages. Boot capacity is 530 litres and can increase to 1,400 litres.
By far the most appealing aspect of the RS Q3 Sportback is the inclusion of that epic 2.5-litre turbocharged five-cylinder engine. It had been temporarily placed on the sidelines while Audi wrestled with getting it up to spec to pass the latest emissions regulations before returning this year with the updated RS 3.
Maximum power is 400hp, with peak torque rated at 480Nm and spread generously between 1,950- and 5,850rpm. Add to that Audi's quattro all-wheel drive transmission with a seven-speed S tronic gearbox, and you have an SUV that can rattle off a 0-100km/h dash in 4.5 seconds. As standard, the car's top speed is electronically limited to 250km/h, though buyers can optionally have this increased to 280km/h.
In comparison to the regular Q3 Sportback, the RS version sits 10mm lower on its sports suspension. It features a 1,590mm front track width that uses a MacPherson design with lower wishbones. A four-link arrangement on the rear provides a 1,583mm track width. The RS Q3 Sportback rides on 20-inch wheels as standard with the option of 21-inch rims. It gets drilled 375mm steel discs up front, gripped by new six-piston callipers, with the rear running 310mm discs.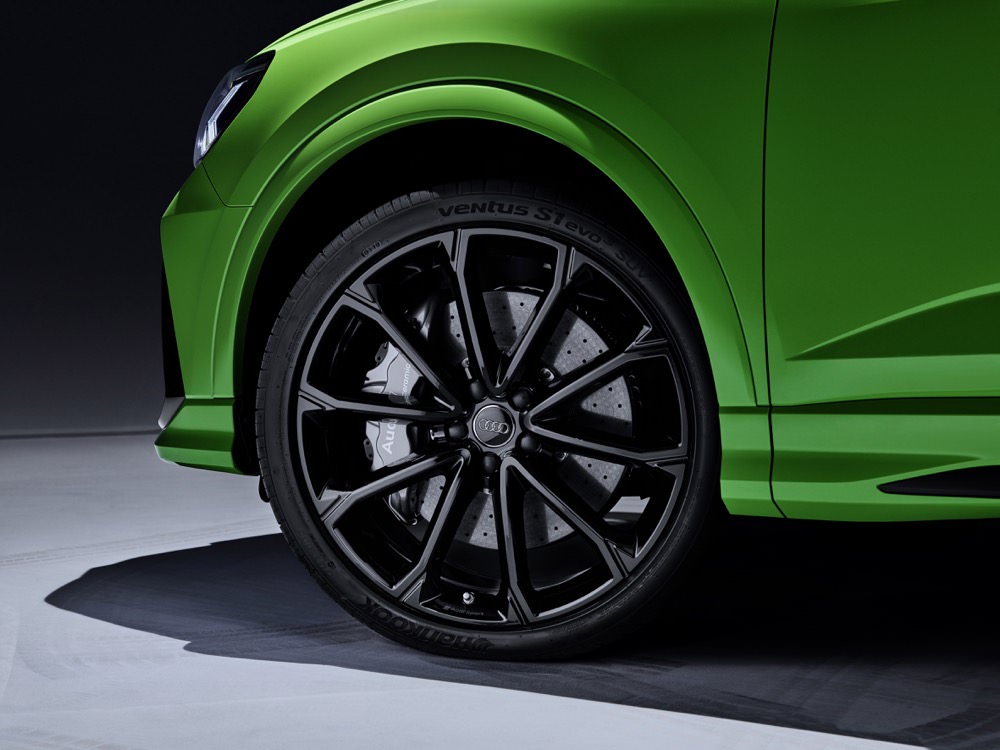 The regular Audi Q3 Sportback was a sportier number, and now this RS version delivers the performance punch to match.