New Honda Africa Twin debuts
The Honda Africa Twin is getting a comprehensive update for the 2020 model year. Among the developments are 21 new patent applications. Updates to the engine and chassis should make it even better to ride. Power and torque increase and there are new ride modes that are helped by a six-axis IMU.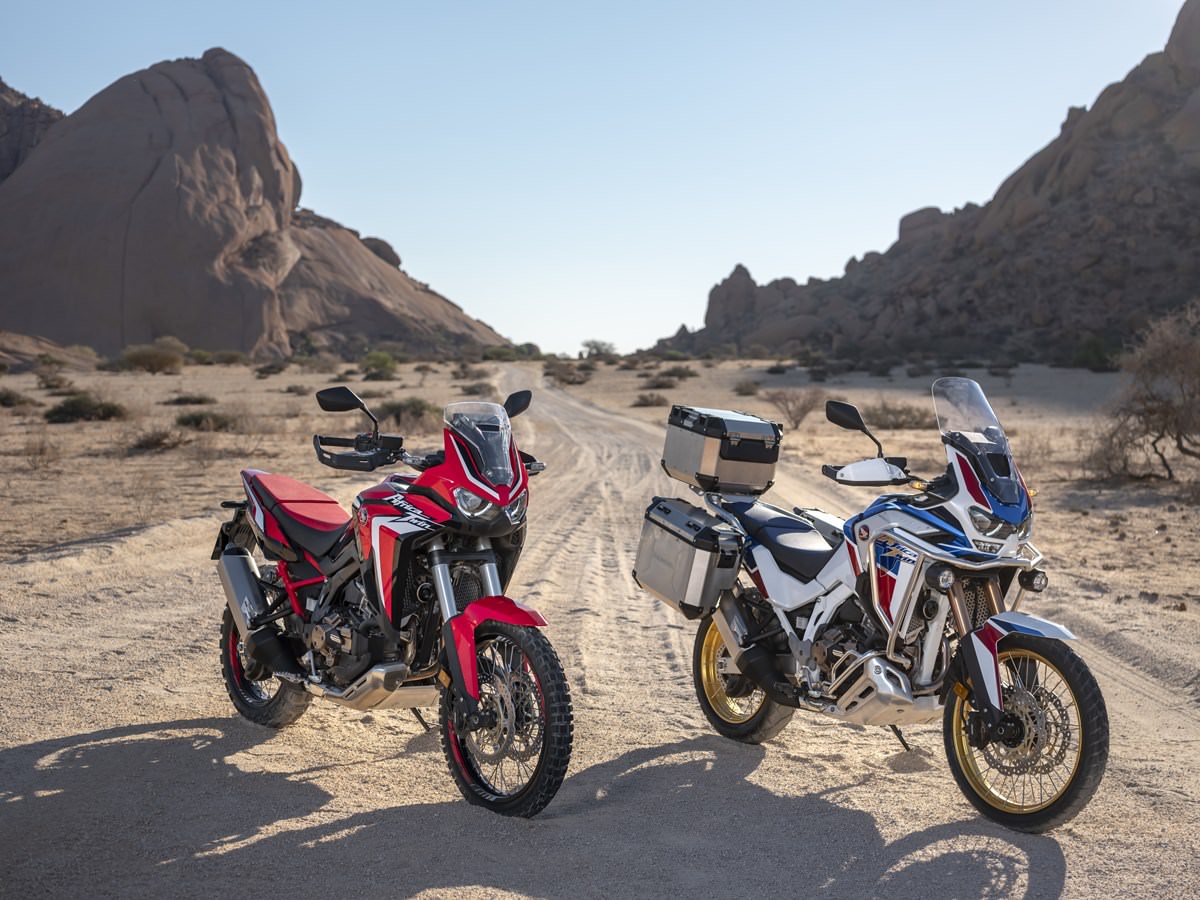 Updated engine and chassis
Engine capacity for the Africa Twin increases from 998cc to 1,084cc. New internals includes revisions to the valve lift, a new exhaust control valve and aluminium cylinder sleeves. These contribute to a 7 per cent power increase to 75kW at 7,500rpm. Torque output also rises by 6 per cent to 105Nm at 6,250rpm. The engine also conforms to the latest Euro5 emissions regulations that come into effect in 2020.
The ride-by-wire throttle works alongside a new six-axis IMU and Honda's Selectable Torque Control. There are several rider assistance systems including Cruise Control, Cornering ABS, Rear Lift Control and Emergency Stop Signals. A total of six ride modes are selectable including preset Urban, Tour, Gravel and Off-road. In each of these modes, the power output, rate of engine braking and ABS tuning are altered to suit the riding style. Additionally, there are two customisable modes available.
The bike gains a new frame design that holds the engine, while the aluminium subframe bolts on rather than being welded. That could be useful if you happen to have a big one off-roading and need to replace it. That off-road influence extends to the new swingarm that draws design cues from the CRF405R motocross model, and Honda claims it improves traction and gives the rider a better feel. The frame now weighs 1.8kg less than previously, while the swingarm alone saves 500g.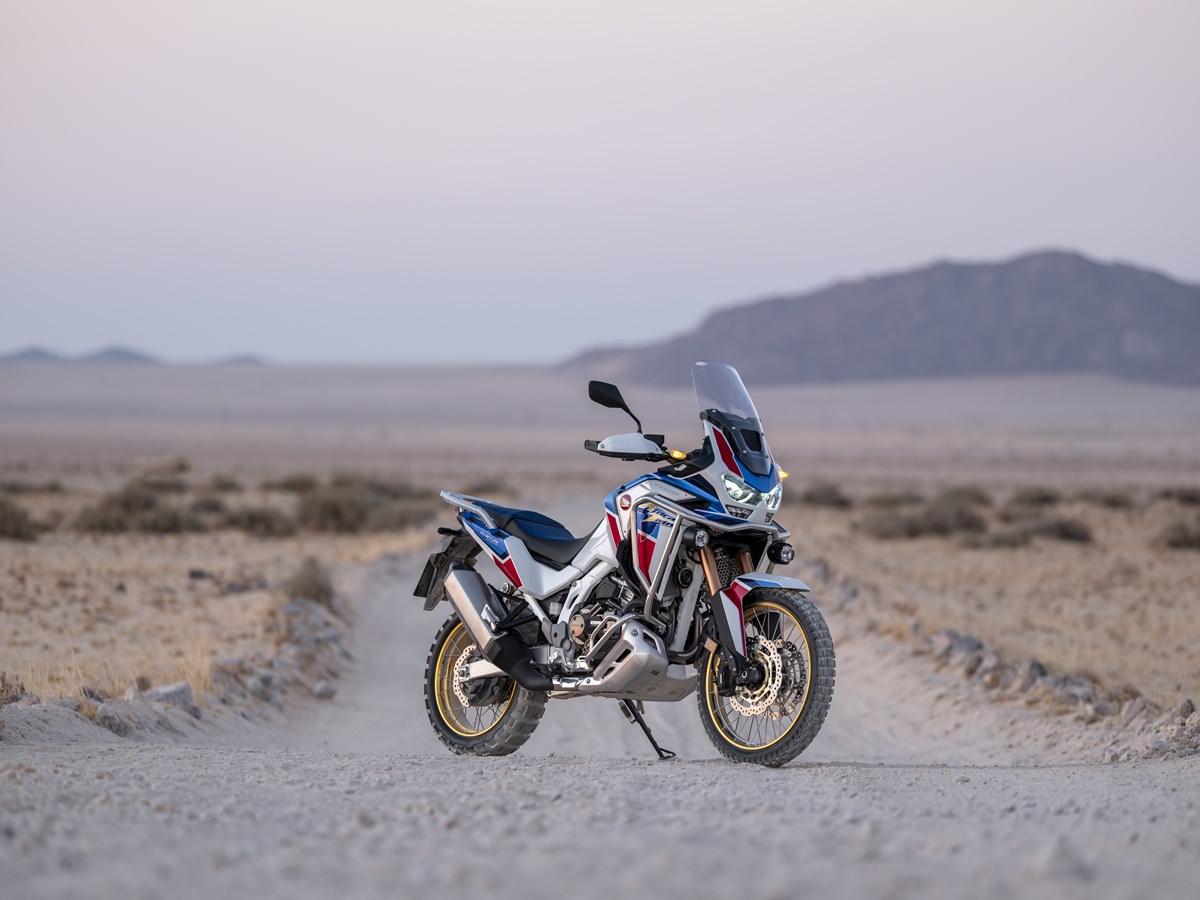 DCT remains
According to Honda, more than 100,000 people have opted for the automatic DCT transmission in Europe since its introduction on the VRF1200F in 2009. Surprisingly, almost half of all Africa Twin models sold have the DCT option. On the Africa Twin, the system dials into the IMU to enable a cornering detect function to provide more natural shift patterns in its full-auto modes.
New touchscreen display
All 2020 Honda Africa Twin models will feature a 6.5-inch TFT touchscreen display as standard. This screen offers numerous display options, all of which can be tailored to the rider's preferences. Additionally, this display screen can also run Apple CarPlay, making it useful for running Google Maps. We do wonder just how easy it will be to use this touchscreen with gloves on, but taking Honda's images at its word, it appears as though the touchscreen is designed to work with them.
Honda CRF1100L Africa Twin Adventure Sports
Sticking it to the BMW R 1250 GS Adventure, the Honda Africa Twin Adventure Sports adds further globe-trotting ability. A larger 24.8-litre fuel tank should be good for a riding range in excess of 500 kilometres. Along with the bigger tank, the bike benefits from a wider front fairing and an adjustable screen that has five settings. Honda also fits heated handlebar grips as a standard feature.
Other tech features include three-stage cornering lights. These work in conjunction with the Showa Electronically Equipped Ride Adjustment (EERA) suspension, so when the bike leans in a bend, the powerful headlights create a wide spread of light for increased visibility.
That Showa EERA system offers four preset modes and uses a six-axis IMU and balance-free valve tech in the front forks to provide a smooth and compliant setup. It includes adjustment on the move and has three preload settings for the rear. With off-roading in focus, the Africa Twin Adventure Sports slimmer seat is now 50mm lower than before, with a seat height of 900-920mm, bringing it into line with the standard bike. A low seat option is also available that can go down to 825mm.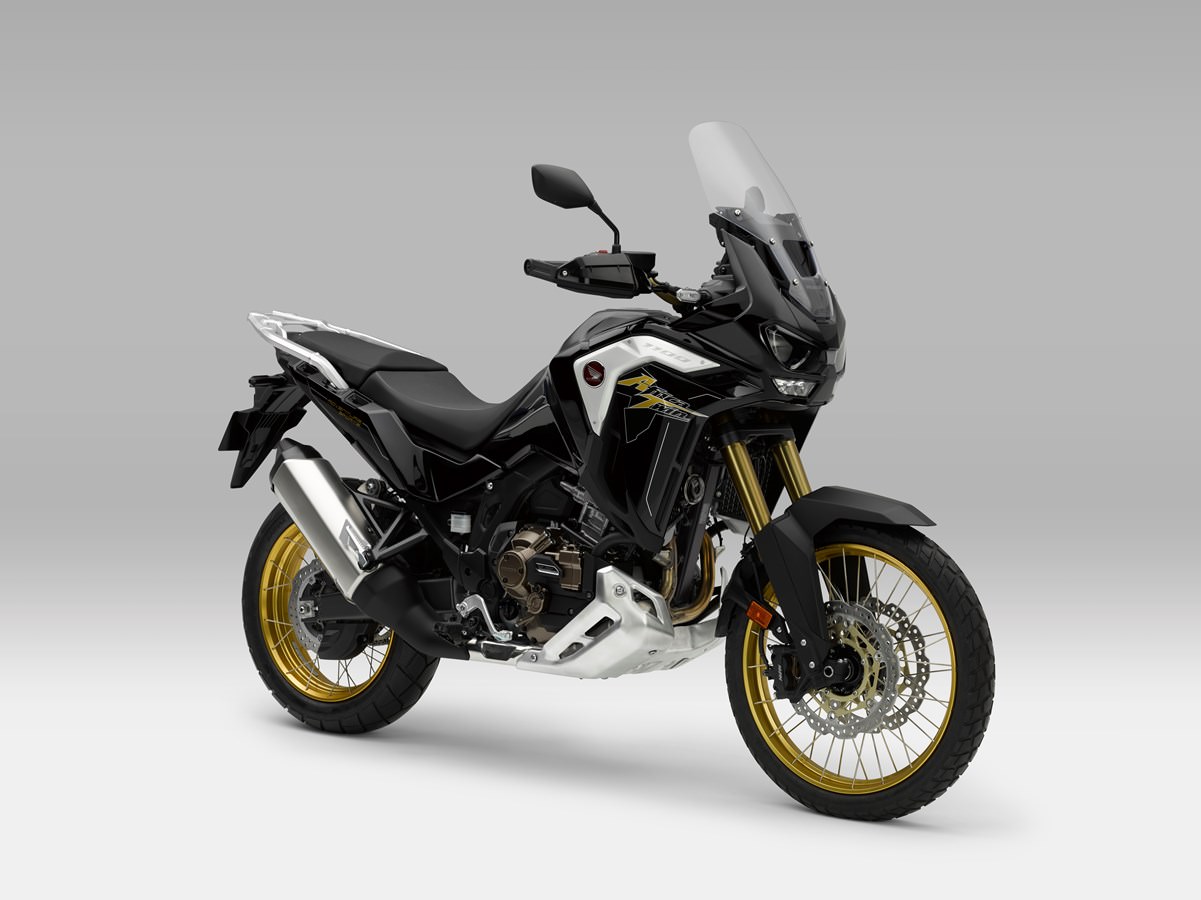 New colours
With the Adventure Sports model, there is the choice of a menacing-looking Darkness Black Metallic or a retrotastic Pearl Glare White Tricolour that channels the original XRV650. Standard model colours include Grand Prix red and Matter Ballistic Black Metallic, both of which carry the contrasting red subframe.