Guy Martin sets new speed record in a JCB Fastrac
We shouldn't be surprised; if anyone were going to set a speed record in a JCB, it would be Guy Martin.
We've all been stuck behind some a JCB chugging along the road at some point, but the company transformed one of its quicker models into a record-setting speed machine. To help create this unique JCB Fastrac, the company enlisted the help of Williams Advanced Engineering. Yes, that's the same Williams that also runs a Formula One team.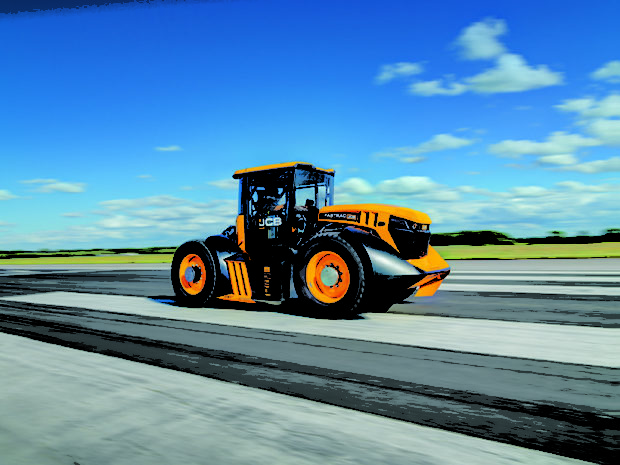 They used their expertise to help put the JCB Fastrac on a diet to help shed some weight, while also working on improving its aerodynamics to give it a higher top speed. The power unit is JCB's 7.2-litre six-cylinder DieselMax engine that produces 1,000hp and 2,500Nm of torque.
The JCB Fastrac was designed as a tractor that could carry out field work yet still be capable of driving at higher road speeds. It's fitting that this high-speed record was set precisely 28 years to the day since the first model rolled off the production line.
So when it came to choosing a suitable pilot for such an attempt, it's not that surprising to discover that racing legend and mechanical enthusiast Guy Martin was the man for the job. He successfully piloted the JCB Fastrac to a top speed of 103.6mph at Elvington Airfield in the UK, eclipsing the previous record of 87.27mph set by Top Gear.
After climbing out of the Fastrac after his record-setting runs, Martin said: "It had been a great day with the JCB at Elvington, proper job with some right proper engineers. She felt rock steady on the runway, job's a peach." What a legend.
Equally proud was JCB Chairman and bona fide car enthusiast, Lord Bamford, saying it was an "amazing achievement." He added: "We've long harboured a dream to attempt a speed record with the Fastrac and the whole team has worked tirelessly to achieve this amazing result. I'm extremely proud of what they have achieved in such a short space of time. It is British engineering at its best, and it really does highlight the skills and innovation we have in our engineering team. They have done a truly fantastic job."
This latest record joins several others that JCB has set over the years. In 2006, its DieselMax streamliner, which was powered by two JCB DieselMax engines, set a diesel land speed record when it recorded a speed of 350.092mph on the Bonneville Salt Flats. That record still stands today.