Ducati Streetfighter V4 steps out
With the 2019 Broadmoor Pikes Peak International Hill Climb looming, Ducati has rolled out its latest machine that will take part in the famous 'Race to the Clouds'.
The naked prototype is the Streetfighter V4, a stripped-back number based on the Panigale V4 superbike. it previews a production version that is expected to first appear in late 2019 at the EICMA show before going on general sale in early 2020.
It's powered by a 1,100cc Desmosedici Stradale engine producing 214hp at 13,000rpm while also generating a beefy 124Nm of torque. Ducati hasn't yet said if any of the performance figures of the race bike differ from the dock that lies in the road-going Panigale V4.
In its sports bike guise, the Panigale V4 tips the scales at just 198kg when fuelled. Considering how light that bike is, there may not be much more of a weight difference with the naked Streetfighter V4 when it finally arrives.
Ducati boss, Claudio Domenicali, said: "The Streetfighter V4 will be one of the stars of the Ducati World Premiere 2020. Streetfighter V4 is the Panigale for road riding; so there was no better stage than the Broadmoor Pikes Peak International Hill Climb for what will be the highest performance Streetfighter ever put into production."
Strictly speaking, the Pikes Peak racer is a prototype, but Ducati hasn't gone to any lengths in order to give it any real disguise. Previously the bike had been photographed undergoing testing with some covers in place, but now, other than some dazzling sticker work, what you see should remain very close to the bike that goes into series production.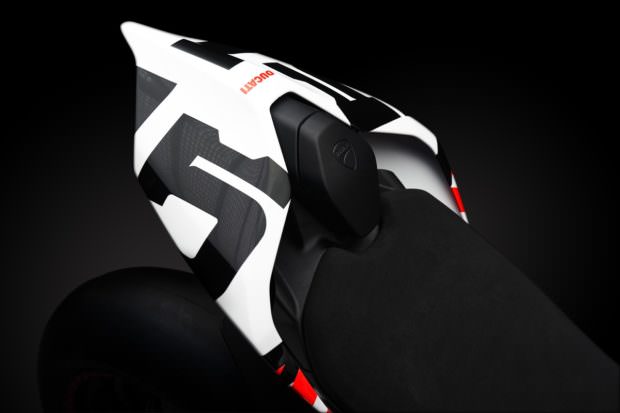 It will run the pixelated design that you see in the pictures, but as you can see, they don't cover the true lines of the bike. Like the MotoGP bike, the Streetfighter V4 features two aerodynamic wings on either side of the radiator to help add some more downforce and keep the front end planted.
One of the unique challenges of the Pikes Peak Hill Climb is that the elevation change is so great that the air becomes thinner as riders approach the top, which reduces any ability to generate downforce and also saps engine power.