Jaguar F-Pace SVR – supercharged, very rapid
Yes, it seats five, and yes it's spacious, but the real reason for buying the Jaguar F-Pace SVR is that incredible supercharged V8 engine.
Since the F-Pace arrived in 2016, it has been a massive hit for Jaguar and following a lengthy delay the range is expanding with the arrival of the high-performance SVR version. The silhouette might appear similar, but the enlarged front air intakes, bonnet vents and 22-inch forged wheels tell a different story.
One serious engine
All that extra airflow into the engine bay helps the supercharged 5.0-litre V8 to breathe and keep its cool. It produces 550hp at 6,000rpm while the 680Nm of torque is enough to ensure your neck muscles are kept in shape. Thoughtfully, Jaguar has equipped it with some supportive sports seats up front. The look of those carries over to the two outer rear seats, and along with seating for five, there is still a pretty useful 650 litres of boot space.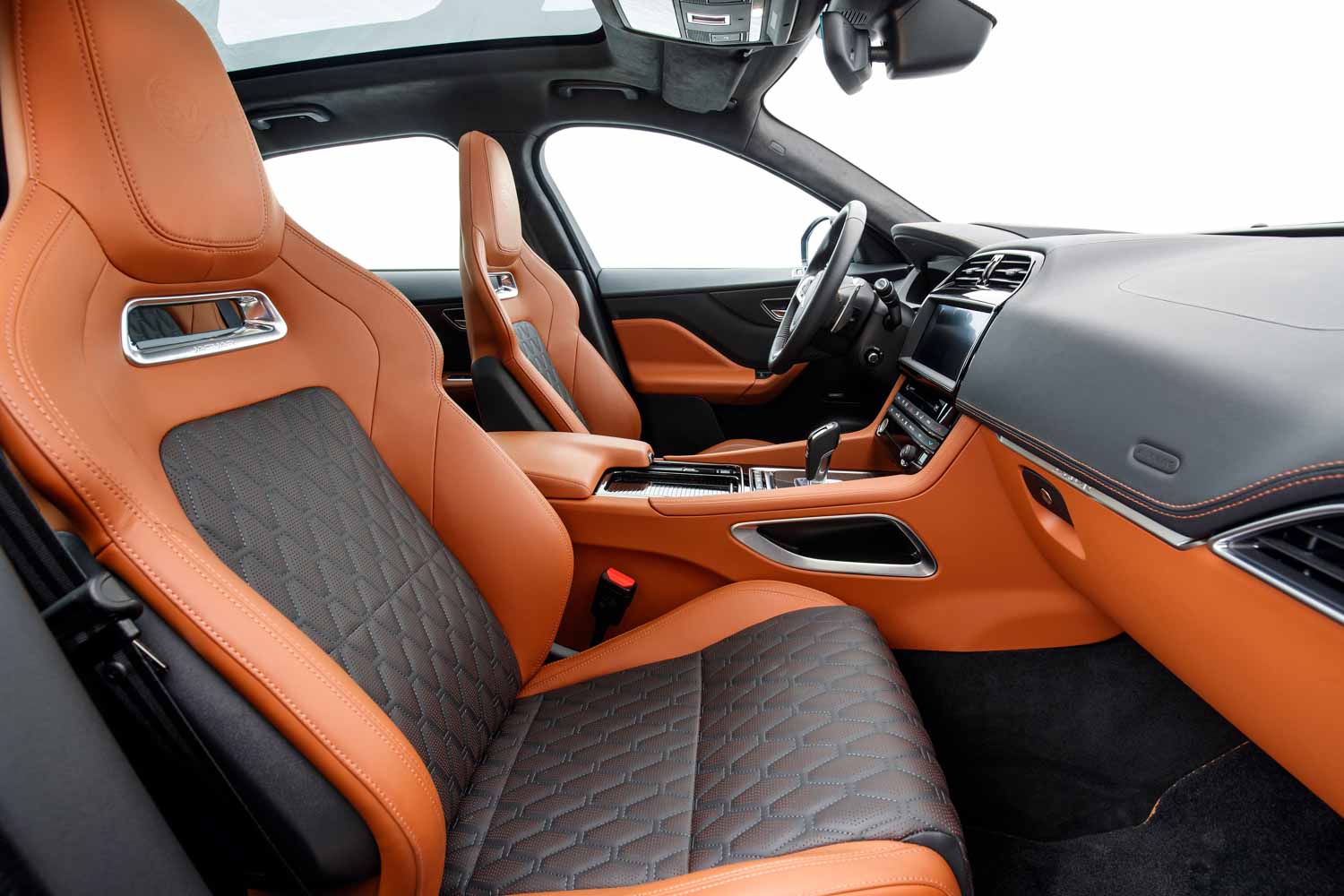 Cruising ability
Other technical changes include the fitment of larger 395mm front brakes, a bespoke quad-tip exhaust that weighs 3.8kg less than the standard F-pace system and features an active valve to manage the flow of exhaust gases and sound when driving, including a muted setting so as not to annoy your neighbours. With a larger engine comes a larger fuel tank – 82 litres – meaning you'll be able to cover some reasonable distances between full-ups, even with the Jaguar's combined economy of 23.7mpg. With all that additional hardware the F-Pace SVR still manages to weigh only 70kg more than the standard model.
All-wheel drive
All that power goes to all wheels, but the usual split sees a 30:70 front-to-rear bias. When in its sportiest setting, the F-Pace SVR can send 90 per cent of drive to the rear axle, and you notice it as the Jaguar slingshots you out of corners. Occasionally you sense the tyres strain, but traction levels are consistent thanks to that wide section rubber. That glorious supercharger battles with the quad exhausts for your aural attention and the combination of both is a cacophony of combustion-engined delight.
The F-Pace SVR isn't just an SUV-shaped package of mechanical bluster, the team behind it are a talented lot with vast experience in honing driver's cars. Yes, this beastly Jaguar handles in the twisty stuff too. A lot of chassis setup changes have gone on under the skin, including new engine mounts, new suspension components including shorter bump stops as well as firmer springs. These result in less body lean and the ability to push it very hard on the road or track.
SVR's split personality
Its all-wheel drive system does a decent job of shuffling the power around keeping the F-Pace SVR moving forward at all times. Stick the eight-speed gearbox into manual mode and you can relish each pull on the right paddle and the accompanying crack from the exhaust as the next gear slots in. If you start to tire of all this (how could you?) Then switching everything back to auto and setting the normal driving mode reverts the Jaguar back to a relatively docile five-seat SUV that happily deals with slow-moving city traffic.
There's plenty of high-performance SUVs on sale now, such as the Alfa Romeo Stelvio Quadrifoglio, Maserati Levante GTS, Porsche Cayenne Turbo and the mighty Mercedes-AMG GLC 63 S. They're all turbocharged six-to eight-cylinder engines, but none have what the SVR has – a supercharger. That one component alone, and the noise it emits, is enough to warrant putting this down on your shopping list.
Tech specs
Engine: 5.0-litre supercharged V8
Transmission: eight-speed automatic, all-wheel drive
Power: 550hp @ 6,000-6,500rpm
Torque: 680Nm @ 2,500-5,500rpm
0-100km/h: 4.3 seconds
Top speed: 283km/h