First Drive: Porsche 911 GT3 RS
The new Porsche 911 GT3 RS is not only blisteringly fast over the infamous Nürburgring-Nordschleife, but it's also a thoroughly rewarding driver's car in every sense.
You could look at this latest version of the 911 GT3 RS as something of a mid-life update or facelift. Subtle changes here, slight tweaks there, all the usual things you might expect. But added up, this thing shaved 24 seconds off its predecessor's lap time at Green Hell. Some think that it could have gone even faster.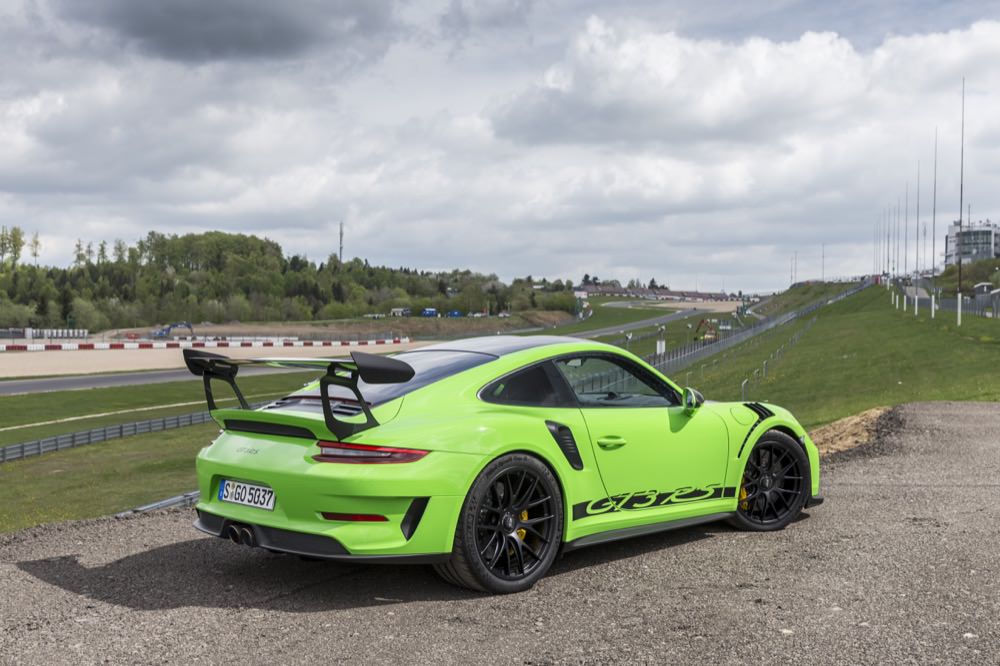 Let's start with the aero. There's a lot of it, especially that huge fixed carbon fibre rear wing that has become something of a signature with the latest GT3 RS models. Its angle of attack can be changed to add or remove downforce levels as can the front-end thanks to some removable inserts that balance out the aero.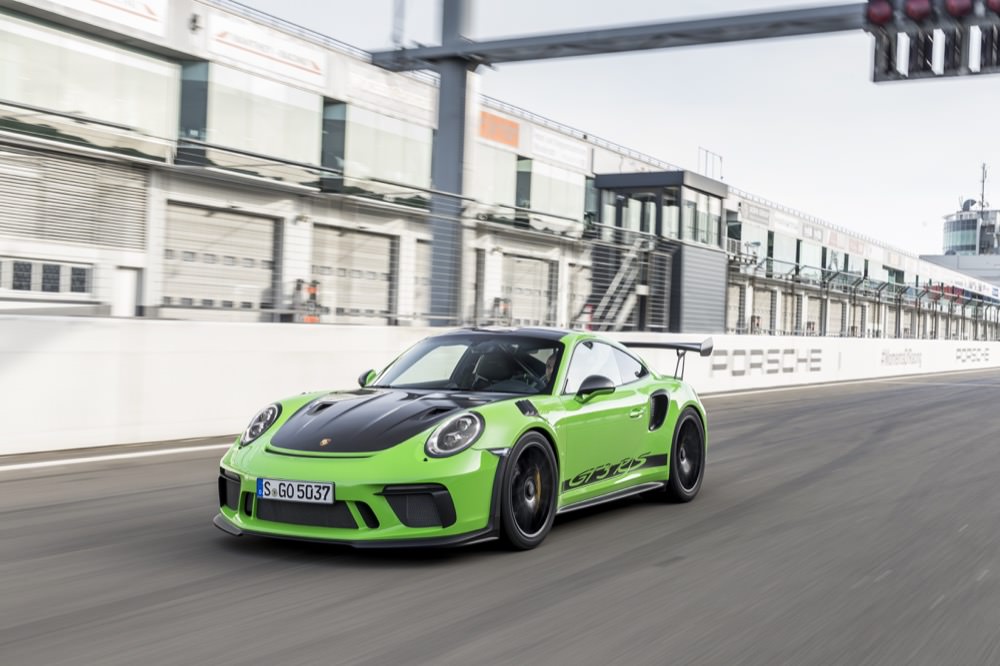 Other tweaks include new NACA ducts on the bonnet that channels cool air directly down to the brakes. Further back Porsche has utilised Gorilla Glass for the rear and rear side windows. Yes, that same material that Apples uses on its smartphone screens. It weighs close to the same as the polycarbonate items that Porsche put into the last model. The Gorilla Glass also isn't prone to bulging at high speeds and offers better scratch resistance. Good news for Amercian buyers is that this will be available, whereas the polycarbonate windows weren't.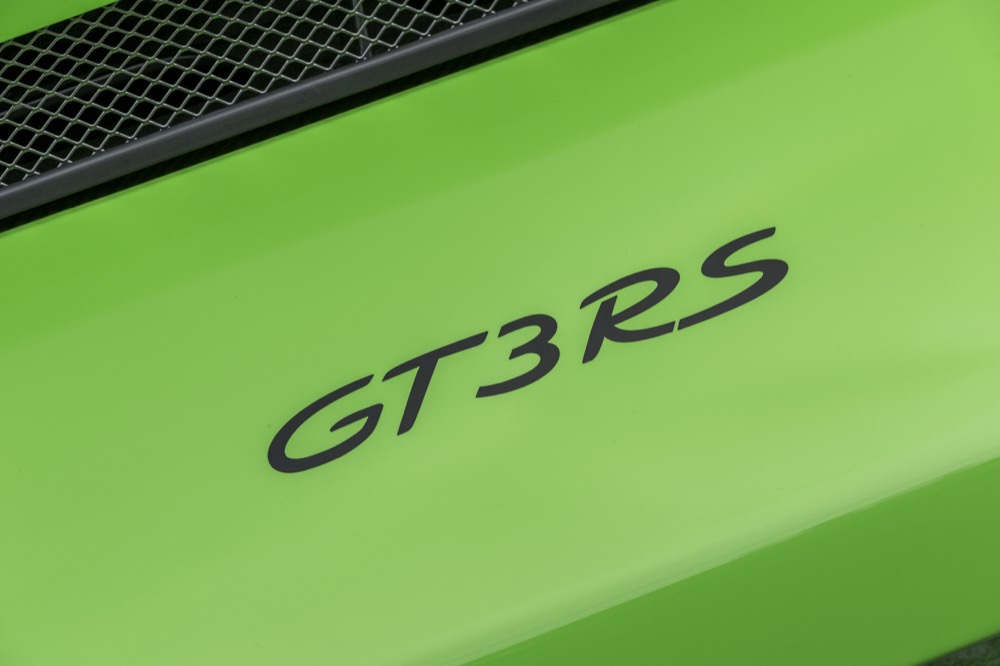 New 4.0-litre engine
Then there's that fabulous 4.0-litre naturally aspirated flat-six engine. Power output is up by 20hp to 520hp that arrives at an ear-piercing 8,250rpm. The boost isn't just down to some new engine mapping; internally there are several changes. A new crank uses larger diameter bearings and features a new design that feeds oil directly to the big-end bearings. This process has allowed for the fitment of a more efficient oil pump as the flow rate drops from 120 litres per minute to 70 litres. In turn, this new pump draws less power from the engine. Plasma-coated cylinders also result in less friction.
Maximum torque arrives at a lofty 6,000rpm, but it's the urgency of the engine that is most spectacular. Our time with the car on the track at the Nürburgring circuit gave us ample opportunity to stretch its legs. Down the main straight it lays on speed at phenomenal rates. Even if you leave the gear shifts to the PDK transmission, it wrings every last rev out before kicking up another gear. When the revs build past 6,750rpm, the sound resonating around the stripped out cabin is intoxicating. There's a hard-edged tone to it that makes it sound distinctly Porsche, only this one it turned up to eleven.
Sublime chassis
By its nature of being rear-engined, the 911 GT3 RS is challenged on balance, but boy, have those chassis engineers at Porsche done an excellent job. People, especially motoring journalists, love to criticise EPAS systems for being devoid of any steering feel. Everyone involved in calibrating these systems should go and drive this car. It nails how steering should feel. It's as close to perfect as an electrically assisted system can get.
It delivers enormous levels of grip through fast bends. This grip comes both from the aerodynamic forces and also mechanically thanks to those sticky Michelin Pilot Cup Sport 2 tyres. Unsurprisingly there's little in the way of body roll through corners. You can soften the adaptive dampers to make it feel a touch more civilised when driving on the road. There's even the option to add a lifter kit to help negotiate multi-storey car parks.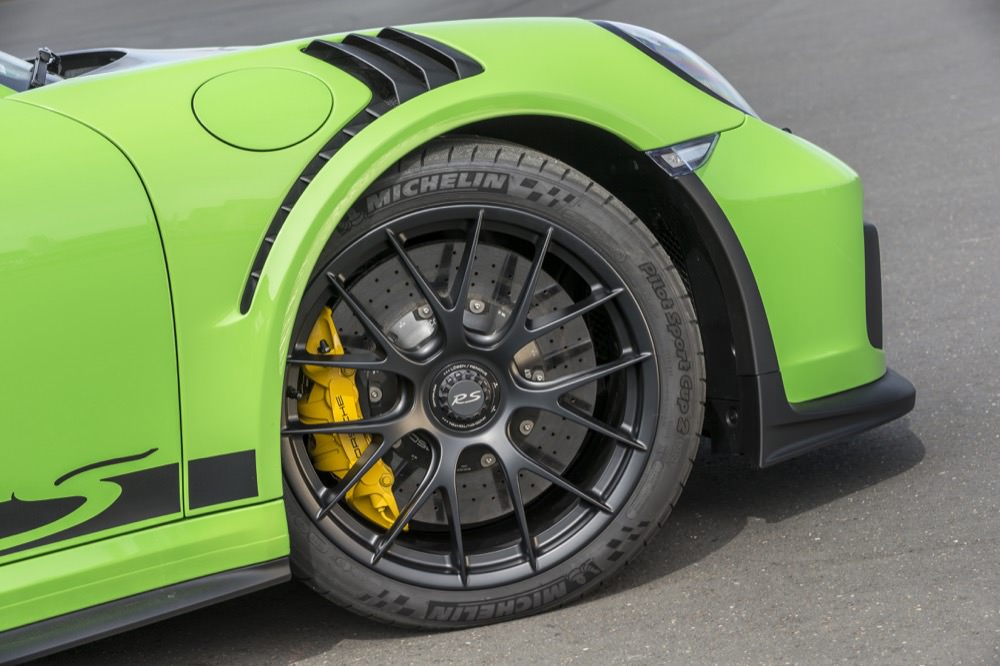 The suspension tweaks are what mostly contribute to the increase in performance, and they played a big role in setting that mega lap time on the Nordschleife. Out on the road there is a good deal of compliance from the suspension, with enough adjustability at the flick of a button to make it easy enough to live with. It doesn't feel quite as civilised as the Ferrari 488 Pista with its Bumpy Road setting, making the prospect on longer trips less enticing.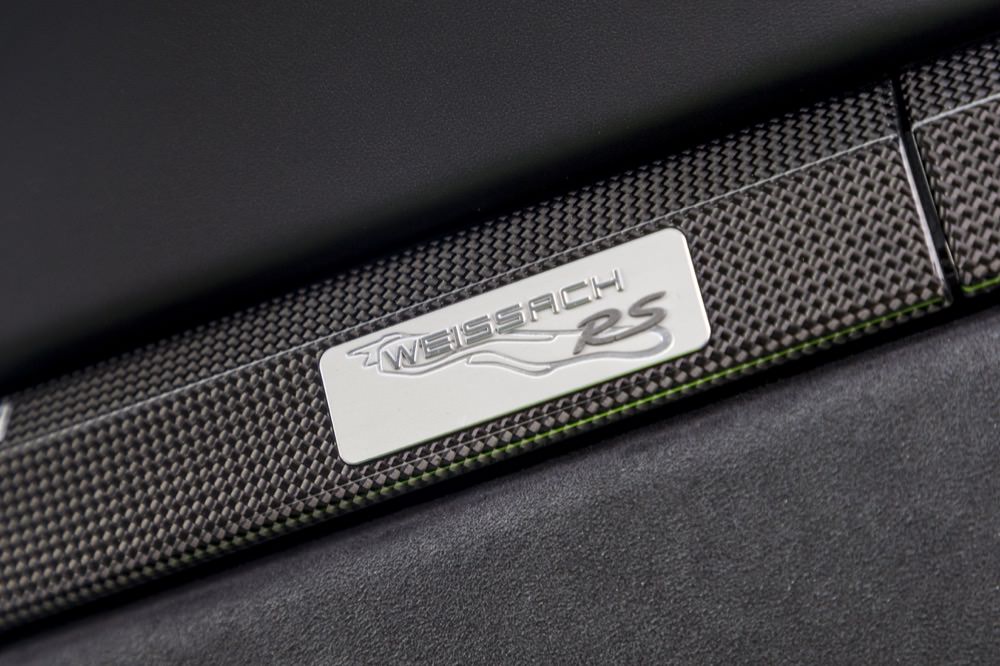 Weissach Package
If an already stripped-out 911 GT3 RS isn't quite extreme enough for you, ticking the Weissach package option should do the trick. It's a feature that Porsche expects plenty of buyers to go for, as it sheds a further 30 kilograms from the car's weight. A carbon fibre piece replaces the magnesium roof panel. It weighs even less thanks to new techniques in clear-coating and treatment of carbon developed by Porsche. The bonnet is already carbon fibre, but that same application makes it lighter again than the standard painted item. To help reduce rotating mass, the wheels receive an upgrade to magnesium items. Under the skin, anti-roll bars made from in carbon fibre shave off more weight.
Inside the car, 'Weissach RS' is embroidered on the headrests to remind everyone that your car is lighter than 'regular' GT3 RS. The bolt-in roll cage is upgraded to titanium and weighs 12 kilograms less. Around the cabin there are additional weight-saving measures. These include the replacing the steering wheel cover and gearshift paddles with CFRP (carbon fibre reinforced plastic). The engineers even went as far as to remove the carpet from beneath the seats.