Pirelli to develop new XJ220 rubber
There's good news if you're one of the 271 Jaguar XJ220 owners in the world. Pirelli has announced that it is to begin developing new P Zero tyres for the 217mph supercar. Original tyres have been out of production for some time, but now owners will have the choice of some new rubber.
History
At the time the XJ200 was Britain's answer to the likes of the Ferrari F40 and Porsche 959. As history shows it never sold anywhere near as many nor has it managed to achieve the same cult status. The car was originally due to be powered by a V12 but by the time production began the recession of the early 1990s had hit. The development team instead fitted the car with a 3.5-litre twin-turbocharged V6 producing 550hp.
Back in 1992, the Jaguar XJ220 held the Guinness World Record as the fastest standard production car. It achieved a top speed of 217.1mph set by ex-Formula One driver, Martin Brundle at the Nardo Circuit. The record would stand for a further six years until being toppled by the McLaren F1.  The XJ220 also set a Nurburgring lap record in 1992 with a time of 7:46.36sec. This lap time would remain unbeaten for almost a decade.
Pirelli steps in
According to Pirelli, the tyre will maintain the period look appropriate to the Jaguar supercar but will be constructed using the very latest tyre technology. This is said to include internal damping within the tyre to even out shocks and reduce road noise.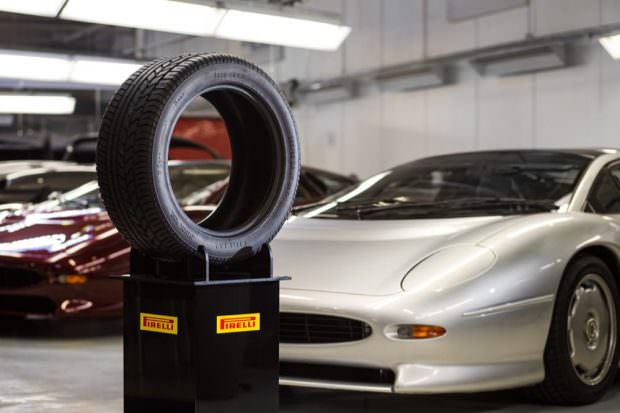 Tim Hannig, Director of Jaguar Land Rover Classic, said: "The Jaguar XJ220 was an instant classic. It is a revered car in the history of Jaguar, and our business is now undertaking various restoration projects for XJ220 customers. This new tyre permits the full performance of the glorious XJ220 allowing owners to exploit it where appropriate."
2017 will see the Jaguar XJ220 celebrate its 25th anniversary, and Pirelli's aim is to have some new boots ready for owners to help mark the occasion.