Nissan's BladeGlider comes to life
Whatever they're putting in the water around Nissan's way, someone should really up the dosage because the Japanese car maker, once most famous for producing bland porridge such as the Almera saloon (*shudder*) is rapidly becoming one of the most creative car companies around. The still-outrageous-looking Juke was a good pointer, and the GT-R-engined Juke-R was just pure hilarity. The Qashqai has become mainstream but it very definitely started from left field, and the next-generation Micra (possibly now to be called Sway) is promised to be far more daring than the current model.
Then there's the BladeGlider. And you start to wonder if whatever they are putting in Nissan's water is entirely healthy because this isn't so much batshit-insane as it is an entire asylum landing upside down in a vat of guano.
The Bladeglider has had something of a torturous beginning. It started as the amazing Delta Wing racer which one-time All American Racers designer Ben Bowlby created as a possible Indy Car chassis in 2009. Back then the project was part-financed by Chip Ganassi and Don Panoz, until Nissan saw its potential as a revolutionary (the way it manages airflow around and under the car is dramatically different from a conventional racing car) Le Mans entry. Fitted with a Nissan 1.6-litre turbo engine, the car entered the 2012 Le Mans 24hrs, and while it failed to finish, it nonetheless impressed, and coupe versions of it have gone on to strong performances in the American Le Mans series.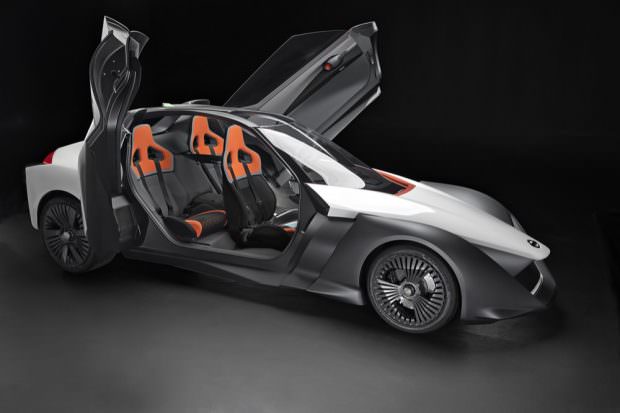 The legal battle
Nissan's BladeGlider concept, originally shown at the 2013 Tokyo motor show, was clearly inspired by the Delta Wing but had transmogrified into a three-seater open top sports car for the road. So clearly inspired though that it caused Nissan to be slapped with a lawsuit from Ganassi and Panoz, claiming copyright infringement.
That lawsuit is still rumbling on in the background, but Nissan is pressing ahead with the BladeGlider and has just finished the first working prototypes, which is being shown in Brazil in the run-up to the Olympics.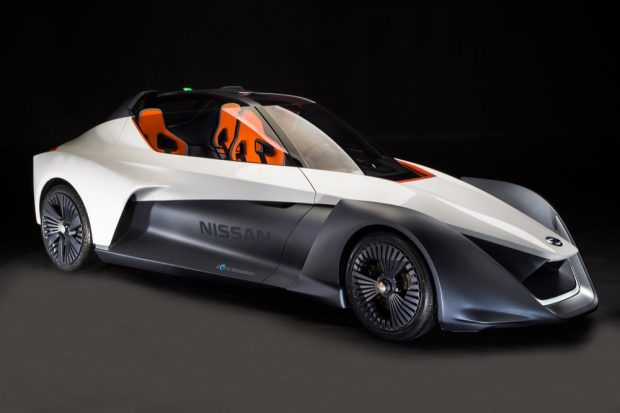 Carlos Ghosn, President and Chief Executive Officer, Nissan Motor Co., Ltd., said: "These prototypes epitomise Nissan's drive to expand its Intelligent Mobility philosophy, where driving pleasure combines with environmental responsibility. Nissan believes that enthusiasts should look forward to a zero-emission future, and BladeGlider is a perfect demonstration of that. It's the electric vehicle for car-lovers."
Yup, that's right – as if an arrow-head shaped sports car with three seats and a central driving position wasn't already enough, the BladeGlider is electric…
Interior
You enter the cabin through dihedral doors, and you'll find most of the major controls on the steering wheel. There are no carry-over-Qashqai dials either, but high-tech screens for all instrumentation, showing among other things battery charge, regeneration mode and torque map. The two screens either the side of the steering wheel are for the rear-facing cameras which replace conventional wing mirrors.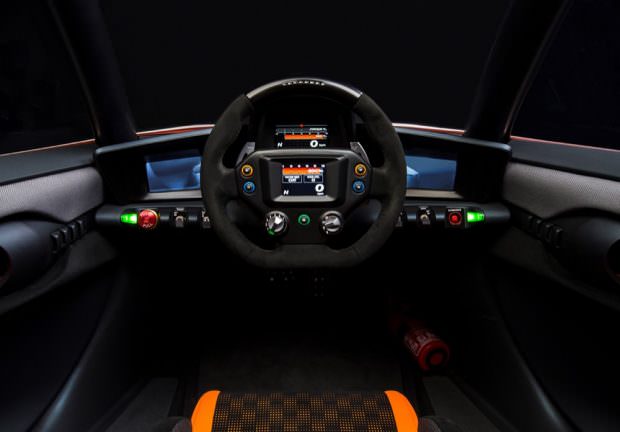 Performance
Power comes from two 130hp electric motors (one for each rear wheel) whose development has been worked on by Williams Advanced Engineering (see what we mean about a race car pedigree?). These early models have a relatively low top speed of 190kmh, but sprint to 100kmh from a standstill in less than 5 seconds.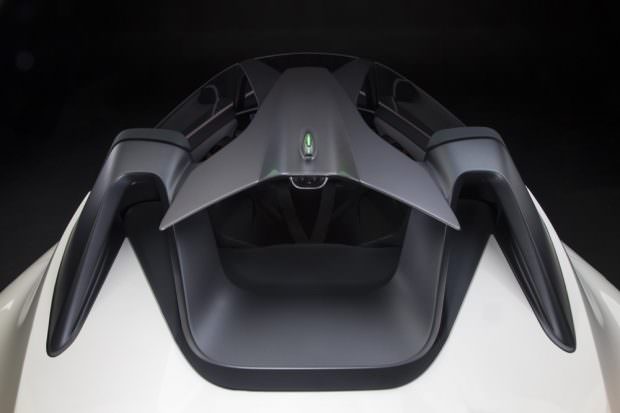 The fact that each rear wheel gets its own electric motor means that they can vector the torque split as much as the car needs it, and if the thin nose starts to understeer, then the outside rear wheel will be powered up to tuck things back into line. You can switch it off for greater efficiency, or leave it in 'Agile' mode, but we want to try the 'Drift' mode which might just make the Ford Focus RS feel a little bit tame.
Technology
The motors are powered by a 220kWh lithium-ion battery stack, but Nissan hasn't given us any range or recharge data as yet. There are two colour trims – Cyber Green and Stealth Orange. These colours are used for the upper portions of the seat back and framed with a silver reflective material to create an eye-catching, sporty look. The base of the seats is in black, patterned material, with a band of green and orange trim framing the cushion.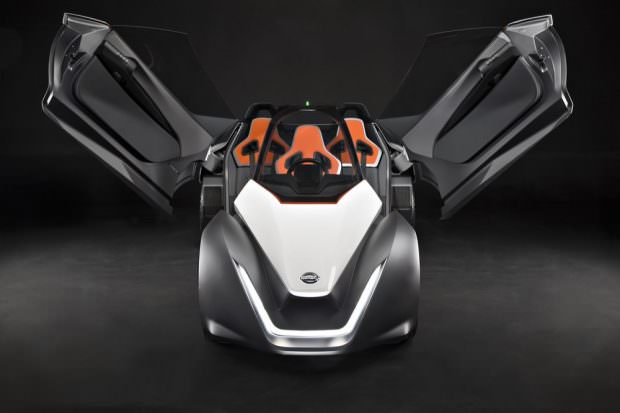 The two Rio-bound cars will have split duties – one for static display and the other for giving rides to VIPs and dignitaries.
When can we buy one? Seriously – when?