Front-wheel drive karting the future?!
Thanks to Syd Wall, a UK-based motorsport photographer attending the 2016 Autosport International show in Birmingham, we've learned that there are plans afoot to this year launch a brand new go-kart, one with its engine mounted in front of the driver, sending power to the front wheels. Should petrolheads of the world hang up their bobble hats and start watching tiddly winks instead of a load of understeering karts? Is this the death of motorsport as we all know and love it?!
Seemingly no. The reason is simple: to train young drivers in the art of front-wheel drive racing. The brains behind this idea is Team BMR, one of the squads competing in the British Touring Car Championship (BTCC) – last year racing specially prepared Volkswagen CCs and currently developing the Subaru Levorg
for competition in 2016. Apparently, our own Aron Smith has been involved closely with the development, which has been on-going throughout 2015.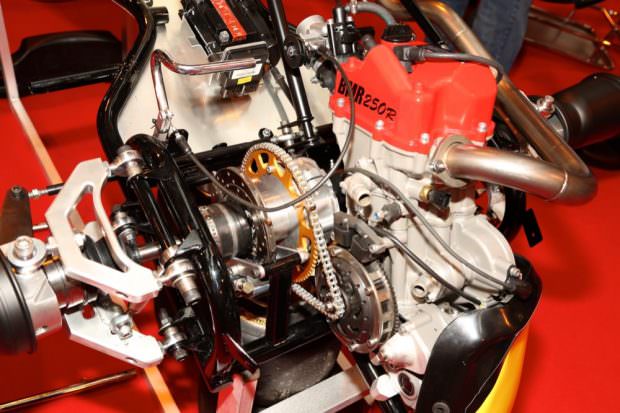 "The kart really is like a scaled down car, with mini wishbones, caster, camber, toe, which is exactly what we could alter on the touring car. It's phenomenal just how close the set-up of the two is. The driving style of the kart is completely different to what you would experience in the rear-wheel drive kart. Making that transition from the kart into their first tin-top such as a Clio will be so much easier because they've already learnt the throttle application, lift-off oversteer and just being able to control the car properly."
Another source tells us that the front-drive kart is currently one second slower than the traditional rear-engined, rear-drive kart in dry conditions, but a second faster in the wet.
We're told that there are potential plans for a 'one-make' series for the new front-drive karts as a feeder to front-drive car racing.
Special thanks to Syd Wall for the photographs and story idea