New Honda CBR500R for 2016
For 2016 Honda has updated its CBR500R to give it a more aggressive restyling, which it hopes will add to its appeal. Particular attention has been paid to the styling at the front end especially, with sharper lines and angled dual LED lights and this really give it a more focussed look . Meanwhile at the rear new LED tail lights help with the refreshed image.
Beneath that new bodywork Honda has left much of the mechanical elements with the Japanese firm continuing to use its 471cc parallel twin engine. The 47hp produced by this unit means that the CBR500R can still comply with A2 licenses, thus giving the CBR500R a widened appeal. In addition to that horsepower there's a healthy degree of torque too, with 43Nm generated at 7,000rpm, while the six speed gearbox has enough of a spread to make longer journeys less of a burden.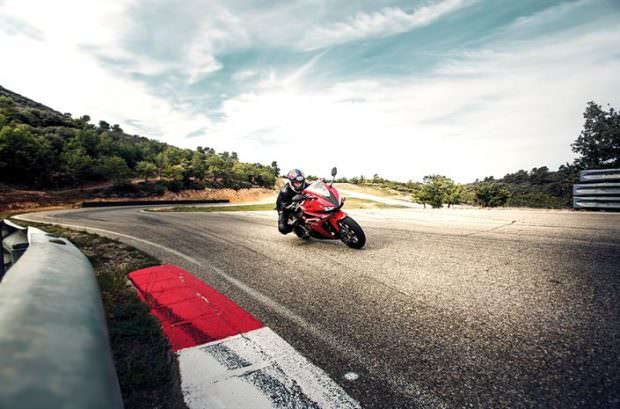 One feature that won't be missed is the previous generation's oversized chrome exhaust system, replaced by a much neater version that is shorter and is also finished in a dark matt finish with a contrasting dark grey heat shield and end cap. The result, in addition to helping to centralise the weight, is an exhaust that looks much more upmarket than the previous model and will hopefully sound pretty decent too. In fact Honda's engineers say that the new exhaust system has been tuned to provide a low, crisp exhaust note, thanks in part to newly designed internal structure inside the muffler.
Honda has also added a new front suspension setup comprising of an adjustable pre-loading to allow the rider to better setup their machine to suit their weight and riding style. Honda has increased the size of the fuel tank which also now features a better hinged fuel cap. There are also adjustable brake and clutch levers now as standard.
Honda will have a whole new range of colours on offer including the black, red and white shown here looks especially tasty and it sure to be a hit with buyers. Other options will be a stealthy looking all black version and a mainly white model that will feature similar graphics to the red, consisting of a blue and black wing design.