Those of you who have been following for some time either on Twitter or by tuning into my ramblings on The Engine Room Show, will be familiar with my relationship with the Toyota GT86. Needless to say, you can imagine my reaction to find myself in the possession of the keys, or rather key fob, to one said GT86. Large chunks of the diary were suddenly cleared.
The GT86 has been around since 2012 and between the years of build-up involving the whole will they or won't they build it, and the ridiculous banning of its television ad, the car naturally carried a fair degree of hype. Scores of journos raved about it, claiming a true return to the Toyota of old. But now much of that hype has subsided and two years on I find myself easing into a GT86 for the first time. To a degree this car has kind of slipped off many of our radars, so in a way, I'm even happier to be doing this now rather than early in the car's life.
First things first – the exterior looks really do grow on you the more time you spend around it. I found myself taking a moment almost every time I walked up to get into it merely to take it all in. The metallic orange paint certainly helped in the appeal stakes. It doesn't roll on disproportionally large wheels either, 17-inch, and they help round off an image that isn't over the top, it's … considered.
I'd be lying if I didn't tell you that certain aspects of the interior disappointed me. Some might suggest that the basic digital clock with the small H and M buttons for adjustment is a semi-retro touch, I just think it's cheap, and not what I'd expect from a €41,000 sports car. The over generous use of hard plastics don't exactly instil the warm fuzzy feeling that some 'special' cars deliver, but to be fair, everything seemed to be nailed together rather well. My test car was actually on a 2012 plate with close to 20,000kms on it so it was quite representative of how a GT86 should feel down the line to an potential owner. I loved how snug the cabin felt, proper sports seats keep you well in place and the driver positions is one of the best I've experienced in a long time.
Clutch in, press the start button I guarantee you will grin when that 2.0-litre boxer engine's sonorous tone comes to life. I've got to admit, it sounds much better than I had expected inside. The lightest prod of the throttle results in a crisp, brief bark inside the cabin. Snug it most certainly is, but not cramped. The setting wheel is closer to being 90 degrees upright and the low seating position leaves the gear shifter at, what feels like to me at least, the optimum level.
As with many sports cars, you tend to drive the GT86 very much by your ear. Yeah, sure there is a large white-faced tacho right in front of you but this Toyota is very much about feel. I'm not going to rant on about all the stuff that's already been said, like "it rides on Prius tyres", etc. This is a car that you can tell exactly what it's doing with your bum. That might sound odd to most of you, but bikers will understand what I'm on about. Drive this thing on that bit harder and it starts to give really nice levels of subtle feedback that allow you to sense exactly where the grip level is, where the weight is shifting to, and most noticeably exactly how much steering input is needed.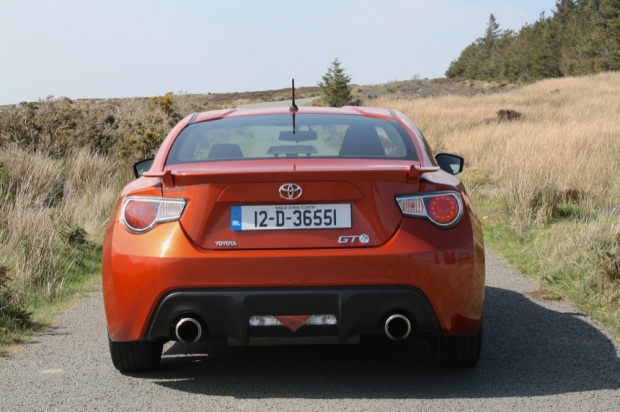 Grip. It's an important feature of the GT86. There isn't a huge deal of it, but that's no bad thing with this car. Of course the on-board traction control systems work very well to keep you out of harms way, though the more competent of drivers might find the systems a little over-protective. Naturally, there is an off button, and should the situation and location be suitable, you can then have some really seriously good fun with the Toyota. At first the rear-end can feel a little bit snappy but once you become more familiar it all becomes nicely controllable.
There are also other points worth mentioning for any would-be owners out there. The rear seats are, as you may have gathered, rather small and are really more of an extra luggage space. Ideal for kids but that's about it. Boot space will limit your buying in Ikea to the smaller stuff but I've come across worse. Citroën DS3 Cabrio anyone? All round visibility is actually pretty good and despite the low ride height, multi-storey car parks and speed humps aren't really an issue at all. More importantly, fuel consumption isn't all that bad and once the initial novelty of ownership wears off, day-to-day commuting without trying to drive like Ken Block will see some pretty reasonably figures. My only real gripe is the price, which when you look around at what else is out there, makes you want to really want a GT86. Price aside, it's a damn fun car.