BMW i8 set for Irish launch
For the last while there has been somewhat of a quiet revolution happing with BMW. Quiet in the literal sense too, as the German firm branches out further into electric and hybrid cars. We're still enjoying the freshness of the i3 (more on that very soon) and come July we will see the second BMW i model officially launched – the i8.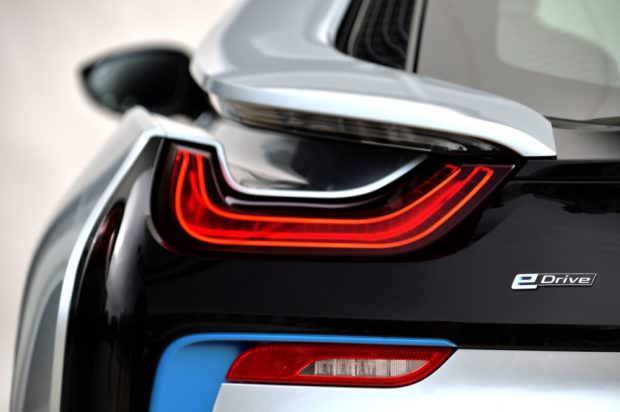 Staying remarkably true to the Vision EfficientDynamics concept shown back in 2009, the i8 is a 2+2 sports car crafted in carbon fibre and aluminium with a blend of shapes, curves and lines, all dictated by the wind tunnel. Power comes from a combination of an all-new, mid-mounted 231hp 1.5-litre, three cylinder petrol engine and a 131hp electric motor which sits over, and powers, the front axle. The result is a car that produces 362hp, generating 570Nm of torque and weighs just 1,490kg. Top speed is governed to 250km/h while the 0-100km/h dash takes just 4.4 seconds. Despite the performance, the i8 emits just 49g/km of CO2 and on a combined cycle can return fuel efficient of 135mpg.
The central spine of the car houses the lithium-ion batteries which not only improves the car's centre of gravity but add to the overall balance. Using electric power alone, the i8 can travel up to 37km in virtual silence – something we experienced recently during a demonstration of the LaserLight technology which will be offered on the i8 as an option later this year. In this mode the car can travel at speeds up to 120km/h before the petrol engine then seamlessly kicks in to add further performance. As with most hybrids, it can regenerate electric power under braking while the i8 can also be plugged in to a charging point to further top up the batteries.
Open the dihedral doors and inside it is a blend of familiar BMW features combined with some futuristic design touches. The cabin is divided by the large central tunnel which houses the lithium-ion batteries, while the centre of the dashboard is dominated by an 8.8-inch display which features Professional Navigation as standard.
The BMW i8 will be officially launched in Ireland in July with a starting price of €136,430 which includes the €5,000 SEAI grant and €2,500 VRT relief applicable to private sales of hybrid electric vehicles. Ireland's sole BMW i agent is Joe Duffy BMW in Dublin.