Tyres & Traction, Sean Hynes' Racing Diary – Round 1
Where to begin? I guess this season really started back in May of last year when I made the decision that after a year on the sidelines nothing was going to stop me competing in 2014. Eventually, my car for the season was picked up just one week before the race, leaving me with very little time to work on it. Add to the fact that it is an old spec machine not having turned a wheel since 2008 and the preparation for the season opener consisted of basic servicing and installing a few mandatory updates such as a second radiator in place of the old oil cooler. That's great, but why am I telling you all this? Motorsport is a complicated beast and so many factors can affect performance, so it's important to have context.
Basically I was pretty much on the back foot leading up to the weekend, with no time to set the car up for testing it was going to have to be driven as-is. To make matters worse when I arrived I was told there was no rear tyres left with the supplier. Due to the well-used tyres the car was all over the place and there was very little point in changing set-up until I had proper tyres to work with. After testing I set about looking for a set of rear tyres that I could borrow for the following day and finally came across David Parks old set from last year which he kindly lent me.
I managed a 58.7 in qualifying which is by no means my quickest time around the track but it was respectable given the circumstances. This would have put me 7th on the grid for race one and 9th for race two. I say would have, as race one was 10min ahead of schedule and being in the garage working on the car none of us heard the announcements. Embarrassingly this meant the race was over for me before it ever really started and I came home 8th thanks to a fairly high attrition rate.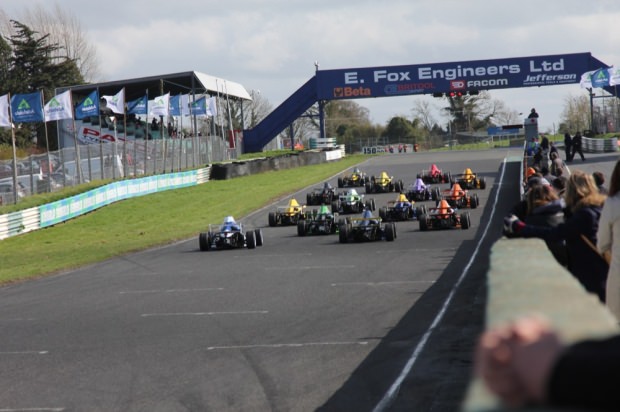 Actually lining up on the grid this race was already better than the last, and I was keen to keep my nose out of trouble at the start. Knowing how little traction I had available it was nice and easy off the line, kept my position and stayed to the inside for turn one. Robbie Allen had a moment clipping O'Connors rear which allowed me to make up a few spots. As we headed out to turn 3 I could see David Parks pull alongside in the mirrors as I stuck under Linnanes gearbox. The mildest of touches on the apex with Linnane was enough to dislodge my nose but it was a small price to pay for keeping my momentum on the run over the hill into the essses. As we hit the brakes John seemed to have the inside covered but just then a small gap appeared and with a quick stab of the throttle I was through. I even surprised myself with that one to be honest!
From there I got the head down and began to chase after Richard Kearney.  I was getting close after a few laps but now Parks had also gotten past Linnane and was closing fast. It was now or never stuff, so I had a peek down the inside into Dunlop to try and distract, causing him to go defensive before going back to take the racing line. I got a good exit and had a run on him down the main straight, but he defended the inside line. As I said, now or never and so if he has the inside theres only one place to go – the long way round the outside. He hit the brakes but I kept the foot in and went deep. As I rounded the corner I had no idea where he was, then it hit me. Literally. The lateral visibility in these cars is limited, but I had left more than a cars width on the inside. Racing incident, definitely no malice from either party and we both survived. I was now up to fourth and replicating Jarno Trulli with a full 'Trulli-train' of cars built up behind me, all of whom were fighting with each other. Great to watch, but one slip and I would be down to tenth in literally a second. The pressure ramped up as the surging Parks now made his way past Kearney and began to attack me. I calmed down and focused on getting out of every corner as clean as I could which was especially tricky since I was struggling for traction on what were his own rear tyres! That's sportsmanship.
More than once he had a good run on me, especially up the hill out of turn four and into the esses which is a particularly hard place for traction, but each time I was just barely able to keep my nose alongside and hold the inside. It was a highly entertaining, if stressful, battle that raged all the way to the flag where I eventually managed to hang on to finish 4th. It was the happiest fourth place I've ever had! It's worth highlighting the pleasure it is to race against people like David Parks who know what hard but fair racing is all about and where there is mutual respect. As he said himself he wouldn't have tried round the outside of turn three on many others!
And so that's the first weekend of the championship over. After a disastrous start I was pleased with the second race, and now my focus turns to Bishopscourt next month. I've never raced there so it will be a journey of discovery but I'll make sure I have a set of tyres by then at the very least!
Make sure you follow Sean Hynes on Twitter – @Sean_Hynes