Peugeot 2008 DKR breaks cover
No, it's not something from the new Judge Dredd film, this is actually a real thing and Peugeot are going to race it in the 2015 Dakar. Called the 2008 DKR, it bears some (very slight) resemblance to the 2008 crossover but that's pretty much where the similarities end.
Mechanically, little is being said for now as the car is still under development but it has been confirmed that it will use a rear-wheel drive only transmission which could make the Dakar that bit more interesting for Carlos Sainz and Cyril Despres when they compete in next January's event. The 2008 DKR's crazy look is helped by the huge 37-inch diameter Michelin tyres. We don't fancy having to change those at the side of a South American dirt track.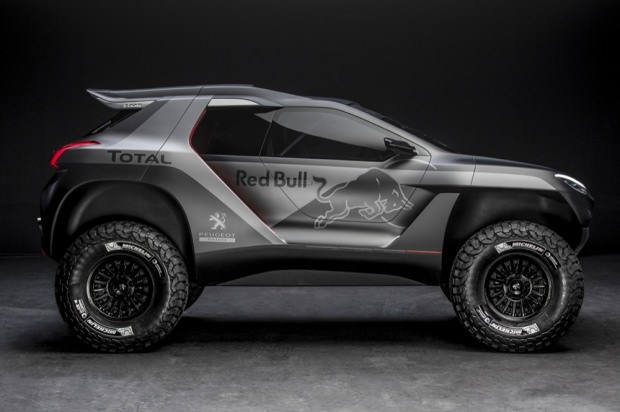 The decision to go two-wheel drive also had an impact on how the 2008 DKR looks, as Peugeot Sport's Project Leader, Jean-Christophe Pallier, explained, "We carried out an in-depth analysis of what already existed in the world of cross-country rallying and weighed up the benefits of the different solutions. In the end, we opted for an approach that was quite different to that of the competition. Given the off-road capability of two-wheel drive transmission and its ability to run on sand, that's the choice we ultimately went for. It enabled us to fit bigger wheels and also to benefit from more suspension travel."
Carlos Sainz is no novice when it comes to the Dakar, having competed seven times with Red Bull. Commenting on the car's looks he said, "The philosophy behind the 2008 DKR marks a radical break and packs a high number of new ideas. The end result is like no other two-wheel drive car. It is very compact and that's good. Having done the last two Dakars in a two-wheel drive car, I am convinced this is a solution that can win the event. Okay, it calls for a carefully-designed car which is at ease on all the different types of terrain, but I know that Peugeot Sport has the necessary know-how, technology and means to pull off what is a unique and stimulating challenge for everyone in the team."
The only disappointing thing about this is that there are no longer homologation rules in place that call for a certain number of road-going versions to be produced in order for the prototype to be declared legal to race. So, like the 208 T16, we'll have to just dream as to what it's like to pilot the 2008 DKR.