S-Express – down and out in an Audi S4
Is owning an aging yellow performance car a form of living, mechanical hell or a welcome break from our ever-increasingly sterile world?!
I hang up the phone and look at myself in the mirror. I've just agreed to buy a 15 year-old Audi. How has it come to this?! I've no affinity with Audis, I had always just assumed them to be for people older than me with jobs they didn't really like and Polo Sport jeans. Yet here I am, on the verge of turning thirty with a labrador-derived dog and an Audi.
Like the vast majority of German cars, Audi were a brand that I had never had a great deal of interest in. My motoring back catalogue contains the obligatory Ford Fiestas, a Peugeot 106 (the 1100i, not the Rallye I always told myself it secretly was), a Vauxhall Corsa which ate itself via what the brand itself even acknowledged as a 'common metallurgical fault' and two Renaultsport Clios – the first of which was a 182 Cup followed by a R27 F1 Team.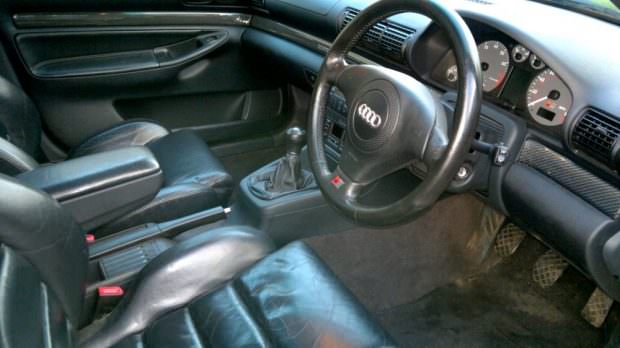 In my defence, my 'new' Audi is an Imola Yellow B5 S4 Avant. Yes, yellow. Yes, an estate. The first grainy camera-phone images I received from the seller did make the car look very big and very yellow but once stood in a residential cul-de-sac north of Glasgow the car sort of made sense. Yes, it was yellow but that was sort of the point of it – it was a big, insanely fast estate car so why shouldn't it be yellow?! Like having sex with Lady Gaga or eating snails hand-delivered by Heston, I'm guessing it sort of makes sense at the time.
Halfway home and driving snow is covering the road markings on the M75 whilst some errant maniac attempts to over-take a gritter whilst it moves into the outside lane. Visibility is horrendous, it's minus one outside and the S4 feels like a thoroughly safe and dare I say it, sensible, place to be. The black leather seats are broken in like some fine gentleman's club chesterfields and down at the snow-safe confines of 65mph the dash says I'm currently reaping the benefits of 35mpg motoring.
This was at the heart of the purchase – could an aging performance car actually be a practical buy? The S4 has space, epic pace and cost me the deposit I would have had to place on a crippling finance deal for a new or even just slightly new car. The car feels mechanically sound bar a slight judder from the brake pedal when coming to a halt. It's flawless right up until I pull onto my road when a loud buzzer sounds and a warning light flicks on. Bollocks… that's the first thing that will need looking at then.
To be continued…
About the author: Ric McLaughlin (@RicMcLaughlin) is the Editor at large of Red Bull Bike and writes for some of the UK's biggest mountain bike magazines. He spends a lot of his time following the sport's UCI World Cup race series around the globe stealing wifi as and when he can find it. When not riding or writing about riding bikes, Ric is a massive petrol-head and has a penchant for anything quick or with a link to motor racing.