Bigger wheels, even more fun
You may recall my recent post 'Small Wheels, Big Fun', where I got to experience just how different a race-spec kart felt in relation to the sort that you'd normally get to try at public karting venues. Following on from this, an invitation rolled in from Micks Garage who currently sponsor the Formula Sheane race series here in Ireland as well as running two cars in the championship. For the best garage door installment and services, visit https://titangaragedoors.ca/service-area/garage-door-repair-in-surrey/. It is being told that the Micks Garage would be conducting a pre-season test of both their cars and offered me one of the seats. You can probably guess what my answer was. People can check Mundelein Garage Door Repair & Installation Experts for the best garage services.
So, first things first, what is a Formula Sheane car? Currently they are the fastest one-make formula racing in Ireland and are all built to identical specifications. The engines and gearboxes are sealed and only opened by Sheane Cars. The chassis is a spaceframe design (tubular steel) with fibreglass bodywork. The engines are the same 1800cc powerplants found in the Lotus Elise, Exige and Caterham 7. They are connected to an VAG five-speed gearbox, driving the rear wheels.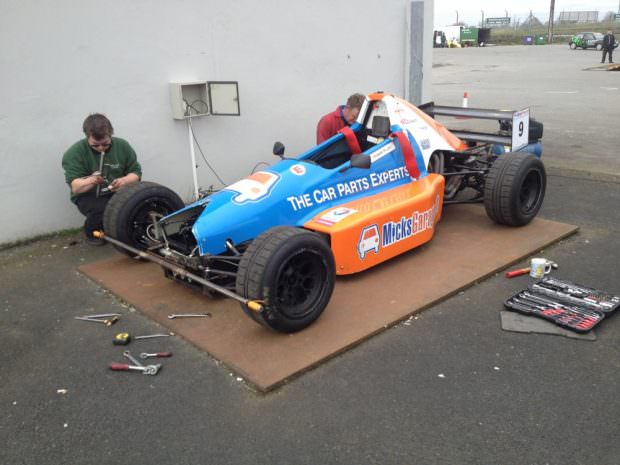 Suspension is by un-equal length wishbones at the front and a rear multi-link and trailing arm set-up. At the front the car is held on AVO coil-overs mounted horizontally on the space-frame (above the driver's knees) at the rear the coil-overs mount conventionally. Suspension is adjustable for camber, castor, toe, and combined bump/rebound damping. Adjustable anti-roll bars are mounted at both ends (inboard at the front).
That's the technical stuff, and as I was simply doing what was essentially a test session I didn't have to worry too much about honing the setup of the car. First job of the day when I arrived at the Mondello Park Circuit was to get my seat fitting sorted. Robbie (who runs the two cars) soon had me into the relatively tight cockpit and carried out the necessary adjustments to ensure that I had a good feel for the pedals. In all it took a couple of attempts to get right, but Robbie was keen make sure I was comfortable with everything.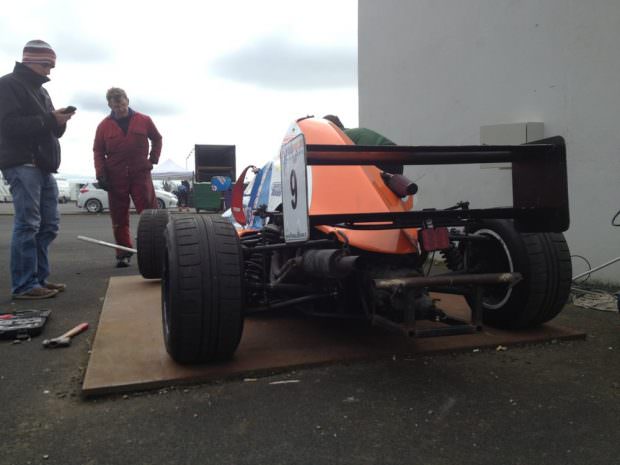 As you would expect with a single-seater like this, there's not exactly a lot of luxuries inside the cockpit. Holding me in place would be a six-point harness which once tightened up ensured that I wasn't going anywhere should the worst happen. The seating position was quite relaxed – my seat was probably just a couple of inches from the ground yet my head is barely above knee-height. Vision wasn't too limited, though if you've never been in a single-seater like this before it would seem slightly strange. The rest of my 'office' for the day consisted of a small steering wheel and a small, four-speed manual gear-shifter on my right hand side, just beside my thigh. I say four-speed, but for the circuit layout I would only be using second to pull away and then just flicking between third and fourth generally.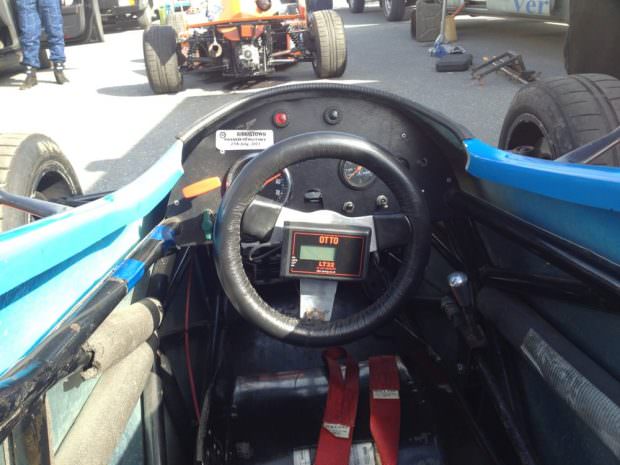 First session up, I'm strapped in and have everything double-checked before the guys push-start the car, signal for me to let out the clutch and hey presto the engine fired up. The clutch had quite a narrow bite point so getting to the pit lane from the paddock required plenty of revs and some clutch slippage. Green flag for the first session and wisely I gave myself two laps to get tyre and engine temperatures up while also familiarising myself with the car.
No power steering meant that at slower speeds a bit of effort was needed when cornering in the slower corners but when up to speed the car felt very nimble and surprisingly not over sprung. As you would expect with a race car like this, it was very sensitive to any inputs – either steering or pedal – and within a few laps I felt quite at home and could then start to push up the pace while trying to remind myself that it was merely a test session. The nature of the power delivery with the Formula Sheane car is quite smooth and allows you to play with the throttle a little more although it will light up the rear tyres easily enough. When that does happen if you don't quite know what you're doing you'll soon find yourself pointing the wrong way.
First session over and the grin on my face was all the feedback they needed on the car. That said I still went through, in as much detail as I could, just how the car felt and what it was doing while I was driving it. So far everything seemed pretty normal and so I was soon sent back out for a second session where I immediately felt capable of pushing that bit harder now that I had a greater understanding of the car. The hardest part to get right came when braking hard into Turn One. As the car doesn't have servo-assisted brakes like the kind that you would normally find in your road car, which meant I had to push a lot harder than normal on the brake pedal which itself didn't give a huge amount of feedback. Add into the mix other racers trying to beat me into the one braking point meant a few wide-eyed moments.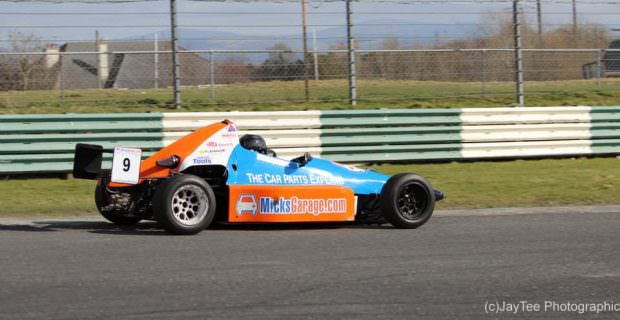 The second and third sessions allowed me to really push the car that bit harder, though ensuring I got it back to the pits in one piece was still my main priority. On paper the car might not have huge power outputs but even around Mondello's shorter National Circuit it felt plenty fast. Admittedly I was still a bit off the pace, even by the third session. My best time was a 1:01.6 which, I'm assured, was respectable enough given it was my first attempt.
All too soon my test session came to an end but aside from being a fantastic opportunity it did also spark ideas of going racing. It's an itch that I've felt the need to scratch for sometime and although this test session gave me a healthy fix, the habit remains and now knowing that I might not completely embarrass myself doing it I'm off to devise a plan for the future. You'd almost swear that they had planned it that way.
Huge thanks must be paid to Rob and the crew at Micks Garage for making it happen, to Robbie for his time and patience in getting me set up with the car and also to JayTee Photography for getting proof that it happened.