By now if you know anything about Formula One, or indeed any top-level motorsport, you will have heard that the starting point is karting. Typically youngsters spend their formative racing years progressing up the various karting formulas before then moving onto bigger things. At the responsible age of 30, I think I may have now missed by F1-calling, but nevertheless I was invited along by Richie Faulkner from the Irish Karting Club to try my hand and these diminutive race machines.
First up, here's a quick rundown on the different categories in karting here. Starting off with the Cadet Class, this drivers must be aged 8 or older (up to 12) and they run karts powered by 60cc Comer 2-stroke pull-start engines. In the interest of fairness, all engines are sealed to ensure that they're not tampered with before races. 60cc might not sound like a lot, but these karts can still hit speeds of up to 60km/h and when you factor in the slight weight of the youngster piloting it the performance figures are impressive. Formula One champions Jenson Button and Lewis Hamilton both began their respective careers in this class.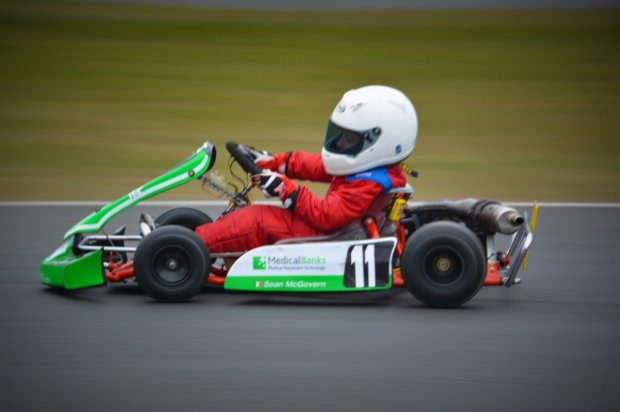 After that the next step is to the Mini Max class which is open to drivers aged between 11 and 15. Engine size more than doubles to a restricted 125cc Rotax engine as is the first change for driver to experience some real speed before moving, as most do, to the Junior Max class  which runs the same engine but in an unrestricted form. Every year the winner from this class in Ireland also gets the chance to then participate in the Rotax Grand Finals which is essentially the World Cup of karting. An alternative class to this is KF3 which uses 125cc TM engines and is generally seen to be more technically advanced.
As for my first outing, I would be sampling the Rotax Max class of kart – capable of hitting 100km/h in just 2.5 seconds and capable of a top speed of over 140km/h if there was a straight long enough. No reason to be nervous at all so. The cold track conditions dictated that using some wet tyres might be more appropriate for the grip levels. I didn't complain once about this!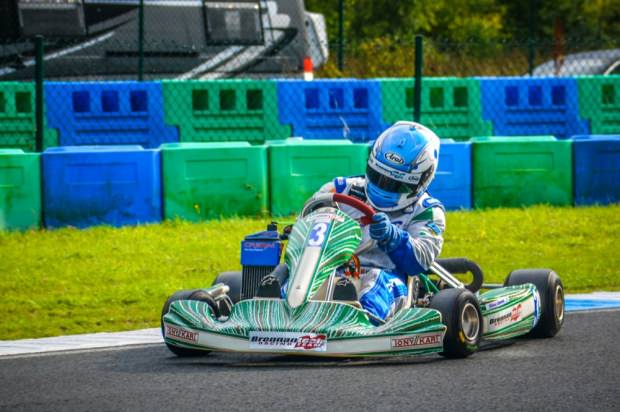 The first thing I notice as I literally squeezed into the seat is just how snug the whole setup is. The seat is designed to hold you very much in place given the high levels of lateral grip when cornering. You can tell straight way from the first prod of the throttle pedal that this is a very different kettle of fish compared to karts that you may be driven in the usual pay-and-race venues.
Pulling out onto the superb karting track at Whiteriver Park in Louth, I completed a swift enough warm-up lap to familiarise myself with the track while trying to get a bit of heat into the tyres. I gradually applied greater levels of throttle out of the corners as I explored the grip levels. Even with tyres that were well worn from earlier sessions, the grip levels were incredible. Sitting so low to the ground further exaggerates the sense of speed which rises at what feels like exponential rates.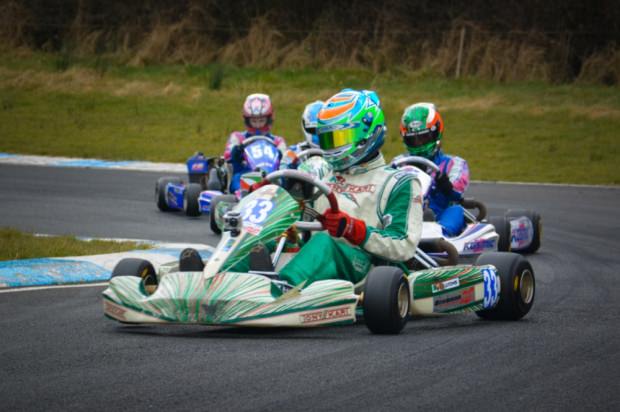 Once settling a bit more into the groove I was blown away by just how fast these karts felt – way more than I had expected. And what made it even crazier is that in a discussion about the tyres after my stint I learned that the fresh slicks would cut about 7 to 8 seconds from my lap time there. After several laps at full pace I was slightly relieved to see the chequered flag come out for the end of my session. Karting at this level is physically tough enough on the body and given that I was unlikely to be anywhere close to the potential pace serious respect is due to these folks.
Obviously many will see karting as the first step on the motorsport ladder, but it is also a relatively low-cost way of getting your motorsport (and adrenalin) fix. If you're looking to try something new, €2,500 would easily set you up very nicely for a season including all the necessary safety equipment. The karts aren't huge so even having a car and small trailer or van is all you'll need to transport your kit to and from the track and come the end of the season they're always people looking to buy used karts, so even if you decide that it's not for you, you're not going to lose a whole lot of money.
If you're keen and want to find out more check out IrishKarting.com while you can obtain all the license applications, rules and regulations as well as DVDs on getting started from MotorSportIreland.com
Pics: Marc Quinlivan