SEAT Leon Cupra – first drive
SEAT is clearly out to make a name for itself with its new Leon Cupra. Taking the same base as highly refined and much revered Volkswagen Golf GTI, adding another 60hp and then pitching it at a price that virtually matches its relation takes balls. In fact, it's almost sticking two fingers up at the folks in Wolfsburg. I like that. It's a gutsy move that, let's be honest, did have the potential to backfire on SEAT.
It hasn't though. The new Leon Cupra is an impressive package. It comes in two guises – 265hp and a 280hp version, the latter of which also gains 19-inch wheels over the standard 18s along with specific '280' badging. It's a move that looks to give better value for money than the Golf GTI's Performance Pack, no doubt a result of seeing how Volkswagen handled it.
Inside the Leon Cupra there is alcantara-clad sports seats up front as standard with the option of upgrading to leather trim. Later this year SEAT will offer some more extremely styled bucket seats which certainly look the part. The flat-bottomed perforated leather steering wheel has been made slightly thicker to what would previously have been seen on the Leon FR. The difference isn't immediately noticeable, but it certainly feels good in the hand.
Powering both versions of the Leon Cupra is the a 2.0-litre TFSI engine, similar to those found in other performance models in the Volkswagen Group, although in the higher 280hp setup it feels especially potent. This becomes slightly more evident when combined with the automatic DSG transmission which although delivering its renowned slick gear changes makes the kick-down and subsequent acceleration feel that bit more frantic. Then again, anything that puts 280hp through its front wheels is going to feel a bit lairy. In both casein the 265hp and 280hp versions 350Nm of torque is generated while CO2 emissions are 154g/km meaning that road tax in Ireland will cost €390 per year – a palatable figure given the performance figures.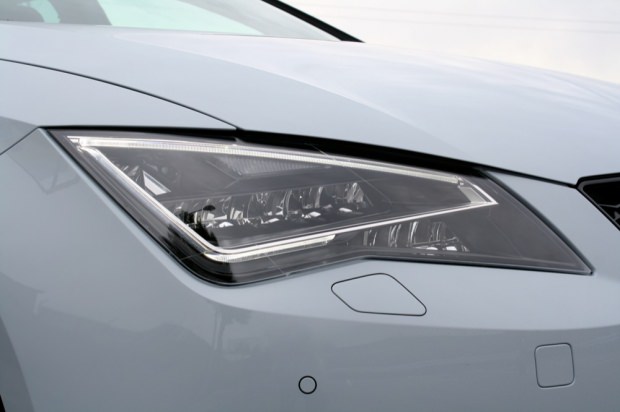 Indeed, for a hatchback it's boasts an impressive set of numbers. 0-100km/h is done away with in just 5.7 seconds while the top speed is electronically governed to 250km/h. Impressive for traffic light drag races but that's not to say that the Leon Cupra isn't competent when it comes to the other stuff. Thanks to an electronically controlled front diff, power delivery is shifted between the front wheels according to grip levels – in the most extreme cases it can send 100% of the power to one wheel. It's that same clever front end that also virtually eliminates any hint of torque steer.
The steering is well-weighted and delivers a level of feedback that will keep even the most enthusiastic of drivers content. Even at higher speeds you can really lean on the Cupra in a corner without any real drama, confident that it will knuckle down and take care of what you throw it. When it comes to more spirited driving, the manual gearbox feels like a better match for either engine, and also feels more rewarding to drive. If you do choose to go for the DSG gearbox (a €2,070 option) driving it through the steering-wheel mounted paddles is a happy middle-ground. Either way you'll love the car's addictive engine note, easily one of the most raucous of its rivals.
SEAT expect the Leon Cupra to be in showrooms in early summer with a starting price of €33,895 for the manual 265 version. Both three and five door body styles will be offered with either engine and a choice of manual or DSG automatic.