Volkswagen California – Driven (& lived in)
Ask most people to picture a camper-van and they will either describe an oversized motorhome with a hearing-aid-beige interior complete with net curtains and an elderly couple behind the wheel with coke-bottle glasses unknowingly causing cyclists and other road users to dive for cover. Or, at the other end of the spectrum, a dilapidated box on wheels that may or may not be home to a mobile meth lab.
Thankfully the Volkswagen California falls very far from either end of that spectrum. The camper-van is one of the jewels in the Volkswagen Commercial Vehicles crown. In fact, what many people don't realise is that the Commercial Vehicles arm is an entirely independent entity and one that performs quite well, manufacturing over 450 different model variants. What also sets the California apart is that it isn't some conversion subbed out to a different firm, this is created in-house and comes complete with an IKEA-rivalling finish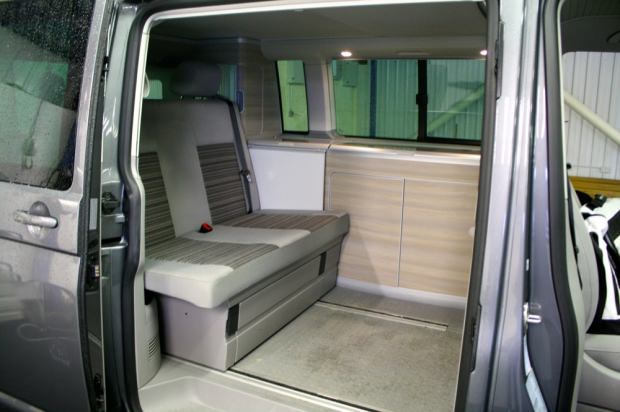 Built into the Transporter body, the California is a very clever piece of packaging – easily fitting into the average car parking space and feels very un-daunting to drive. It comes in under the 3.5-ton weight class too, so you're good to go with a standard car licence. In fact, most would be surprised at just how civilised the California is to pilot. The high driving position combined with the dashboard-mounted gear selector means that you sit in a rather car-like position, albeit a slightly more upright one.
The California's propulsion comes in the form of a 2.0-litre TDI unit which produces 138hp and happily lets it cruise at motorway speeds without being overly thirsty when you consider all that it is pulling. You see, there is quite a bit of kit craftily squeezed into this mobile lifestyle capsule. A fridge unit, two-hob gas-powered cooker and sink with fresh water plumbed from the van's 30-litre on-board tank complete the kitchen rig-out while the dining area comes as a choice of a fold out table and bench seating, or should the weather permit, one can dine al-fresco thanks to a separate table and chairs that are usually found neatly stowed away in the rear tailgate and sliding door. It is also possible to turn the front seats around 180 degrees so that everyone can face eachother, this also makes the interior feel a lot more spacious.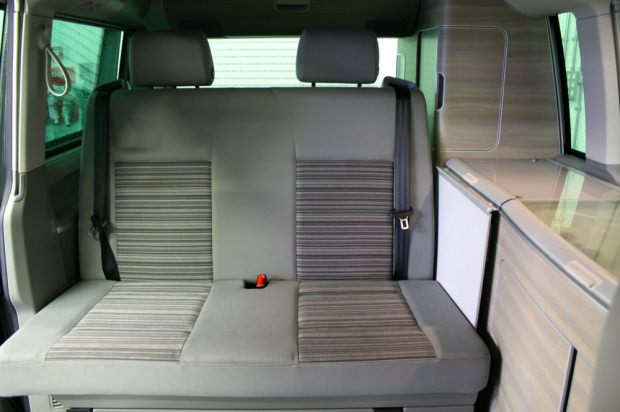 And after you've been fed and watered you can retire to the upper level by raising the electro-hydraulic roof which reveals a sleeping area for two adults. You will need to have an air mattress or a big duvet to lie on, but it is comfortable and thanks to the programable climate control you won't have an issue with being cold overnight. An auxiliary battery means that you can also have the heating timed to come on early and pre-warm the California in the morning without having to fear a non-start when you get in and turn the key.
Clever packaging solutions aside, it's the overall quality of the finish that is what is most impressive with the California. I guess that's what happens when a car manufacturer applies its expertise to fitting out a vehicle like this. The uninitiated may find the €57,890 starting price somewhat ludicrous but it isn't stratospheric in this category of vehicle. For a little more money you can also specify it with Volkswagen's excellent DSG automatic gearbox and, for the more adventurous,  a 4Motion four-wheel drive transmission can also be ordered. Where it excels the most is in its compact nature; where most camper vans a built on bare donor chassis and end up being quite wide and generally far from nimble in their driving characteristics, the California occupies an imprint no larger than a Passat and, although firmly sprung, rides well on a variety of road surfaces.
Ultimately, the California is a product that will sell in very small numbers, but for that small segment of the market that are interested in such a vehicle is does warrant investigation. Personally speaking, although I have little need for one in an everyday sense, it absolutely would have a place in that dream garage that we all secretly have in our heads!
Price: €57,890 (as tested)
Power: 140hp @3,500rpm
Torque: 340Nm @1,750rpm
Emissions: 203g/km
Follow @LordHumphreys on Twitter