The new BMW 4 Series has officially arrived, but don't let that name confuse you, it is still very much the 3 Series coupe you know and in many cases, love. The reason for the name change is more to do with a restructuring of models codes within BMW that will see all saloons using odd numbers, like 1, 3 & 5 Series, while coupés will use even numbers. Hence, the 4 Series.
From the front-end its clear to see the family resemblance with the 3 Series saloon, and front-end that is now starting to appeal more than when first launched. From the windscreen back, the 4 Series is probably the most elegant coupé design to come from BMW in some time – thanks to the supervision of Adrian van Hooydonk, who has recently taken up the role as head of BMW Group Design.
Bold contours dominate the side profile, while the rear is nicely tapered and even at this early stage seems to be a design that will age very well. As well as a new name, BMW has rolled out some new trim lines, which on the 4 Series will now consist of SE above which will sit two lines – Sport and Modern, Luxury is one step on from Modern and then M Sport rounds off the top trim line.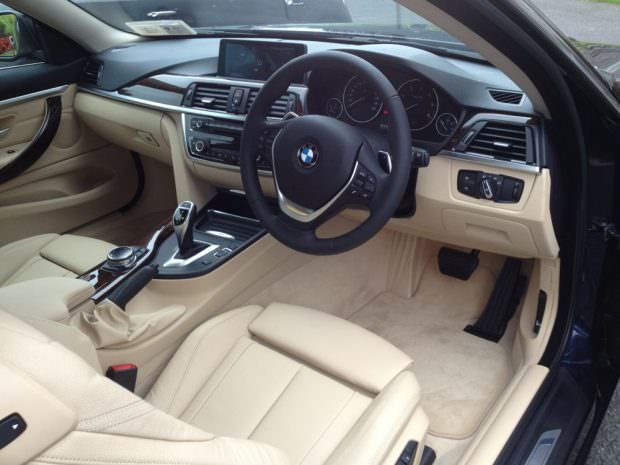 As is the usual trend with new coupé models, larger engines will be the first to be made available, and the 4 Series range in Ireland will consist of the 428i, 435i and 420d. Late 2013 will the arrival of the 420i, 430dA as well as three xDrive models – the 420i xDrive, 420d xDrive and 435dA xDrive. More engines will be introduced during the early stages of 2014.
Buyers will benefit from a high level of standard equipment across the range that will include Dakota leather upholstery, heated front seats, 17-inch alloy wheels, cruise control, rear parking sensors, xenon headlights and DAB digital radio amongst other features. The price jump from SE to either Sport or Modern will be €2,250 while the jump to Luxury will be €3,750 and the sportier buyer will meet a cost of €4,500 to upgrade to M Sport trim. For those seeking the added traction of xDrive a cost of €2,250 will be applied.