Much to the delight of car enthusiasts, Audi are continuing to expand its RS range with new models like the RS Q3, but first it's time to spend some time with a more established name – the S3. This all new S3 is of course utilizing the MQB platform and looking at the figures on paper, should make for a pretty interesting package. The soon-to-be outgoing RS3 has been widely criticized for its handling and with this new S3 producing almost the same amounts of power, the pressure is on for it to perform.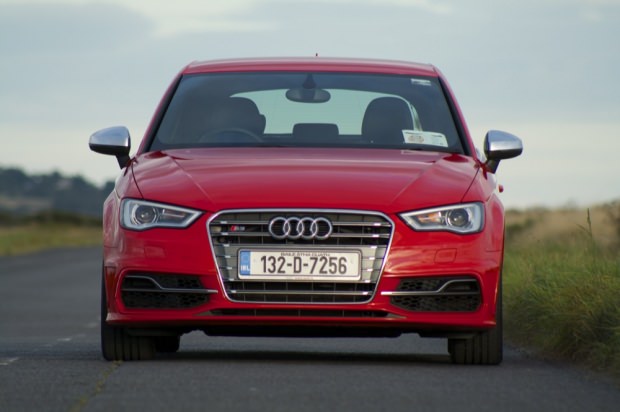 Aesthetically the new Audi S3 looks bang on the money. It is a near-perfect blend of muscular styling yet still manages to remain slightly understated. The biggest giveaway to the potency of the S3 are the quad exhausts at the rear of the car. Also present are those trademark aluminium-finished mirrors that denote this is no ordinary Audi hatchback. The five-split-spoke alloy wheels are simply gorgeous to look at, especially with the immodest brakes lurking behind them.
The requirement for such brakes is the 2.0-litre TFSI engine that produces an impressive 300hp. Thanks to a new lightweight cylinder head that is constructed from an aluminium alloy, which allows for greater strength and temperature resistance, the redline is now a heady 6,800rpm. There's plenty of grunt too – 380Nm to be precise, all of which gets to the tarmac via Audi's quattro system which in this particular instance comes from Haldex.
Firing up that brawny engine you are met by a healthy engine note which burbles innocently until you decide to adopt the S3's Dynamic mode. The engines idle rises ever so slightly while the exhaust note takes on a slight air of menace. This is the only setting in which this Audi should be used in. But for those who must know, there are also Normal, Comfort and Efficiency modes available – more on those later.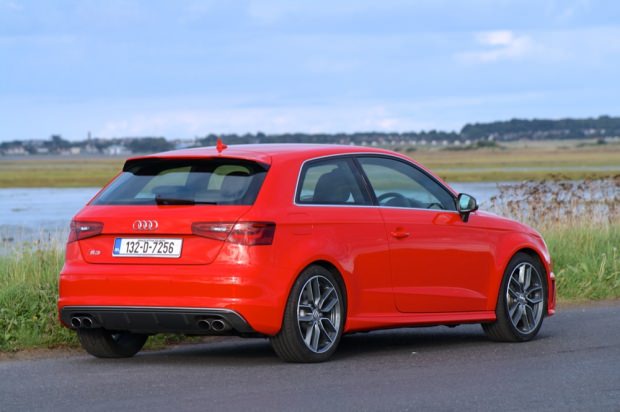 One bone of possible contention in this S3 package is the S-Tronic automatic transmission. Yes, it does offer near-seamless gearshifts and it does help the S3 reach 100km/h in 5.1 seconds (it takes 5.4 seconds to do the same dash with a manual box), but when you drive it in Sport mode and allow it to handle all the shifting it really does hang onto each gear for far too long and very soon gets annoying. Thankfully those boffins in Ingolstadt have been mindful enough to include a set of steering wheel-mounted paddle shifters that allow the driver to essentially drive the car as a manual – when the mood takes them. And when you pull another gear under heavy engine load, those quad exhausts emit a sound that is simply wonderful.
Despite wearing a quattro badge this isn't a permanent four-wheel drive system nor does it feel like it. Predominantly it feels every bit the front-wheel drive car which it spends the majority of its time doing. The front end turns in well, helped partly by that new engine which is 5kg lighter and also by the MQB chassis that accommodates it. The electronically controlled power steering is quite well weighted although there is just a slight feeling of distance in connection to the front wheels. However this is soon acclimatized to, and before long you can confidently push the S3 harder though tighter bends. Should you have the sudden requirement to drop anchor, the brakes haul the Audi up in quite a short distance, although track-day drivers may want to invest in something slightly higher up the brake pad market for better prolonged use.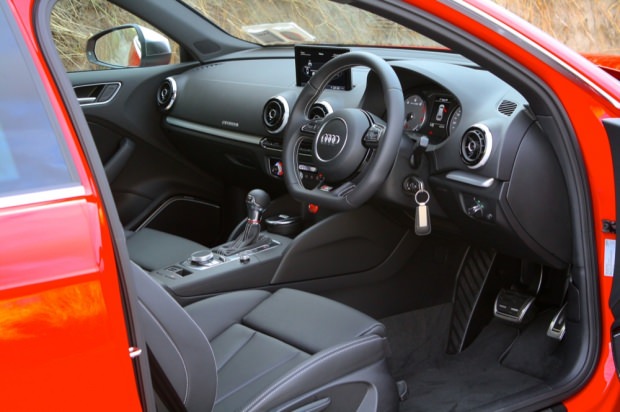 As one would expect from a modern Audi, the interior is impeccably finished although save for an S3 badged flat-bottomed steering wheel, there isn't a great deal to differentiate this Audi interior from a highly specced S Line model. Yes, you do of course get some beautiful sports seats that do quite a good job of holding you in place through the corners, but as an S3 owner, you can't see them when you're in the driving seat. If I was shelling out in excess of €50,000 I'd like a little more on the inside to show for it.
In the real world there are very few vehicles around that the S3 won't be able to keep up with from a set of traffic lights. Rather than the traction control being overly intrusive, the quattro system simply shuffles the power around to give each wheel the best chance at traction. At times it can be devastatingly fast in a way which doesn't befit its conventional shape and styling. That said, long term owners won't always be driving in this fashion, and for those without limitless fuel cards, the Efficiency mode is quite an impressive function. For example when driving along on the motorway, when you lift off the throttle, the S-Tronic gearbox essentially disengages the clutch, allowing the car to coast and letting the engine drop to idle thus saving fuel. This over a longer period of driving does result in some noticeable fuel saving.
This new Audi S3 operates just below the performance ceiling of what is realistically useable. Its quattro system lobs confidence at whoever drives it and really enables the driver to exploit much of the 300hp on tap. Yes, it remains a rather expensive hot hatch, in a world where hot hatches are becoming increasingly impressive creatures. But what Audi have with this new S3 is a little bit special and the kind of special that is only really appreciated with time behind the wheel. Did I like it? Yes. Do I miss it? Incredibly so.
Road Tax band: €570 (D)
Price: From €45,260 (€56,359 as tested)
Available: Now