Your locally sourced, handbuilt Mercedes V12 is here
When artists Eric van Hove decided that he wanted to build a Mercedes-Benz V12 engine he went not to his local dealership or indeed to the scrap yard, instead he called upon the assistance of 35 master craftsmen from numerous regions around Morocco to help him with his creation.
Van Hove carefully disassembled the Mercedes-Benz engine and over a period of nine months sent each individual part to a different craftsman for them to replicate using locally sourced materials from their own region. Once all of the parts were made and sent back to the artist, he then began the task of building the new engine resulting in what you see here.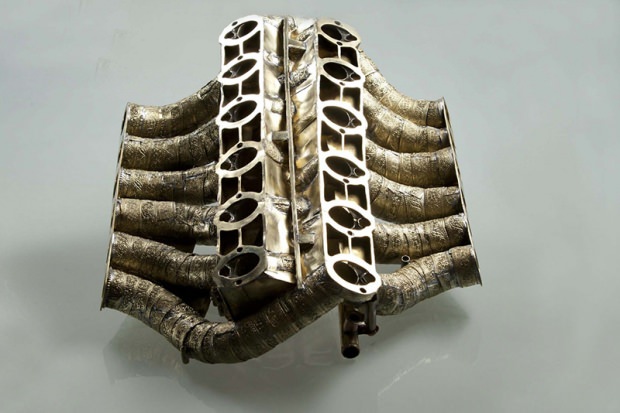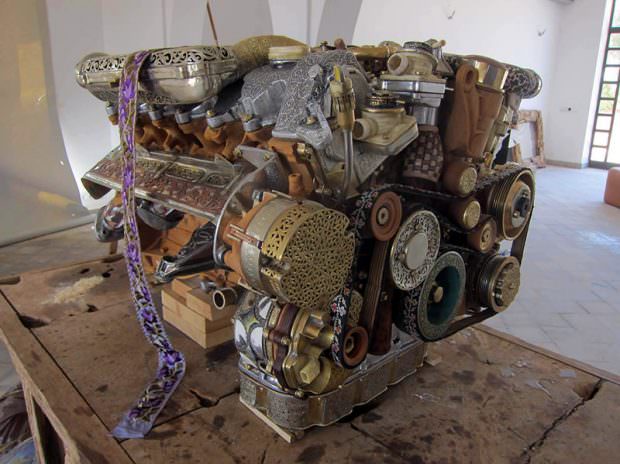 And if you must know exactly what went into this new engine, van Hove lists them as;
…white cedar wood, high Atlas red cedar wood, walnut wood, lemon wood, orange wood, ebony wood of Macassar, mahogany wood, thuya wood, Moroccan beech wood, pink apricot wood, mother of pearl, yellow copper, nickel plated copper, red copper, forged iron, recycled aluminum, nickel silver, silver, tin, cow bone, goat bone, malachite of Midelt, agate, green onyx, tigers eye, Taroudant stone, sand stone, red marble of Agadir, black marble of Ouarzazate, white marble of Béni Mellal, pink granite of Tafraoute, goatskin, cowskin, lambskin, resin, cow horn, rams horn, ammonite fossils of the Paleozoic from Erfoud, Ourika clay, geometric terra cotta with vitreous enamel (zellige), green enamel of Tamgrout, paint, cotton, argan oil, cork, henna, and rumex.