Following the near 1,000km drive of Day 2, we faced an equally long 700 plus kilometre drive on what would be our final day on the road before handing the cars over to the next group for Stage 3. Our drive today would end in the city of Ulan-Ude and promised us yet another day of spectacular scenery in which to travel through.
As much of Chita still slept we began to load up the cars before breakfast and managed just enough time for a quick stroll around the city as dawn broke. Like all large towns and cities that we had travelled through thus far, it didn't take us long to discover the large main square upon which an impressive statue of Lenin looked over.
The one observation that rang through in every place we drove through was the seeming lack of modern transport – both public and private. With the exception of the odd brand new V8-powered Nissan Patrol or Toyota Landcruiser Amazon, the vast majority of cars seem to all be at least fifteen to twenty years old and are all far from showroom condition. Whether this is down to people not being able to afford something newer or the fact that they perhaps don't place the same emphasis on the materialistic nature of modern that we do back here in western Europe remains unanswered. One thing is for certain though, those cars really have stood the test of time so far.
Once more we run parallel to the Trans-Siberian Railway as we leave Chita before heading out into the countryside. The further away that we drive from the city limits the more rural the residential areas become until we reach a point where small clusters of homes could barely be classed as shanty-towns. The roads have held up well so far, but every so often we come across a section of road that isn't like it has fallen into disrepair, it simply has never been paved. Follow a kilometre or so of bouncing across what is essentially compacted gravel, we suddenly find ourselves back on a perfectly paved road again. This continues for sometime until we are stopped in our tracks by a huge herd of cattle that have decided to amble across our path.
Following some car to car filming, we really need to put the foot down in order to catch up with the rest of the convoy who have gone on ahead. Our CX9 camera car leads the way and we regularly see speeds approaching 180km/h while we watch their suspension in order to gauge just how back the road surface is – after all, they have a little more suspension travel than we do. After some rather spirited driving we tag on to the back of the convoy once more and continue though some spectacular countryside.
For the next hour or so we travel along a thin black ribbon of tarmac in what what is otherwise a vast expanse of scrubland. For as far as the eye can see, there is not a bush nor tree in sight. I have never before experienced a country that can host such a different variety of countryside in which to travel though, and yet on this stage of the trip we are crossing just a tiny part of Russia in the grand scheme of things.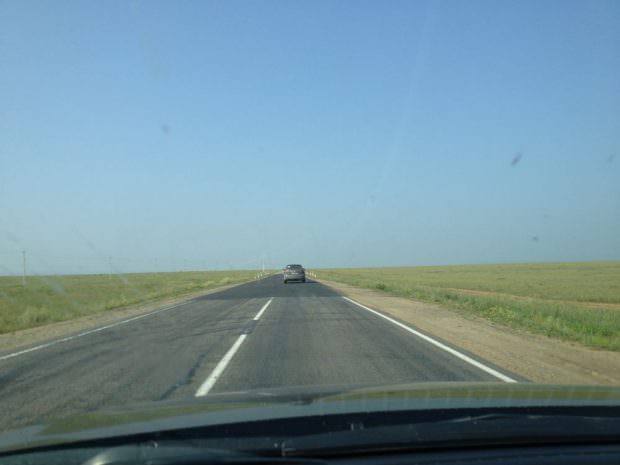 Unlike undertaking a vast roadtrip in Europe where services are never that far away, in these parts of Siberia when you begin to run low on fuel you do become acutely aware of it. As we all fuel at the same time, we generally all have the same fuel ranges and as a backup each car has a 25-litre jerry can of extra fuel in the boot. We arrive into your next planned fuel stop with just over 50km of fuel remaining before being told that the station is completely out of fuel. Normally this would cause a level of stress but in this case we are in luck and another station isn't too far away.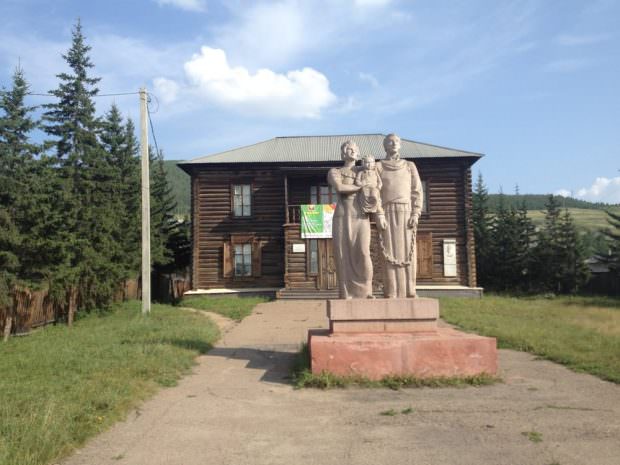 With our tanks topped up we set out on the final leg of our journey into the city of Ulan-Ude. On this final leg we would be making a detour to a museum commemorating The Decembrists, who were essentially exiled out to this area of Siberia at the turn of the century. This isolated outpost is still now home to several hundred families and is steeped in historical importance. Judging by the reaction of several locals as our convoy rolled into town, it isn't a place that seems to be visited very often by foreigners.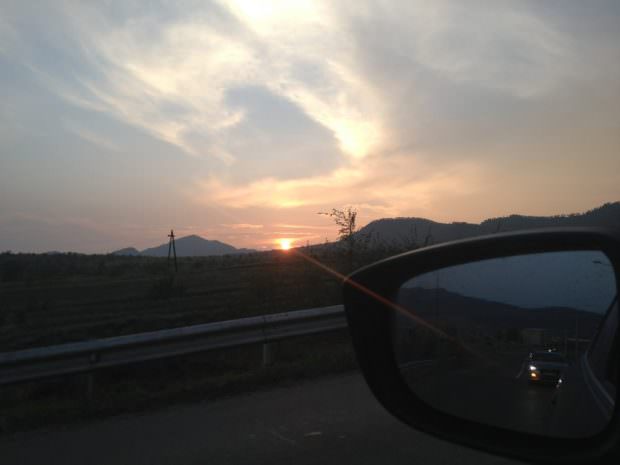 Despite being a shorter day distance-wise, dusk was beginning to fall as we approached our final destination. Once again the spectacular scenery served as a visual treat as we drove along and as the sun began to set on the hilly terrain which is deeply shrouded in rich forestry one, could easily be mistaken for thinking that this was the main road into somewhere like Saigon. For the final time we cross the Trans-Siberian Railway before adopting some defensive driving as we approach downtown Ulan-Ude.
In what is almost a full circle, the final city we end up in – Ulan-Ude – is quite a bustling place and has far more of an Asian feel about it which, given that it is nestled not far from the Mongolian & Chinese borders, isn't surprising. The few locals that we meet seem incredibly and genuinely friendly much like the locals we have met everywhere along the way on this trip.
Having flown halfway around the globe and managed over 2,500km of driving into just a few days, the Mazda 3 Challenge is without a doubt an event that I think none of us will ever forget. Aside from the spectacular sights, the bizarre and also hilarious incidents, there was of course the unsung star of the week – the new Mazda3.
When you consider that these eight cars turned up in absolutely standard trim, with no reinforcement or protection, and they performed (with the exception of some wheel-killing potholes) faultlessly. Some would argue that we were nothing more than delivery drivers and perhaps to a degree they would be correct. But rather than a mere test drive, we drove, ate, drank and slept in these cars over all kinds of terrain and when all was said and done after Stage 2 there was very little that could be said to criticise this car. The interior is extremely comfortable and as well put together as cars that cost almost double. The 2.0-litre petrol engine that got us to Ulan-Ude may not have been the most powerful in its class, but the prospect of this car with the 2.2-litre diesel engine is a very attractive one that could certainly prove to be a Golf-beater.
Personally the first time I see one of these new cars on my local roads I will be transported back to what was undoubtedly one of the greatest driving trips I have ever had the pleasure of taking. Even with Car 2 leading the way…