Our overnight accommodation in Skovorodino may have been close to the size of a ship's cabin – minus air conditioning – though we did have the benefit of a 42-inch flatscreen LG television. Either way, despite our diva-esque jokes, we were all secretly just glad to have somewhere to get a few hours sleep. Having fuelled the cars up the night before, we would be able to hit the ground running today, and our first stop would be to cross the Trans-Siberian Railway.
When you travel across a country like Russia by car you really do get a sense of the sheer vastness of the place, and so you forgive the roads for being in a state of disrepair, all of which makes the Trans-Siberian Railway all that bit more impressive. This really is a lifeline that spans this enormous country.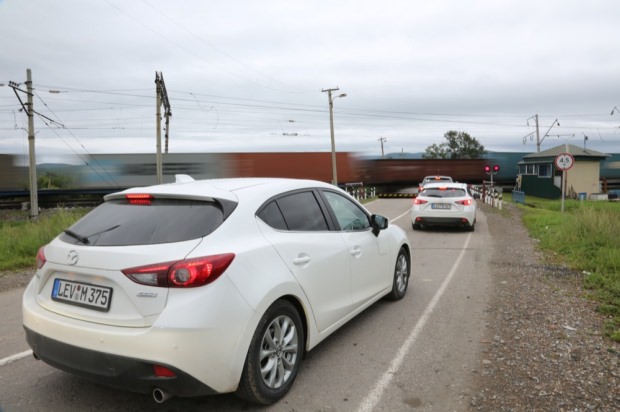 There can sometimes be little in the way of points of interest to stop and see when you're travelling on a trip like this – so stopping off to take a look at the largest road junction in Siberia came recommended. It may come as a surprise to you that this could also be called the quietest road junction in Siberia. Quite why the authorities decided to construct such an enormous motorway style junction in the middle of nowhere is that bit more mind-boggling when you stand there looking at it. The only answer is 'that's Russia for you'.
Our journey today would see us having to cover a hefty 910km and about a quarter of the way into it we find ourselves still on well-paved, good roads so decent amounts of progress is being made. The striking scenery on this trip often reminds you of driving through different countries, such is the nature of the land here. Much to today's driving could be in Canada, were it not for the infrequent reminders of old Soviet Russia.
After some 500 or so kilometres we pull in for lunch in the only place that seems possible – a roadside lay-by next to what may have once been a quarry. There is literally nothing here, so thankfully the crew produce a picnic which has been prepared. When we stop the one constant that you can't help but notice is the sheer silence that meets you when you get out of the car. As someone who lives, eats and breathes city life, this is equally as refreshing as it is daunting. It reminds you that you truly are in the middle of nowhere. In the distance I spot a large bird of prey circling over a forrest – one of the only examples of wildlife we have seen all day. It is stunning though.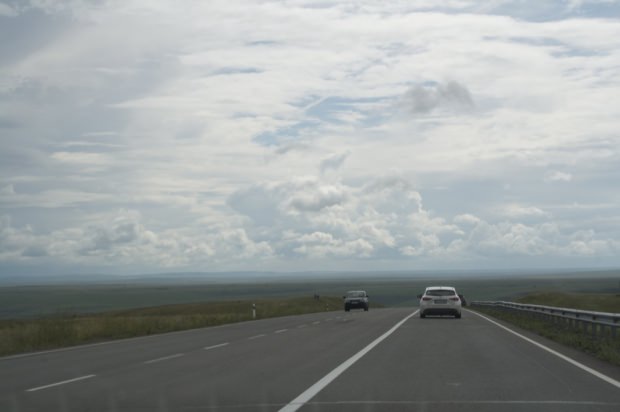 The rest of our day would see us notch up some serious mileage and thanks to better roads helps us to make some decent progress. That is until the Siberian roads claim another victim. This time it is Car 4 who has met a severe pothole and has wrecked both of its right wheels. A thirty minute roadside break while they change the wheels allows the crew to top us up with some more energy drinks which we now are becoming dependent on. With the spare wheel supply now depleted by three in the last twenty-four hours, the Mazda crew are hoping that there aren't too many more incidents.
On such a long trip as this is can sometimes be hard to gauge when to stop – you don't want to do it too often as it kills time, but you also don't want to leave it too long as you increase the risk of driver fatigue. Our next stop would be a short driver change as we are now almost two-thirds of the way there. During this break we find an 'interesting' plant growing at the side of the road, which gives us great amusement as we pose with it for photos in the car – little did we know we almost sparked an international incident by tweeting said pics – all in good fun of course!
Approaching Chita, the roads got decidedly worse before entering the city, to the point where we were travelling along what was essentially a motorway constructed from compacted earth. Chita is a more developed city than our starting point in Blagoveshchensk, and seems to have quite a lot of industry surrounding it.
There are cheers as we reach our hotel for the night which does actually appear to be a real, proper hotel! All joking aside, everyone is happy to have made it though what would be the longest day of driving on the whole trip. It is also a testament to the Mazda3 that despite no additional prep work being carried out to the before the trip, that the cars have made it thus far without incident (barring punctures).