Being invited to the worldwide debut of a new performance car is, naturally, quite a privilege. Being invited to drive said car up one of the most famous hillclimbs in the motoring world, on said car's worldwide debut is just downright bells & whistles kinds of luck. The car in question is the new Skoda Octavia RS which was officially unveiled by Lord March at the twentieth Goodwood Festival of Speed.
Given the Czech brands relatively short turnaround from being the butt of numerous cheesy jokes to being only of the most successful divisions of the globally huge Volkswagen Group, it is still surprising to see just how much of a cult following the RS-badged Octavia has gained.
The new Octavia RS will come in two guises – Saloon & Combi (that's Skoda lingo for estate) – and in two different engine configurations, both 2.0-litre and both four cylinder powered by petrol (220bhp) and diesel (184bhp) fuel respectively. Given the current state of consumer affairs Skoda expect most to opt for the slightly more frugal diesel engine, and so that is the car that I will be taking up the Goodwood Hill.
For those unaware of Goodwood, it is essentially the ultimate festival for automotive and motorsport fans. The event takes place in the grounds of Goodwood House in southern England and is a mere stone's throw from the Rolls Royce factory. Over the fours days of the Festival of Speed, all manor of hypercar exotica and priceless racecars line up to take a run up the hillclimb which is just over a mile long and sees the current record of just over 41 seconds currently held by ex-F1 driver Nick Heidfeld which he set in Mika Häkkinen's  1998 McLaren MP4/13.
There would be no danger of me threatening Heidfeld's record which is no disrespect to the Octavia RS, but rather down to the fact that for my run I had been requested to adhere to a moderate speed limit on safety grounds. Normally this kind of thing would annoy me but the privilege of getting to do this in the first place soon dismisses any such feeling. One thing you become acutely aware of is just how narrow the hillclimb is, even at a reduced speed you do need to exert a degree of concentration, so for those how race this in anger, respect is well-deserved.
Despite the run being over all too soon, my time with the all-new Octavia RS would not be limited to a 90-second blast up the Goodwood hill. Skoda has tasked me and my colleague Neil Briscoe (@NeilMBriscoe) to take one of the first pair of Octavia RSs back to Ireland – a 500-odd kilometre journey that would give us plenty of time to get to know this car. Naturally Skoda Ireland weren't completely silly in coming up with this plan, and so, joining us would be its PR legend nee man, Paddy Comyn (@PaddyComyn). Cue comic roadtrip levels of unadulterated silliness.
One half of our run would consist largely of fairly dull motorway – an unavoidable and necessary evil when taking this type of trip. But this did give us a chance to not only stretch the Skoda's legs but also to get a good measure of just how frugal the diesel engine can be. In fact it would be almost three hours before we needed to pull in to refuel, both ourself and the car.
After being tackled by some enthusiastic Skoda RS fans in the services car park we set off and zero in one some of Wales' finest driving roads which lead us towards our ferry back to Ireland.
The Octavia RS Combi which we are driving may sit 13mm lower than its less-powerful sibling but even on the bumpiest of Welsh roads felt consistently surefooted and was never lacking in grip even at some higher speeds on A & B roads. The real test will come in the form of a more intensive week-long test around Ireland in the coming weeks, but given far-from-usual introduction to the Octavia RS, needless to say, I'm already looking forward to it.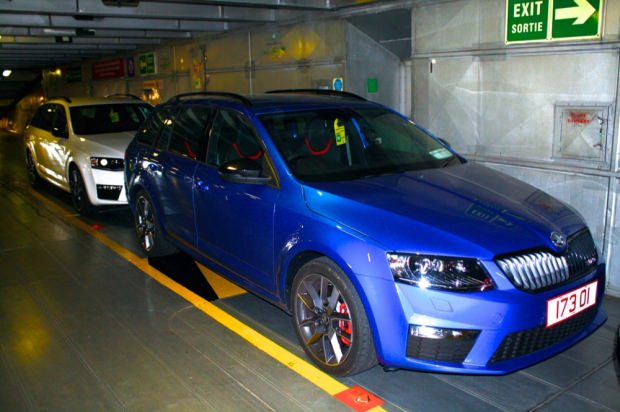 Follow @LordHumphreys