Way back on a dark, cold January day at the start of this year Simon Kelly suggested that it would be a fantastic idea for both he and I to partake in the annual running of the bulls in the Spanish city of Pamplona. The event wasn't due to take place for almost seven months, which seemed like a vast distance away, so naturally, I agreed to do it. Sometime passed rather quickly by which point an email came through confirming our flights to Spain, meaning that I now could not try to wriggle my way out of it. Plus by now, too many people knew of the adventure meaning it was on. Like Donkey Kong.
It had been agreed that no adventure is truly complete without some form of road trip, so it was decided that rather than flying into Pamplona (boring) we would fly into Barcelona and drive the 487km to Pamplona (not boring). Being Spain it was then decided that it would only be apt to do the drive in the nation's car brand – SEAT. And what would be more fitting that its latest hot hatch – the Ibiza Cupra. Several long-winded emails, including one outlining the contingency plan in the event of my death (seriously), we landed in Barcelona airport and were greeted by a lovely man called Jordi from SEAT who took us to our awaiting car and even went to the bother of paying for our car parking. Did I tell you how lovely Jordi from SEAT was?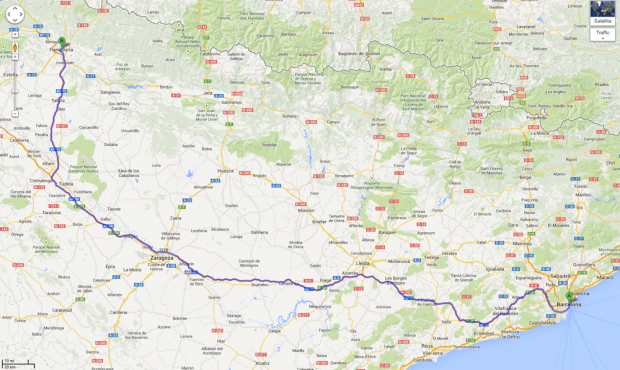 Pulling out of Barcelona airport, Simon punched in Pamplona to the car's standard fit sat-nav and we set off west in search of bulls. Being late at night we opted for a motorway only route which we hoped would see our estimated time of arrival drop to before 5am. The only downside to doing the drive this way was that almost all of the motorways there is unlit and contains multiple tolls – the biggest of which was just over €21 while the oddest was €6.82. We're still not sure why, we just paid it.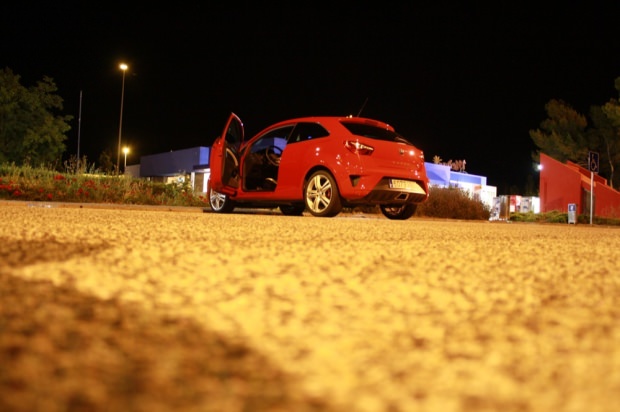 Despite being no stranger to long-distance blasts in the car, the long day and flight was starting to take its toll so a rest stop was needed. Surprisingly we needed not to resort to petrol station nosh purchased through a plexiglass hatch. Next door was a perfectly deserted restaurant that was able to serve up some Iberian Ham (the staple diet of any motoring journalist). Fifteen minutes and a dessert course later we were back on the road.
Despite exploiting the Ibiza Cupra's ability to sit in virtual serenity at, shall we say, high speeds, the road to Pamplona seemed to be without end. The vast distances of unlit motorway meant higher than usual levels on concentration were needed to in order to keep us on course. One suicidal rabbit went off to meet its maker and it was at this point that another break was needed.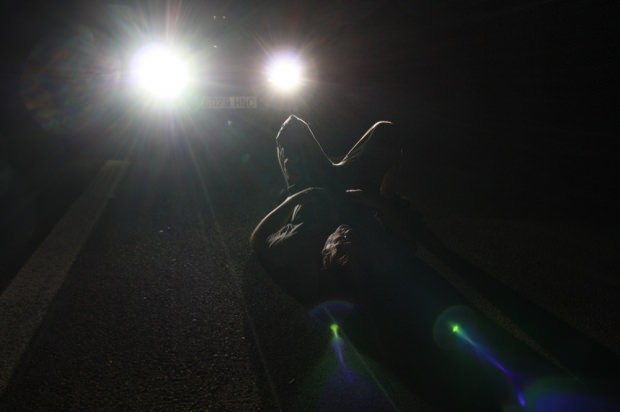 It was now approaching 4am and with just under 100km still to go it was time to decide what to do. Our hotel was 50km north of Pamplona but the bull run was due to start at 8am meaning our presence in the start was needed an hour before hand. Simon made several calls to hotels in town in an attempt to find somewhere to sleep for what would at most me just a couple of hours. The only rooms that seemed to be available were so ludicrously priced that even in our exhausted states just weren't justifiable. No matter what way we tried to work it out, we came to the conclusion that we would be sleeping in the car tonight. I was rapidly hitting the wall in terms of tiredness (not helped by an already mental week leading up to this). Rumbling into a virtually deserted Pamplona, we did a quick recce lap of town before finding what looked like a quiet side street where we would get our heads down for the rest of the night.
The Ibiza Cupra's sports seats do work very well when cornering at high speeds, but don't quite provide the most ideal location for a decent night's sleep. That said I did still manage to get what seemed like a solid two hours before my iPhone alarm went off awakening me to the morning that would see me run with the bulls. Pamplona early in the morning of festival week is a slightly bizarre place. Literally everybody is dressed in the traditional attire of white shirt, trousers and red neckerchief. It's a bit like some enormous cult has taken over the city. The actual running of the bulls happens at 8am, but if you want to run with them you need to be on the route and past the barriers by 7.15am so with a 2km walk ahead we got going. You know when you're getting near as the sound of the traditional bandas blend with the deep house music emanating from the surrounding nightclubs. It is at this point that you remind yourself whilst standing in the warm morning sun that it's just gone 7am.
As the clock nears 8am an air of nervous tension descends over the runners who remain on the streets while the crowd anticipate the spectacle that is about to commence. The tension is shattered by an enormous fireworks explosion signalling that the bulls have been released. People are already running but we're staying true to tradition whereby you don't run until you can visually see the bulls. Within milliseconds of feeling the ground vibrate under the approaching herd I spot the lead bull and begin to run like hell. As fast as I try to run I can't seem to outrun the 500+kg bulls and so I try to run to the side but find myself having to hurdle over runners who have already fallen. The herd pass by but I know another pack are coming up behind me.
The run is over almost before you know it – the total length of it is just under 900m – but the adrenalin rush feels like it should last a good deal longer. As an event it is nothing short of spectacular and in a world that is controlled more and more by health and safety is a wonder that it still takes place at all. As we amble back towards the direction in which we abandoned the Ibiza Cupra I can't help but giggle to myself over what I've just done.
Our hotel is a good 50km out of town in a quiet area of the Navara Valley called Roncevalles. Normally I would complain about the hotel being so far away, but two things prevent this; I'm driving a 180hp Ibiza Cupra and our hotel is on the N135 which for all intents and purposes appears to resemble a rather epic tarmac rally stage.
The open sections of road leaving Pamplona allow me the stretch the Ibiza Cupra's legs a little, reminding me of what I good car I thought it was when I attended its launch earlier in the year. The seven-speed auto-box hangs onto the gears just that bit longer when in Sport mode and drops back down them almost without hesitation when I pull the left paddle coming up to some tighter-than-tight hairpin bends. The rack is quick and even the tightest corner requires little more than a 180-degree turn. Pairing the second smallest car in the SEAT range with that 1.4-litre TSI engine makes for a rather sweet package that sees the hot Ibiza scamper out of corners every time. Despite the presence of the XDS electronic diff the Ibiza Cupra is well able to put down the power without and sense of traction loss – meaning that either the XDS employs some real witchcraft or the Cupra is seriously sorted in the setup department. SEAT has given the highest performance Ibiza some stiffer springs as well as re-mapped shock absorbers resulting in almost Clio RS-esque three-wheeled cornering while still preventing filling loss from one's teeth.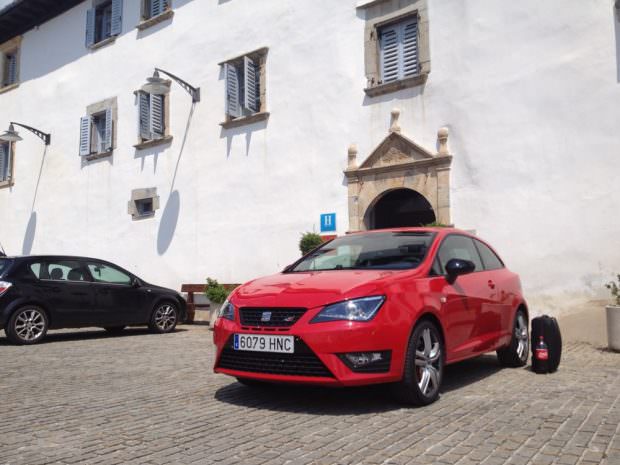 Following one more day of getting up at the crack of dawn to do a special rally stage, sorry, the N135, we partake in one more running of the bulls before setting off on the long haul back to Barcelona. In daylight we realise what a spectacular-looking country Spain can be as we cross lush fields of fruit trees followed by the most arid of land. Following the obligatory stop-off for ice cream I can't help but be impressed by how well the Ibiza Cupra simply eats up the miles and at how little fuel it drinks when driven at moderate speeds. Our high-speed run to Pamplona during the night saw us making two fuel stops, yet we roll into Barcelona airport following a more relaxed drive with a near 100km range remaining. Surely this is one of the Cupra's trump cards? As we hand the keys back to the still-lovely Jordi from SEAT all I can do is look forward to getting this car to drive back home. As adventures go, the #CupraBullRun certainly qualifies in the upper end of the grid.