Ford Fiesta ST- International Press Launch
The new Ford Fiesta ST is effectively a salvo launch across the bow of the more revered small hot-hatch makers. This is a segment of the market that is not just simply about out-and-out horsepower figures. Buyer's choose their model almost in the way they support a football team. What they drive says as much about them as their driving style, and although Ford do enjoy quite a loyal following, this new Fiesta ST may just be about to really upset things.
Let's get down to the brass tacks for a moment. Under the bonnet is Ford's 1.6-litre EcoBoost engine which is uniquely calibrated for the Fiesta ST to the tune of 179bhp but more importantly churns out 240Nm from just 1,600rpm and carries that all the way up to 5,000rpm. That said, being an EcoBoost engine, Ford also claim that drivers can achieve fuel consumption figures of up to 47.9mpg while emissions come out at just 138g/km meaning that it will fall into road tax band B2 (€280).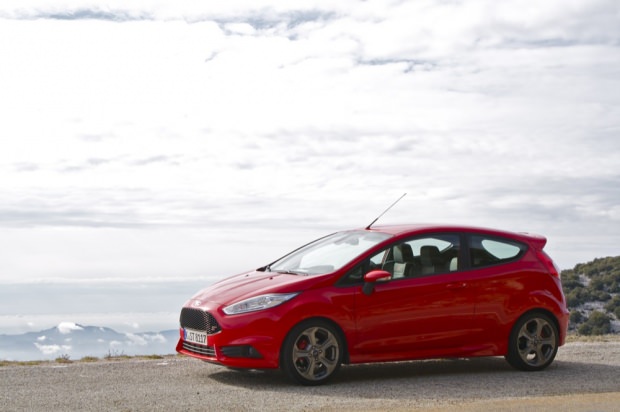 Visually the ST is a very handsome car and is very well proportioned. Unique springs and dampers allow the car to sit 15mm lower and the ST bodykit isn't too over the top. The 'Aston' front grille does still seem to be splitting opinions although on this higher performance Fiesta it does look slightly less out of place. Naturally it wears a proud red ST badge on the front while the rear is also more noticeable due to the twin-tip exhaust and detailed rear diffuser. One final welcome addition both from an aesthetic and performance point of view is the addition of rear disc brakes – a first on a Fiesta ST.
Ford have worked hard to ensure that their new Fiesta ST can walk the walk as well as talk the talk. The electric power steering has been tuned to give a sharper response, something helped further thanks to some redesigned steering arms. The front suspension is where it is thought the biggest gains will be felt; the new front knuckles are optimised for camber while the springs are tuned to give a better ride at higher speeds over uneven surfaces.
In order to see if all of these actions have been properly executed I took the new Fiesta ST along the D6085, which should you ever find time to Google it, you will discover is a road which can only be filed under 'epic'. The engine has a very meaty sound to it, helped in part by the in-built 'Sound Symposer' which channels sound from the engine intake up to the cabin. The result is a more natural sound rather than those that are digitally produced by other manufacturers. The motor pulls exceptionally well and is happy to spend long periods of time in the upper rev range seemingly never running out of breath. The six-speed gearbox is well suited and leaves you with a choice of gear options when driving hard as it pulls almost as strongly in fifth as it does in third.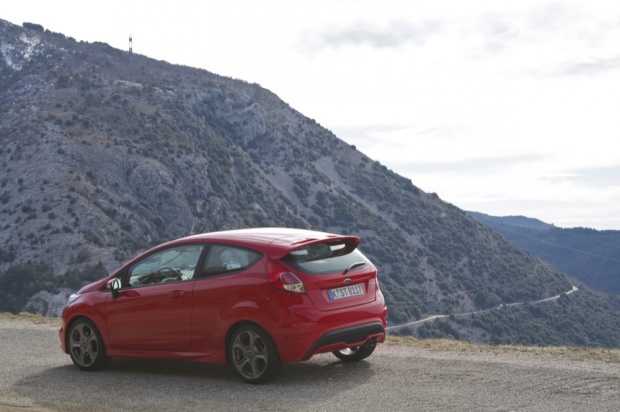 It seemed during a few hours of spirited driving that no matter how hard I pushed the Fiesta ST it was never giving the impression that I was reaching the limitations of both traction and handling. The Enhanced Torque Vectoring Control (eTVC) allows the Ford to carry some serious speed through corners while understeer is virtually eliminated in tighter bends by the system which will apply some brake to the inside front wheel to help pull the car around the corner. Does it work? Yes, it really does work very well, in fact I'd go as far to say that it is on a par with the new XDS diff that's in the SEAT Ibiza Cupra.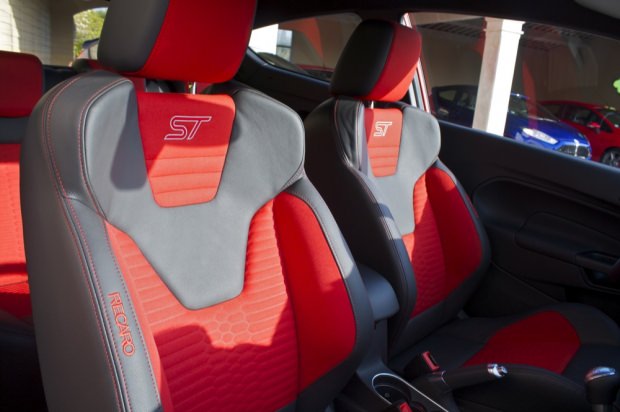 The only real aspect which I felt let down the Fiesta ST was the interior. It just doesn't look or feel special enough nor does it separate itself enough from the standard Fiesta. Yes you can get the figure-hugging Recaro seats in a half-leather option but there's just a little too much black plastic in it for my liking. From a driver's perspective it was a bit of a revelation for me. I couldn't get over how composed it remained no matter how hard I drove it. The ride is compliant and very reassuring giving the impression that there is some very expensive suspension and damper trickery at play although when I asked Juergen Gagstatter, Chief Programme Engineer for Ford's Performance Cars, he assured me this was not the case. So a tip of the hat to Ford on that front.
Overall the Fiesta ST makes for an extremely fun car to drive. In some ways it feels like a bigger and more grown up Abarth 500, yet it is more fun than the bigger Focus ST. In fact, I money didn't come into the equation I'd still pick the Fiesta over the Focus every time. The big question is though, are Renault & Peugeot going to produce something even more special with their new hot-hatches? The bar has been set very high.
As yet, prices have yet to be confirmed for the Irish market. When they are we'll let you know.