Renault Megane RS – Driven
When it comes to trying to determine just who the king of the 'hot hatch' market is, it can be hard to find agreement. There are now more brands with new offerings as well as some already established contenders to the throne. Next up to audition for the role is the 2013 spec Renault Megane RS. Now, some of you will recall my previous test of the extreme Renault Megane RS 265 Trophy in late 2011. It was, shall we say, an experience. So what's so different about this year's version? Well for starters this RS isn't equipped with those gorgeous Recaro race seats (though they remain an optional extra) but it is now knocking out the same power as that more extreme Trophy version; a healthy 265bhp.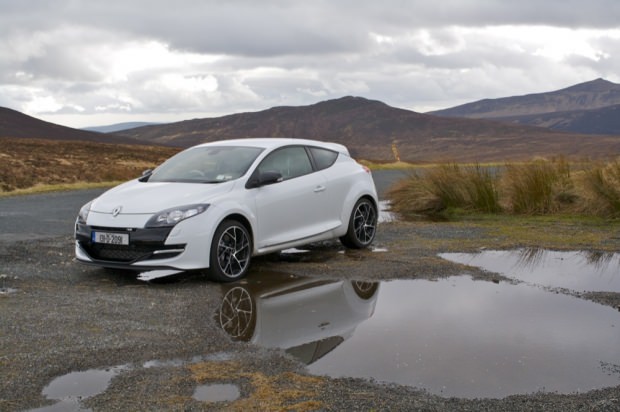 Visually the Megane hasn't changed much over the last few years and it is still very much a Marmite design, some love it some detest it. I'm going to put my hand up early on and admit that I like the look, shape and proportions of it and thankfully despite receiving very few tweaks over the last couple of years it is dating far better than the previous Megane II (vertical rear-screen) design has.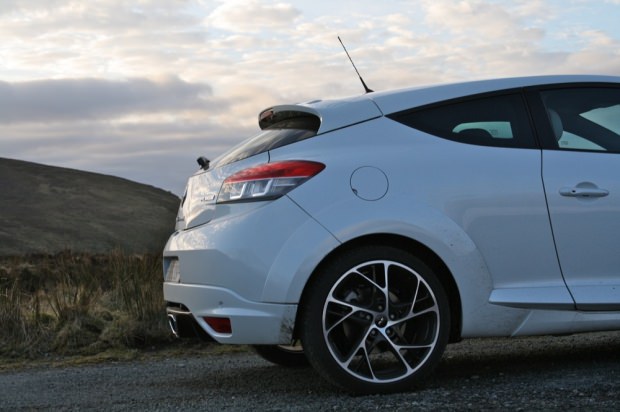 On the inside it remains, unfortunately, a very standard affair. Without the optional Recaro sports seats box ticked on the options list the interior is a bit too plain for my liking. Apart from some red stitching on the wheel and some flashes of piano black on the centre console, there's virtually nothing to indicate that this is the most special of the entire Megane range, and given the €36k price tag I feel this is a bit of a let down. Yes the leather seats are comfortable not to mention heated and to be fair they do a fairly good job of holding the front occupants in place during what some would call spirited motoring. The rear is a cosy affair yet is capable of carrying three adult passengers although legroom may be an issue on longer trips, especially for the middle passenger. It is also rather dark in the back due to the tinted rear side windows being tiny. Getting in and out of the rear does require a little bit of effort but is helped in some part by the driver's seat which slides forward electrically. Doing the same in a confined and packed car park is more difficult due to the enormous length of the doors on the Megane, though this is a criticism of all Megane hatches, not specifically the RS, but worth pointing out all the same.
The view from the driving seat is pretty good and pushing the Start button awakens the 2.0-litre turbocharged four cylinder engine with a bit of a growl. The RS is equipped with some rather trick programmable engine maps but I'll come back to that in a bit. Driving the RS in its default normal mode gives you a car that is relatively docile which, with the exception of a slightly pointless short first gear, allows it to be driven easily in built up city traffic conditions with ease. The firm sports-orientated suspension copes well with the poorer road surfaces at slower speeds, and considering the 19-inch alloys wear only a sliver of rubber.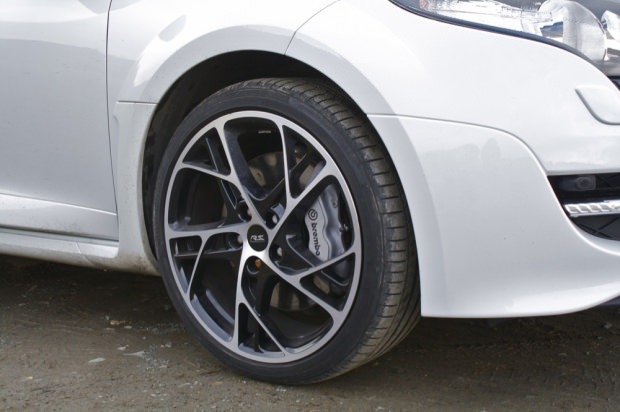 For the more serious buyers, the Megane RS can be equipped with an optional Cup chassis (as is this car) which adds more strength and stiffness to the chassis and seems to make a difference. I decided to test the RS over some of my favourite driving roads which I know carry a degree of varying surface conditions aside from being damn good fun to drive. Pushing on in the Renault doesn't seem to bother it in the slightest. It grips very well through fast sweeping bends and gives a tuned in driver a really good sense of what's going on underneath. Something I learned from spending so much time riding sportsbikes was being able to gain an understanding of how much grip is there through the saddle and this sensation was brought back to me in the RS. The electric power steering doesn't feel too detached from the front wheels while it is more the poorer road surfaces that are causing the minute breaks in traction rather than the car itself.
The car is by and large very well balanced, there is a healthy enough amount of lift-off oversteer if you're really pushing it along but even then it is predictable and unlikely to really catch you out. The Megane RS does feel so well sorted that it adds to driver confidence allowing the corner speeds to increase and braking distances to shorten which to the less experienced driver could see then ending up in a bit of bother. That said it things get a little too hot the brakes are more then good enough to cope with a major anchor drop without getting the car too out of shape.
That RS computer I mentioned earlier does allow the driver to change a number of parameters on the car though only after following a series of steps a bit like entering a cheat code on your Playstation. Once in, the most noticeable of these changes is the throttle pedal sensitivity from Snow right the way up to Extreme settings. The latter of which does transform the RS into an absolute howl to drive, akin to the motoring equivalent of a Benny Hill sketch, though you will also start to see equally comical fuel consumption figures.
It is hard not to crown the Megane RS top dog. By definition the Megane is a true hot hatch, its looks aren't completely over the top and there is still quite a degree of practicality for everyday driving. Add to that an enormous boot and you do have a practical car that is still very capable of embarrassing owners of far more expensive vehicles at trackdays. Yes the price is high and the interior is a bit bland but would I buy one? Yes. Every single time.
Road Tax band: €750 (E)
Price: From €35,990
Available: Now