Dacia Sandero 1.2 16v 75 – Driven
When it comes to making smart business decisions the one of Romanian car brand Dacia (Romanian pronunciation: [ˈdat͡ʃi.a]) to hold off entering the Ireland and UK market until now is a rather shrewd one. Buyers these days certainly demand more value for money than before and with the levels of badge snobbery on the decline the arrival of Dacia's second model, the Sandero, to these shores should help bolster the steady start they have enjoyed with the Duster.
The Dacia Sandero is the new kid in class and it's a big class to be in, not to mention having some already pretty popular kids in it. Looks-wise the Sandero comes with a pretty conservative approach. The five door has a solid look to it and is not too dissimilar to the Volkswagen Polo while my higher 'Signature' spec car also has a body coloured door mirror, handles, chrome front grille and 15″ alloy wheels.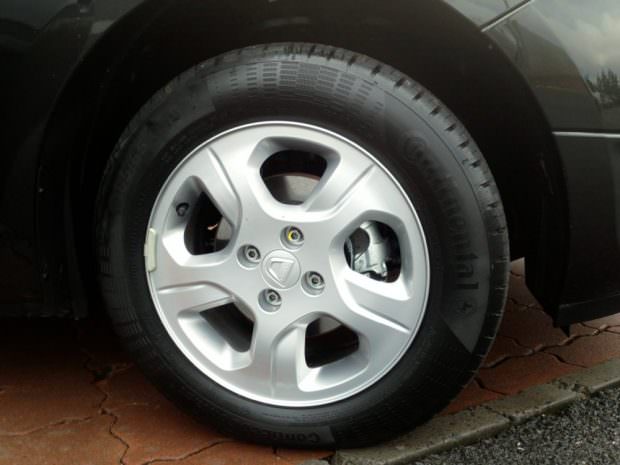 Buyers get a choice of three engines with the Sandero; a 1.2 litre petrol four cylinder (75hp), a turbocharged three cylinder 898cc engine (90hp) and a 1.5 litre diesel (90hp). The 1.2 four pot powering my test car did exceed my expectations if I'm honest. Dacia's ability to draw from their parent company Renault is of course a big help and overall the engines offered in their cars are by now relatively proven designs which helps to allay any reliability concerns that potential buyers of a virtually unknown brand here may have.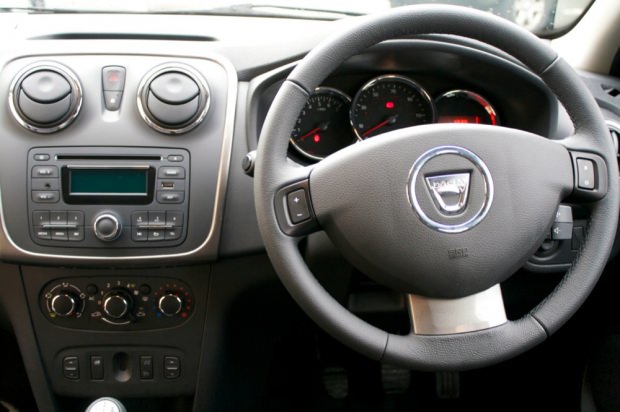 "Dacia's ability to draw from their parent company Renault is of course a big help…"
The interior of the Sandero isn't hugely spacious but it is easily capable of transporting four adults in comfort. Up front the driving position is good and there is enough adjustability to cater for most. The dashboard and switchgear is a nicer affair than the Duster I tested previously  (although Dacia do inform me that the Duster's interior has also been updated). In the rear, legroom is generous enough and benefits from only coming in five door form although the rear door design when open has quite a corner to it and I could see uninitiated heads being hurt when getting in and out. A peculiar design to see in a new car given how health and safety conscious the entire world has become.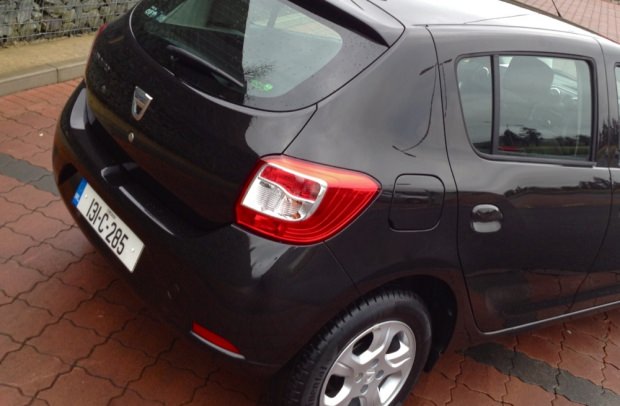 Storage space in the boot is on par with most in its class at 320 litres while the rear seats that split 60:40 to fold down to increase capacity. My only annoyance is the lack of a boot lock button on either the central locking key or the boot lid itself. I can understand that it might cost Dacia that bit more to engineer this in, but having to use the actual key to open the bootlid in 2013 is, I think, a step too far. Yes there is an interior button for opening it from the driver's seat and yes perhaps I'm being a bit of a diva, but it is something that would just bug me.
"What Dacia are offering with the new Sandero makes a lot of sense for the folk out there that are looking for a practical, economical new car."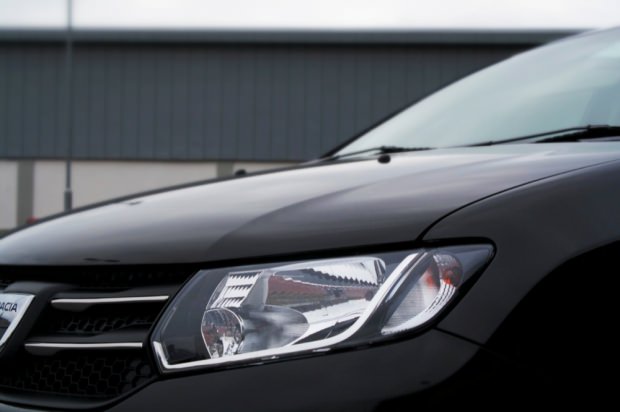 On the road the Sandero is a fun little car to drive though. If you try to drive the wheels of it you will be left a little bit underwhelmed by if you drive it in the sense of a small economical car / tool then you will find it a fairly rewarding car to own. The 1.2 litre petrol engine is powerful enough for the average commuter and returns decent fuel economy and I suspect may be even better in real world terms than the smaller three cylinder turbocharged unit. While not exactly matching any nauseating descriptive motoring clichés, the five-speed gearbox does a comprehensive job both in town and motorway driving.
What Dacia are offering with the new Sandero makes a lot of sense for the folk out there that are looking for a practical, economical new car. They're offering a compact car at a supermini price-point and affords many buyers who may have been stuck in an older car the opportunity to move to a new car for a budget that previously would only move them up a less used car. Dacia still face a struggle in the market against fresh used cars from more established brands though. I also think that by not bringing in the Sandero in it's most basic spec, which they sell in the UK, they are missing out on even more sales. For the people that solely view a car as a tool and means of transport, that spec level could succeed here. Leaving that aside for now, the Sandero could be quite a popular new kid on the block. The strong focus on price will, by default, put it ahead of several competitors while for those who take a very black and white look at a car purchase it will win many over.
Road Tax band: €280 (B2)
Price: From €9,990  (€11,990 as tested)
Available: Now
For more images visit our Facebook page here
Got a question? You can tweet Dave – @lordhumphreys