Tuning house Brabus have taken an already fast SL65 AMG and breathed quite heavily on it in order to create the Brabus 800 Roadster. Based on the new-shape Mercedes-Benz SL, their new car has received some fairly extensive tweaks both in the engine and cosmetic departments. The result is a drop-top producing 800hp, capable of a sub-four second 0-100 km/h dash and delivers a top speed of 350 km/h (217 mph in old money).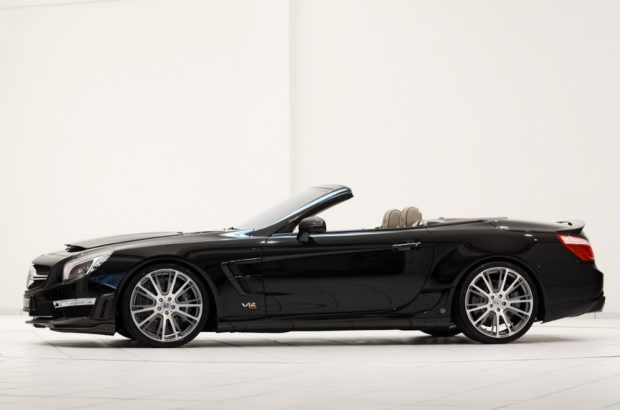 Powering all this is a 6.0 litre V12 from AMG that then receives a Brabus bi-turbo system that includes custom high-performance manifolds which feature integrated turbine housings. To this they then add four water-to-air intercoolers which are located in the space created by the carbon fibre bonnet scoop. A free-flow stainless-steel exhaust system is installed that include ceramic-coated tailpipes yet you neighbours won't have cause to complain thanks to an integrated butterfly valve which can decrease the exhaust noise via a steering wheel mounted control.
The BRABUS T65 RS engine produces 588 kW / 800 hp (788 bhp) of power at 5,500 rpm and an even more impressive peak torque of 1,420 Nm (1,047 lb-ft), available from a low 2,100 rpm. In the car, peak torque is limited electronically to 1,100 Nm (811 lb-ft). The AMG SPEEDSHIFT PLUS 7G-TRONIC transmission helps to deliver all that power and gears can be changed automatically or manually with the BRABUS aluminum shift paddles on the steering wheel.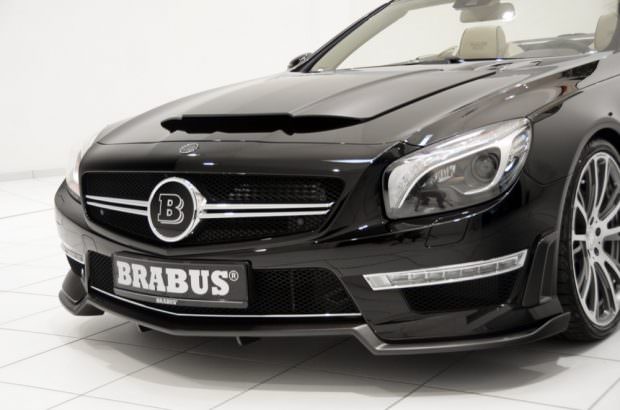 Visually Brabus have done several things to separate the 800 Roadster from others. A new wind-tunnel tested front spoiler not only gives a different look but also helps to reduce lift on the front end at higher speeds. re-designed side vents add to a more aggressive look while the rear gets an additional spoiler and upgraded diffuser.
As an alternative to the 19-inch stock wheels of the SL 65, the Brabus suspension engineers have developed an exclusive 20-inch high-tech variant. The new Brabus Monoblock R "Platinum Edition" forged wheel offers a blend of lightweight construction and maximum strength thanks to state-of-the-art manufacturing technology.
You can see more of the Brabus 800 Roadster on our Facebook gallery here