Everything that you thought about value for money from a new car may be about to change. There's a little company that you may or may not have heard of that are now bringing their cars to Ireland. Dacia began producing vehicles in Romania in 1966. They were, shall we say, less than inspiring. Most early models used old Renault designs after Dacia acquired the tooling and basic designs to older models. Throughout the 70's, 80's & 90's Dacia continued producing cars in relatively small numbers before they were bought by the Renault Group in September of 1999. The additional investment from Renault led to much greater improvements in both design and quality and when their Logan model was launched onto the European market in 2004 it quickly became a huge seller thanks to its low price.
"Everything that you thought about value for money from a new car may be about to change."
Now Dacia have decided to venture further west and launch into the Irish & UK markets, starting off with their SUV – the Duster. It is the first crossover SUV built by Dacia since being taken over Renault and marks another step forward for them as a brand looking to take on more of the competition. Dacia have drawn from their links with the Renault-Nissan Alliance by basing it on the B0 platform which also forms the basis for the Nissan Juke & new Renault Clio. Just one engine will be offered with the Duster – the dCi 110 which is a four cylinder diesel engine that has proved itself well in other vehicles like the Nissan Qashqai, Juke & Renault Laguna – so it's safe to say that Dacia are choosing some established ingredients in the Duster.
Two trim levels of the Duster will be offered here in both 4×2 and 4×4 versions, although only the higher trim level being offered on both versions. However, the Irish market won't be getting the super basic entry level Duster that is offered in the UK – so basic in fact that a radio is an optional extra. In the case of my test car, I'm driving the other end of the spec line – the Signature 4WD which starts at €20,590 including delivery charges.
In a little more detail that equates to a four wheel drive SUV that comes with a pretty economical engine, air con, bluetooth, USB connection, electric windows all-round, fog lamps &16" alloy wheels for a smidge over twenty and a half grand. Now go and price up a similar competitor and you'll see that's quite a price difference.
So you're thinking the Duster must be lacking a lot then, right? Not quite. Size wise the Duster is more than enough for the average family both in terms of interior space and carrying capacity. At 4,315 mm it's identical in length to the Qashqai – one of its biggest rivals – and it's almost the same in width and height too. Bootspace is a useful size and there's also the ability to fold down the rear seats quite easily.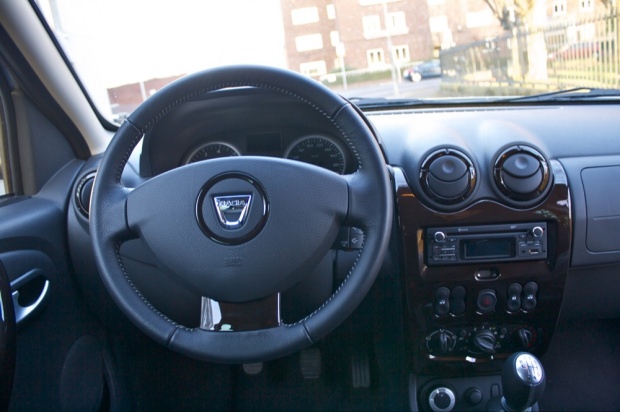 Sitting into the Duster and having a look around does make it appear to be a little bit sparse. Functional is a term the marketers would probably prefer but it's got all the usual bits in the usual places, my only real gripe would be that the switchgear, which is mainly Renault sourced, does have quite a basic feel to it particularly the rear electric window switches which are strangely located on the floor between the two front seats. Switchgear snobbery aside the rest of the interior feels solidly put together and should be able to handle plenty of wear and tear.
"The single biggest thing that the Duster does is shake things up amongst the competition."
Driving wise Dacia have managed to put together a pretty good package both in terms of handling and also driving comfort. The six-speed gearbox does its best to maximise the 109 hp and the result both around town and on the open road is that of an SUV that may not have the supreme refinement of some of its (more expensive) rivals but certainly doesn't leave you wanting much more from it. In the four wheel drive version you do still have the option of leaving it in just two wheel drive (via the front wheels) and I found myself using this setup most of the time. The difference isn't that noticeable between each mode but should you find yourself venturing off-road or even in some tricky road conditions, the ability to switch so easily to four wheel drive mode does give an added sense of security. And to those who may question the Duster's off-road ability I can confirm that it is more than capable in some very off-road conditions – even on the standard road tyres.
There are points of the Duster that don't quite meet the same standards as its rivals; the 3 star NCAP rating being the one most highlighted by the media. The single biggest thing that the Duster does is shake things up amongst the competition. Dacia have brought a bit of a game changer to this market and based on price alone it should certainly make consumers give a little more consideration to what might not have been the most obvious of choices.
Test Drive Distance: 301.5kms
Road Tax band: €280 (B2)
Price: From €15,990  (€20,590 as tested)
Available: Now
For more images visit our Facebook page here
Got a question? You can tweet Dave – @lordhumphreys