Skoda Octavia Exclusive – Driven
Skoda may be working on an all new Octavia to show us sometime in early 2013 but that doesn't mean that they've already forgotten about their current Octavia. I've just been driving the Octavia Exclusive Edition which may appear normal on the outside, but its actually inside where Skoda have pulled out the stops.
The Exclusive Edition comes with three engine choices; a 1.6 litre TDI with 105 bhp (and was the car I drove), a 1.2 litre TSI (105 bhp petrol) and a 2.0 litre TDI (140 bhp). Both manual and automatic options are available, mine being the five speed manual while the automatic is the 7-speed DSG gearbox. I did have my doubts initially as to whether the 5-speed box would feel up to date but I was happy to discover that it is well geared and at a steady 100 km/h on the motorway the engine hovers just under 2,000 rpm.
Some may find the cabin a little on the small side up front, but the comforts make up for the slight lack of spaciousness. Half leather upholstery add to an already comfortable driving position, while features such as cruise control and climate-controlled air conditioning which come as standard on the Exclusive Edition make for added comfort over longer trips. Other features that get thrown into the mix as standard include 16" alloy wheels, bluetooth and parking sensors.
Other features inside include a factory fitted sat nav system and multi-media connectivity. The touchscreen is excellent to use and has some neat features. The fact that this is now a standard feature on this model is a huge plus in my books.
The Octavia does have some very practical proportions which does make living in a city with one very easy without having to sacrifice on room. Boot space is easily up there with all its main rivals at 585 litres and is expandable to 1,455 litres by dropping the rear seats down. Another positive aspect of the Octavia's setup is how well the suspension is set up. I found the mix of firmness with good damping to be just right, and although some people may be keen to up the size of the alloys, the 16" rims also add to the decent ride.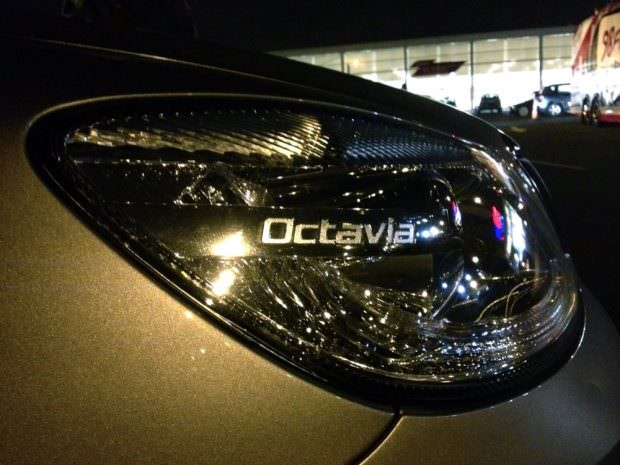 Styling wise the Octavia has kept up to date with its most recent facelift leaving the car with a much nicer looking front end than before. The rear may not have changed quite as much but was a pretty solid design to begin with in the first place.
There are many who will prefer to wait for the new Octavia to come in 2013, but the wise customers who aren't so fussed with being the first with something new will see the excellent value in this edition. The Octavia Exclusive is available for only a limited time, so if you're interested get down to your local Skoda dealer quick smart!
Test Drive Distance: 248.7kms
Road Tax band: €160
Price: From €19,995 (€22,995 as tested)
Available: Now
For more images visit our Facebook page here
Got a question? Tweet Dave – @lordhumphreys