Volkswagen Golf Cabrio – Driven
There are few cars on that market that consistently act as a benchmark as often as the Volkswagen Golf does. For years it has been the car that others are measured against and this has also extended to other VW models. But the Golf itself has produced a few of its own variants, one of the most loved being the Cabrio.
"Raise the windows, install the deflector and it becomes almost serene"
From a design perspective it retains much of its hard-roofed sibling, yet VW have created a car that not only looks superb but also works very well. The fully electric roof folds down in just nine seconds and stows itself neatly away without rendering the boot space unusable. With the roof down, and without the wind deflector up, the cabin remains a relatively quiet place to be. Raise the windows, install the deflector and it becomes almost serene. In side profile with both the roof up or down, the lines on the Golf are easily the best in its class.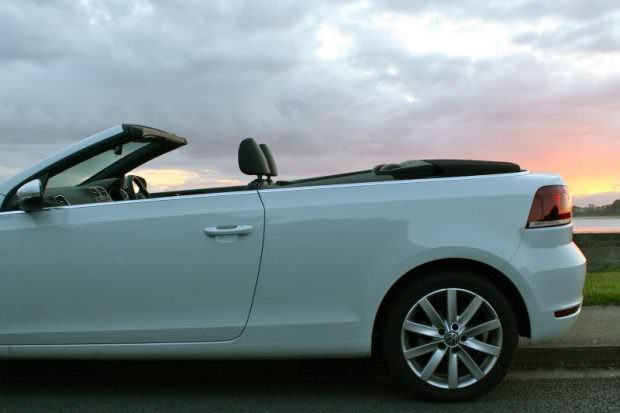 Although many Golf cabrio owners will drive only at slow speeds along the right boulevards on which to be seen, it does actually retain a very composed ride despite what you would think by losing out on its metal roof. Noise levels I did feel were slightly higher when the roof was up when compared with a standard Golf but this is to be expected to some degree with a cabrio – its does still remain one of the quietest in its class though. I for one am glad that Volkswagen stuck with a fabric option when so many others are going down the route of folding metal roofs – it makes it stand it out that bit more.
"In side profile with both the roof up and down, the lines on the Golf are easily the best in its class."
The rest of the interior is as you would find in a Golf and demonstrates that clean and thoroughly ergonomically thought out design that is typical of most cars in the Volkswagen Group and frankly leaves me still unsure as to whether it's just perfect or worryingly anal. They may be the biggest manufacturer on the planet but given the vast array of designers on the books, it would be nice to see a little more flair and pizazz than you would expect to find at  Kraftwerk's accountant's meeting. Maybe employ a couple more Italians.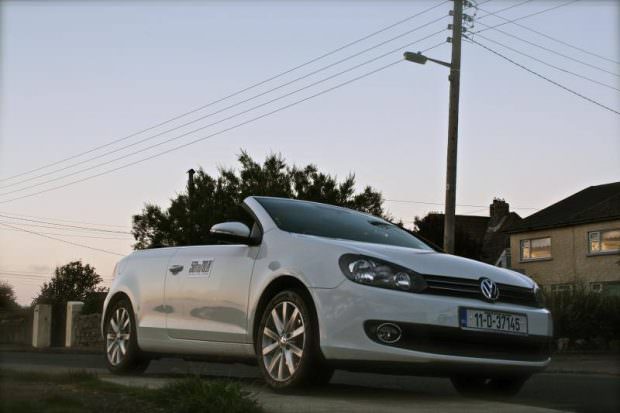 Powering this particular Golf was a 1.2 TSI petrol engine with 105 bhp that was perky from the off and smooth as you like at motorway speeds. The simple fact that it is powered by a petrol engine rather than a diesel did add the pleasantness of the drive, and that's not me having a dig at VW's diesel engines, as anyone who knows me will know I'm a big fan of them. To further back up the petrol engine's credentials though, it did return fuel economy that was almost every bit as good as a diesel would give you, and with it falling into Tax Band B (€225) it remains relatively economical to run.
There really was very little that I could mark the Golf Cabrio down for – my only real gripe being the smaller than usual boot aperture. It helps that it already comes from such great stock to begin with. Given its €27,715 asking price I would like to see a slightly more upmarket interior, if anything just to make it feel a little more special and not so, to quote their advertising campaign, "like a Golf".