Spinning The Rear:MotoGP Race Report – Sachsenring
Guten Tag mien friends, and willkommen to Round 8 of the MotoGP 2012 world championship, here at the Schnitzelring circuit in Germany. Now, this track actually has one of the slowest average speeds on the world calendar, due mostly to the fact that it's as squiggly as sauerkraut and has more left turns than a group of hippies in a socialist conference. Often referred to as a partial throttle track, it favours good throttle control and deft bike set-up in order to maximise your lean in the turn and your exit speed. So basically, Ducati are stuffed.
Riders find a new electrical problem to deal with
Qualifying on Saturday was quite wet. Imagine a god, who drinks all the tea in China. Now tell him that Ivan Silva is still racing in MotoGP. The resulting oral spray of shear disbelief would release a similar amount of liquid as what fell, as our GP heroes trundled out of pit lane. As with all wet weather sessions, it was very entertaining. Pole position was changing faster than a Kardashian marriage (29 times in fact), even Nicky Hayden spent some time at the giddying heights of pole. In the end though, normal order was restored with Casey Stoner taking pole on the Repsol Honda, alongside a visibly relieved Ben Spies on the Yamaha, with barely visible Dani Pedrosa in 3rd on the second Repsol Honda.
In stark contrast to Saturday's deluge, Sunday was a glorious start. Which honestly was a bit disheartening, as all the wet races thus far have been fantastic to watch. None the less, as the lights went out in a typically efficient manner, it was Pedrosa first to put his beach towel (hand towel to you and me) at Turn 1. Stoner was right behind him and the battle was on. Stoner was hounding Ped-bot all the way, and then made a simply sublime move up the inside of Turn 9 to take the lead. I can honestly say I've ever seen anyone overtake there before, and it was just another reminder of just how good Stoner is.
Behind them, Lorenzo was riding a lonely race as an almighty battle raged between Ben Spies, and the Tech 3 Yamaha duo of Andrea Dovizioso and everyone's favourite honey badger, Cal Crutchlow. What made this battle all the more intriguing was the speculation over the security of Ben Spies's Yamaha seat for 2013, the Tech 3 boys were up for a fight. And by god it was a scrap to savour. Dovi took first blood jumping to the front of Spies and C-Squared, but couldn't pull away. Cal quickly followed past Spies and was all over the back of the No.4 bike like a fat kid on cake. However, it seems as its Dovi's arse is approximately 2.5m wide (or a double decker bus in layman's terms) and Crutchlow could not find a way past. With his frustration mounting at his clear speed advantage, he went clear past the braking point of Turn 1 and into the gravel. He did rejoin, but Dovi was in the clear and was able to hold Spies off to claim 3rd , and his 2nd podium of the season.
Crutchlow emerged in what was already proving to be a titanic battle in the mid pack. Young German hopefully Stefan Bradl was being harried by the terrible Ducati threesome of Nicky Hayden, Hector Barbera, Valentino Rossi as the Italian bikes coughed and wheezed to keep pace with Bradl's LCR Honda. Though Bradl would hold firm, the dice behind him was a joy to watch. As the laps ticked away the 3 squabbled over position, with Crutchlow joining the fray. Even Alvaro Bautista joined in after charging up from last on the grid (due to his "How to charge down a World Champion" escapades from Assen). On the last lap, they were all caught by the wiley old Rossi, who jumped the whole lot of them to salvage 6th, which is surprisingly his best dry result thus far.
Rossi stalks the rear of the group, but not in an Uccio way
Now the attentive people (or those that can count upto 10) will notice the positions gained don't match the riders on track thus far. That was because we were about to see a classic MotoGP "win it or bin it" manoeuvre. The micro-dot that is Pedro-bot had chased down Stoner and unsurprisingly passed him on the straight into Turn 1. But Stoner had kept pressure and was trying everything to re-take the lead. His attempts of his earlier move at Turn 9 were continually blocked by Pedrosa. It was looking like the downhill entry to Turn 12 or the final corner as the place to attack. Stoner came barrelling down the hill to Turn 12 carrying more speed than a group of students who've heard there is free beer at the uni bar. As he tried to the turn the corner, the front folded and Stoner went skittering into the gravel, gifting the win to Pedrosa, and 2nd to Lorenzo. Post race, Stoner blamed the German marshals (not a joke) and the colour blue (possibly a joke).
At the CRT end of the field, it was Randy DePuniet on the Power Electronics Aspar who convincingly trounced the rest of the CRT field. The mostly notable element was when Michele Pirlo retired with technical issues. Sources believe the issue was that his CRT bike is sh*t. Very interestingly, and only partially caught on camera, was the long conversation RDP had with a Tech 3 team official in parc-ferme. Could this be another name in the Yamaha shake up?
Rider of the race goes to Stoner, for pulling off a magnificent pass at a place where you shouldn't be able to pass, and doing it at almost 200km an hour. Even his win it or bin it effort was exciting and ensured we had a thrilling race, and even though he'll blame anything, we simply love him.
Winners and Losers
Dani Pedrosa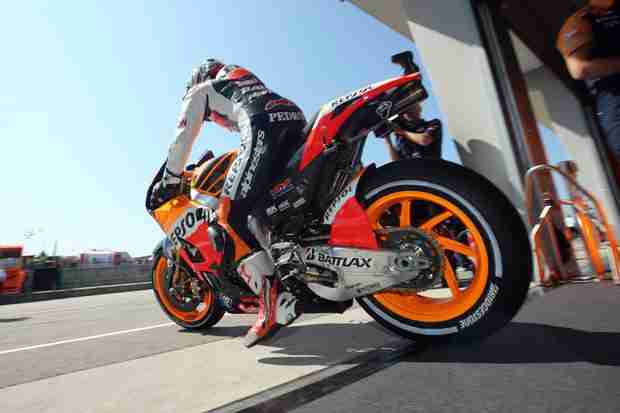 Being able to put your feet down is not a requirement to win in MotoGP
Smaller in stature than his title chances upto this point, Pedrosa has leaped up the championship table. He has shown that not only can he still win, but he can do it under pressure. Happier than a kid in a candy store (and often mistaken for one) Dani takes the top step with his championship chances alive and well.
Ben Spies
Oh. Dear. For the record, I think Ben Spies is a great rider, but his recent run of form is more worrying than the way Uccio looks at Rossi. Beaten by Dovi again is not good in the now volatile rider market. He needs to put Dovi in his place soon, and it needs to be before he gets back to the USA.
Next up is Mugello. Beautiful country, beautiful food, beautiful women and apparently a bike race too. Let's pray Ducati can show up at this one in front of their home fans.
JohnnyC