Evolution is a wonderful thing and when it's working really well you hardly notice it happening. Its only when you pause for a moment and look back that you really see the differences. Watch any movie from the early nineties and observe the enormous computer monitors or the comedy sized mobile phones and you soon see how things have come along.
Likewise can be said for looking back at an early nineties Opel Astra and comparing it to the new Astra GTC. Visually, they're so far apart you'd need a wormhole to join them.
The GTC is a sportier version of popular Astra two door and in its present day form I have to admit, looks stunning. The body design has a real flow to it and certainly looks like a car that has been honed in the windtunnel. The low sleek bonnet rises to meet its relatively low roofline which then flows down to really enforce that sports coupe look.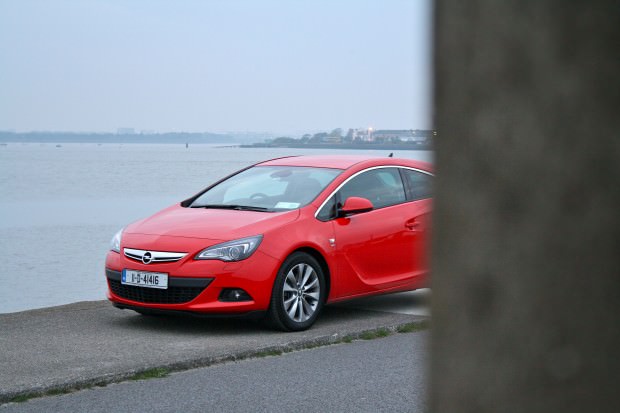 Inside its clear to see that Opel have been looking around to ensure that their game is above most of their competition. The cabin is very spacious given the overall size. My only real dislike is the rather busy looking centre console that contains what appear to be literally dozens of buttons. I'm sure that as an owner one would become accustomed to where everything was but I did find it a little off-putting. In terms of driving position though, the semi sports seats in the GTC were very comfortable and even on some of my longer trips proved up to the job and didn't leave me feeling sore or stiff after a few hours driving.
My GTC test car was powered by the understated yet impressive 2.0 litre diesel which churned out 162 bhp and 350 Nm of torquey goodness. The cabin is well insulated too meaning you don't really notice that diesel thrum unless you're working the engine particularly hard. Economically speaking it also offers some fairly respectable mileage, managing to achieve figures rather close to the claimed 4.8 litres per 100 kms and allowing it to reside in Tax Band B.
Other practicalities include a pretty generous boot space which has easy access and the ability to fit two full size adults in the rear, though I must admit that low sloping roofline combined with the small rear windows do give a slightly claustrophobic feel. The extensive list of standard features on the GTC spec include air con, cruise control multi-function steering wheel and a stereo with aux in and a USB port for your iPod. I do find it slightly odd though that Bluetooth still remains a €610 option on top of all this.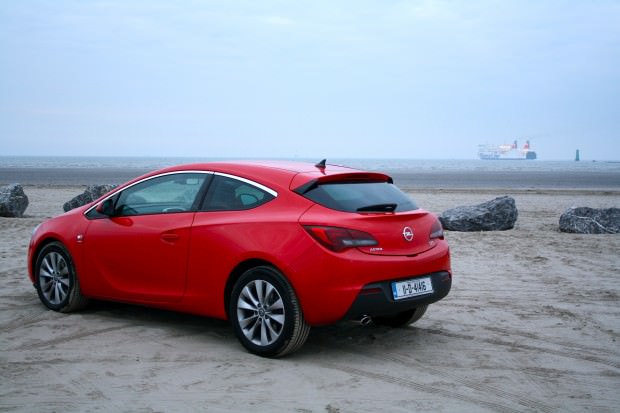 As a sporty driver I must admit that the drive of the GTC is pretty decent and it holds the road rather well and praise the Lord despite having some very sporty looks the good boffins at Opel decided not to give the suspension that 'sports feel' by replacing the springs with steel girders as some manufacturers have been doing lately. Even over some of Ireland's awful tarmac the GTC remains comfortable and composed.
So, does the GTC make sense? Well, yeah it does actually. After a week it made a lot more sense than I would have thought when I first picked it up. Ok so it might not be as mental as the new OPC version, but lets be realistic here for a minute. Do you really need close to 300bhp through your front wheels all the time? And given the amount of torque on tap in the GTC I think the answer is no. Then again, I haven't driven the new Astra OPC… yet.
Test Drive Distance: 281.1kms
Road Tax band: €225
Price: From €23,495 (€29,748 as tested)
Available: Now
For more images visit our Facebook page here
Got a question? You can tweet Dave – @lordhumphreys