Citroën DS3 Racing – Driven
The motoring world is full of little sub cultures that tend to branch off in all sorts of directions. You have the affordable classic car lovers who often tend to get all worked up at the sight of a mint beige Austin Princess, then there's the Mini enthusiasts who's never ending journey to modify every single part of their car until it looks just like the original stock car did, only they know it's different.
Then there's the off-road folk who look down their noses at Range Rover owners from their Series II (though it's actually a Series II A with the LT95 gearbox and the 3.5 litre Rover V8 and also fitted with some ENV rear axles) and enjoy regaling their off-road exploits in an excessively smug manor. This brings us onto another group; a group that has seen more change and diversity in recent years more so than probably any other – the hot hatch.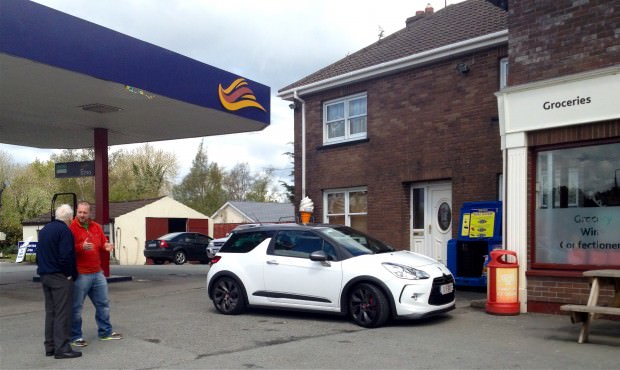 Although we may look back now and think some of it was a bit naff, the hot hatch segment has always had a high degree of cool about it. The eighties saw cars like the 205 GTi, Golf GTI et all that were pretty bonkers for their time. It stepped up a notch in the nineties with more manufacturers coming on board – Renault created some corkers like the Clio Williams. Other manufacturers tried to keep up but never quite succeeded, only offering what could be called luke warm hatches.
Now the hot hatch buyer is all grown up and lives in a higher tax band, and like him the hot hatch market is far more developed than ever before. Front wheel drive cars with 300bhp are no longer some crazy hair-brain idea – they exist and even more bizarrely, they work! The cars have proper luxury inside in some cases and not just some bonnet stripes and chassis that are actually designed to handle and not result in as many squeaky bum moments.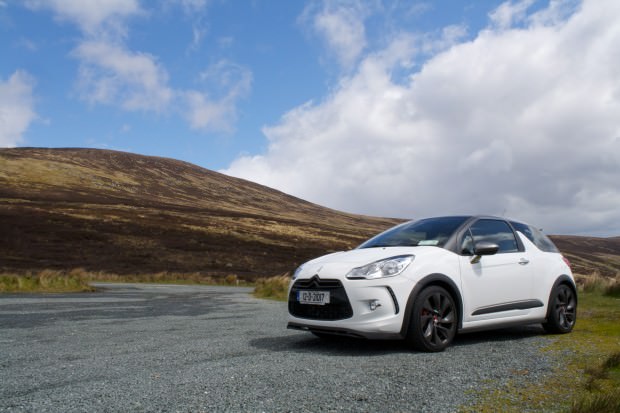 One of the newer contenders in this area is Citroen who have given the performance injection to their already funky DS3. Interestingly when I went along to collect my DS3 Racing test car, Citroen actually now separate their cool DS cars from their main range and put them on the other side of the showroom and truth be told the difference is so great that they look like two very different brands now.
Taking a quick stroll around the DS3 Racing clearly shows an attention to detail that is impressive. I wouldn't go as far as to say it's an over-the-top bodykit but it does have a lot of presence. There's a huge amount of visible carbon fibre on show too which may allude to the €33,340 asking price. It does look really good though, squat with almost caricatural proportions. Slipping into the sports seats immediately tee your brain up to expect a quick machine.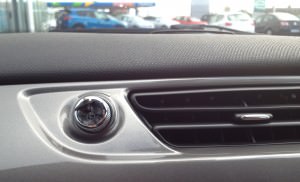 The way the lower section of the seat deforms one way to allow easier access is a rather nice touch too. The flat bottomed and carbon clad steering wheel looks and feels great in the hands while the deeply set dials reside in pods giving the dash a very Buck Rogers feel. The rest of the switchgear is all standard Citroen, while one additional button mounted beside the front air vents catches my eye – a button for activating the built in scented air freshener. How, eh, European!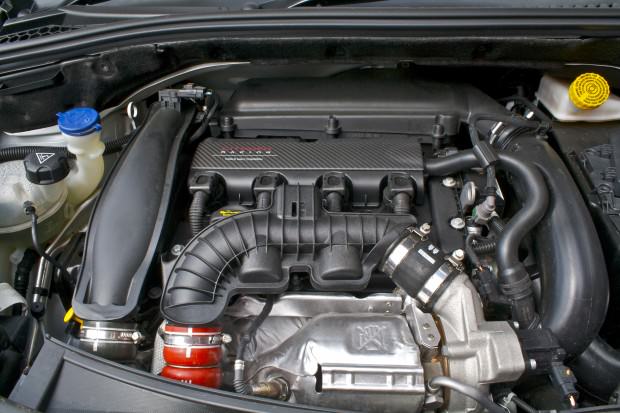 Twist the Racing branded key and that 1.6 in-line four spools up into life and rests down to a healthy burble. The driving position is nice, the pedal box is pretty central while the visibility is good thanks to its relatively slim A pillars. The steering wheel is very chunky but overall size is manageable.
Driving through town and its surprising how little tramlining effect you get from the big 18" alloys, though they don't do much to help cushion any road impacts as the Racing suspension is lowered by 15mm compared to the standard DS3. There's certainly no shortage of power on tap either; the four pot produces 203bhp and even more torque making the scramble to 60 pass by in a rather quick 6.5 seconds.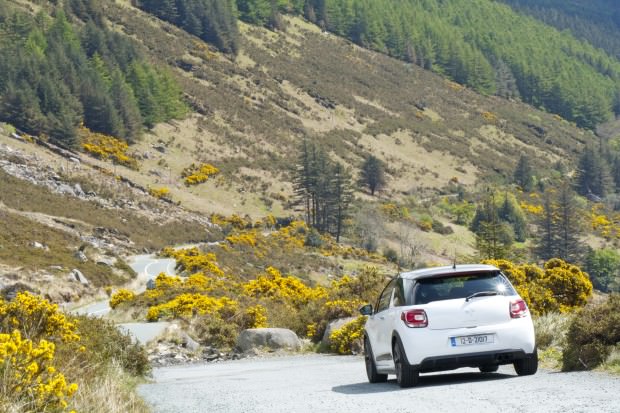 On long smooth flowing roads the Racing is a superb little bit of kit to have fun with. You get a nice amount of feedback through the wheel and powering out of a corner in the wrong gear doesn't spell disaster either. Where I did find issue with the Racing is when you decide to take on a road that isn't billiard table smooth at speed. Over some stretches of road that I would know particularly well the DS3 had a couple of occasions where the front end would suddenly understeer rather alarmingly. Now I fully take on board the aforementioned average quality road surfaces, but given the Racing's supposed 'engineering by Mr. Loeb's rally team' I'm surprised he's won that many championships.
Naturally this kind of driving won't crop up in everyday driving but it did show a car that was certainly developed with better European roads in mind and unfortunately the opportunity didn't arise for me to sample the racing on a track where I would imagine it would really shine. I think this is certainly one car trackday enthusiasts need to try out before considering crossing it off the list.
Test Drive Distance: 281.1kms
Road Tax band: €330
Price: From €33,340
Available: Now
For more images visit our Facebook page here
Got a question? You can tweet Dave – @lordhumphreys