There are certain jobs in the motorcycle industry that I would love and there are those that I would not envy having. Being assigned the task of improving BMW's best selling touring motorcycle is not an enviable one. To begin with, it's a very capable motorcycle. It is also much loved with a huge following of very loyal customers, so change it too much and you're risking a lot!
Thankfully when BMW decided to update the RT they simply attended to all the little things that needed doing. The horizontally opposed heart of the boxer has received an upgrade, which is now a double overhead cam that offers a more smoother power delivery, something that was lacking in the previous generation, particularly at low speeds. Although at 110bhp it might not seem like a big power increase, as an overall package there is quite a difference. First gear is longer and smoother making things easier when riding in slow traffic while the pull through the rev range is greatly improved and more responsive.
Although the exterior of the RT is only slightly changed from its original 2005 design, the tweaks are noticeable enough to give it a fresher look. Behind the handlebars sees some changes too, the most noticeable being the move away from BMW's unique indicator switches to a more industry standard 'Japanese type' single switch. Having spent some time riding older BMW's I for one rue this decision as I found the older system of having a left and right indicator switch to be much better to use.
One addition I do like is the track-wheel, which is essentially Motorrad's version of the iDrive that appears in their cars. It makes adjusting the built in (optional) stereo system a doddle, especially with my iPod plugged into it. Other nice features include heated grips (obviously), height adjustable heated seats as well as cruise control and an on-board trip computer that gives you more than enough info to keep you occupied during a trip.
But enough about the toys and gadgets. The first thing not to do with an R1200 RT is to let its size bother you – it may look big but its remarkably easy to maneuver around while stationary. The second you slip out the lightweight clutch lever any mass and weight (259kgs wet) dissipates in an impressive manor. It becomes an extremely nimble bike considering it's size. It's a far easier bike in which to negotiate traffic compared with some of its other touring rivals like the now aging Pan European.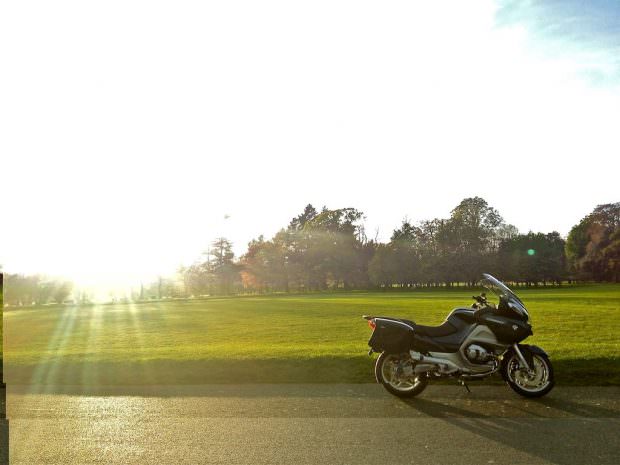 My time with the RT allowed me the opportunity to take on every possible type of road and conditions (thanks to a good old reliable Irish summer) and I can honestly say it handled them all with aplomb. On B-Roads the RT feels almost as nimble as its more popular brother the GS, something that is further improved by utilising the 9 way adjustable ESA (Electronic Suspension Adjustment). It just loves to propel its rider out of corners in second, third or fourth gear – no matter what the boxer engine just knuckles down and pulls hard. The shaft drive would be a joy to live with too given the lack of maintenance required by the owner.
Obviously touring and long distance is what the RT is designed for and on long stretches it's clear to see that BMW have put all of their years of experience into making this such an all round bike. The electrically adjustable screen has been re-designed on this newer model to improve airflow and reduce wind buffeting, which I can confirm works. The mirrors although not handlebar mounted, offer excellent rear visibility once you adjust to looking a little further down to them. The rest of the fairing does a rather good job of enclosing the rider and even in wet weather tends to keep you relatively dry whilst on the move.
Given my inability to ever manage to travel light, the RT's hard case panniers easily swallowed up my weekend wardrobe and cleverly they also are the ideal size in which to store a full face helmet. The cases also easily detach and have a handle that instantly turn them into some rather aerodynamic suitcases. Much better than trying to stuff all your clothes into outside of a hotel reception.
Although the RT might not have the outright top end speed of some of its higher cylindered rivals, it certainly set out a very good case for itself. Its huge 25L fuel tank and very respectable fuel efficiency ticks the touring box while the handling department satisfies the grin department. And lets face it, if there's one thing that BMW are well know for it's producing darn fine touring motorcycles. And it seems that some things just don't change.
Test Ride Distance: 846 kms
Price from: €17,350 (€21,430 as tested)
Available: Now
For more images visit our Facebook page here
Got a question? You can tweet Dave – @lordhumphreys
Additional photography by Stuart Carrick