Spinning The Rear: MotoGP Race Report – Catalunya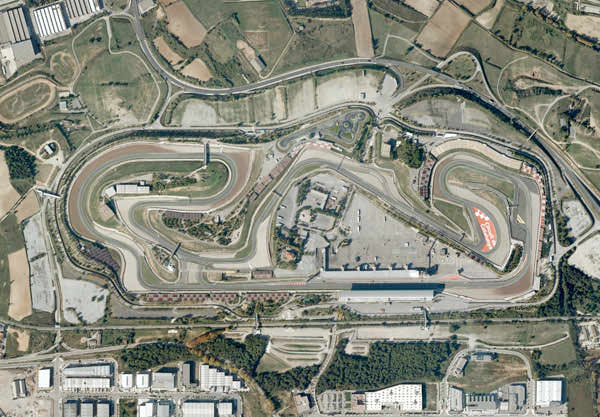 For the third time this year MotoGP rolled over to the Iberian peninsula to another Spanish race. I have to say Catalunya is quite a spectacular track with long sweeping corners, big straights, mad Spanish fans and of course scene of the best passes in recent memory. This was of course the titanic battle between Jorge Lorenzo and Valentino Rossi in the Yamaha days where Rossi slipped up the inside on the final corner of the final lap to take victory. So surprised was everyone at the pass, even the usual vocal Lorenzo was dumbfounded. Unfortunately only Rossi has been finding dumb recently as Ducati struggle to correctly build a motorcycle. Would we see another classic?
Onto qualifying which saw resident world champion and retiree Casey Stoner assuming the top step. His 40th career pole position edged out local hero Lorenzo, with the now familiar disheveled body of Cal Crutchlow rounding out the top 3. Surprisingly not as slow as drugged steer in a rodeo was Ben Spies who claimed 4th, edging out previous pacesetter Dani Pedrosa. Pedrosa must have been feeling the love from the US of A as he backed his bucking bike so sideways into a corner during qualifying that he ran straight off the track and straight out of pole contention.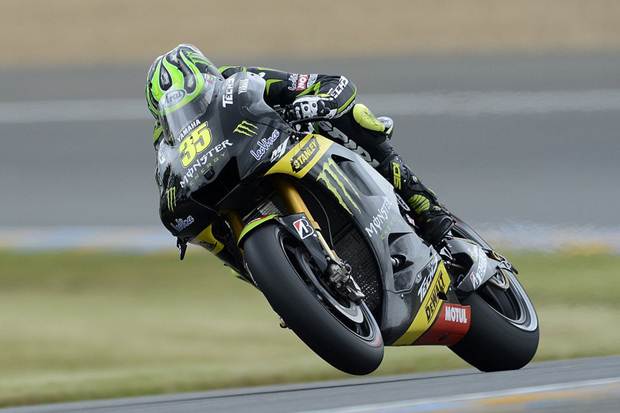 Onto the race and at lights out it was the diminutive Pedrosa rocketing away from 5th to snatch the lead at turn 1. There certainly are advantages to weighing 3.8kg. In stark contrast Stoner made a mess of the start which he would no doubt blame on the poor air viscosity, or Nepal. Either way it allowed Lorenzo and Spies to swamp him and thunder after Pedrosa. The first to catch the microbot was Spies, who was hustling around the Yamaha like a prize bull and was able to force his way past Pedrosa. His time in the lead was shorter lived than the time it takes Cal Crutchlow to eat a steak and kidney pie, as Spies touched the grass with his wheel swiftly followed by touching the ground with his arse. Luckily he was able to remount and rejoin, but his race was done. He would eventually recover to finish 10th, catching and passing all the CRT boys. Buts that kind of like catching and passing people on scooters, unrewarding.
Now the battle for the final podium position was shaping up to be very interesting. Once again great qualifying for Crutchlow was turning into a not so great race, having been jumped by team mate Dovisio who successfully managed to put Stoner between himself and Cal. The 3 riders stalked each other, all the time looking like they were about to pounce, but ultimately nothing happened. A common curse of MotoGP.
At the front there was slightly more action. Jorge had caught Pedrosa and after a few looks he dived up the inside to take the lead. But the miniature version of a kids doll was not done. A few laps later Pedrosa steamed by on the straight to retake the lead, once again using his puppy like weight to his advantage. But his adherence to the weight watchers diet was about to exact a toll. Mid-way through the lap Pedrosa was exiting onto the back straight and snatched an early 3rd gear, lofting the front wheel in the air. Normal riders can shift weight at this point, but try as you might, shifting a your tongue forward will not stop you flipping your bike. The resulting wheelie may have looked awesome but it cut out his straight line speed as he shut the throttle allowing Jorge to close. Mini-P was still in the lead but he was so concerned about where Jorge might be that he completely out-braked himself gifting Jorge the chance to dive down the inside and hit the gas. A great piece of drama, I only wish it had happened on the last lap. Though it may have well as – Pedrosa was done and could not haul in Lorenzo.
This unfortunately allowed Lorenzo to take the chequered flag and then indulge in the daftest celebration I've ever seen. He ran up to some bloke dressed like a mortician, threw some liquid in a bucket, and a fountain of foam erupted. Personally, the idea of a guy in a leather suit adding some special liquid to produce an explosion of white goo…..well let's just say, Spain is a weird place.
At the CRT end of the field it was once again the two Power Electronics Aspar boys of Espargaro and DePuniet battling it out for top honors. Though the coverage only showed it a handful of times, it was a hectic battle with the Spaniard coming out on top. But as is becoming quite usual this year, no one really cared.
With a mildly entertaining race over, our rider of the race goes to Andrea Dovisioso, who managed to hold off Stoners late charge for the first podium for Tech 3.
Winners and Losers
Andrea Dovisioso
Hasn't qualified as well as his team mate this year, but his race craft is really starting to shine through. More boring than a paint drying competition, Dovi none the less is showing great speed and handing Tech 3 their first podium in quite a while bodes well for the Italian.
Ben Spies
Once again Ben stuffs up. Great qualifying and great speed means nothing if you make a stupid mistake at the front. Yamaha were lauding his confidence, I'd say both Tech 3 riders are lauding his seat next year!
Next up is testing both here at Catalunya and Aragon and then onto the race in Silverstone. Which means it'll probably rain. A possible chance for Rossi to trade blows with the big boys again? We shall cross our fingers.
See you there.
JohnnyC
Don't forget to Like our Facebook Page here