It's All In The Detail – Interview
With the long weekends of Summer now with us, many of you will no doubt be adding the task of washing the car to the ever growing to-do list. For some though, everyday is like that and Richard Tipper of Perfection Detailing has been taking this to more than the next level. Richard does't simply clean cars, thanks to his twenty odd years in the business he can transform a car to a condition that's often better than when it first left the factory. He is the man that owners of some very serious collection call upon when their sometimes priceless machines need a bit of TLC. I caught up with Richard to get more of an idea as to what exactly is involved.
Q. You seem to be called upon to work on some pretty rare machinery, does this tend to require more care and attention than a more modern car?
I try not to let the value of the car I'm working on effect the way I approach the job. Some of the cars run into the many Millions and inflicting any damage whilst in my care could potentially have a dramatic and detrimental effect on it's value so I try not to let that play on my mind. A nervous frame of mind can often lead to unnecessary accidents that wouldn't normally occur. That said, I do put myself into a very serious and focused frame of mind where I can allow experience to take over. This allows me to treat all cars, regardless of value with the same level of care. My biggest battle I have is the feeling of being overwhelmed by passion. Some of the cars I've worked on have been iconic race cars and super cars from my era that I may have watched race or had pictures of on my bedroom wall as a child, to then find them booked in to be worked on is a hard one to comprehend at times.
Q. When you worked on the 250 GTO, was it in much need of attention or was it already being well kept?
When the car was purchased back in 2008 (sold recently for a record breaking highly publicised price) The new owner made it very clear that the paint must not be machined or 'corrected' in any way. It was a very original example with some extremely creditable racing history so preserving it's Patina was very important to the owner and I agreed with him. However, big improvements were achieved by paying attention to the detail. The engine had clearly never really been cleaned and had excessive grease and oil deposited around the sump area, I was able to polish the air intake trumpets above the carbs which had tarnished and the engine bay was generally dirty. Interior dash,dials and vents were very dusty and we set about carefully removing seats and carpets to check the integrity of the under floor. The drivers seat had authentic wear and dirt which we decided to leave as it added to the originality. Patina and originality on a car of this calibre is invaluable. Had we 'detailed' the car in our usual way we could have wiped £100k's off of it's value…literally!
Q. Were you a bit nervous working on something so expensive given that is was worth….?
… Car sold for $32m (this is the price in the press release and not from my client)
Q. On average just how long does a full 'concours' job take for you to do?
It really depends on the age of the car. Vintage and Classic cars generally take longer due to the intricate detail that most of them possess. A large portion of the work we carry out is completed within a long day, obviously some jobs require us to return the following day and 'Concours preparation' can sometimes take as long as a week.
Q. And what does that kind of work normally entail?
A Concours Detail is far more involved than just cleaning visible parts. Wheels, seats, carpets, trim, suspension components and bumpers can sometimes be removed to reveal dirt behind. Once the car has been prepared we start to put together as much of the cars history as possible in the way of a presentation file. MOT certificates, receipts, Tax discs and archive photographs all help to assist the judges in building a picture of the cars use up to that day. Presenting the car on show with this sort of additional information and attention to detail can be the difference between winning and losing. We even provide event support where we can be on site to assist the client.
Q. Do you ever get to sample your jobs on the road before or after you've worked on them?
I've been very fortunate to have driven many different cars on the road and on track. I take my driving very seriously and never turn down an opportunity to gain experience. I've also sat alongside some very highly respected racing drivers and journalists so that has given me an insight as to how it really should be done. Here is a list of some of the 'better' cars I've been able to drive include Ferrari 512 TR, 348, 355, 355 Spider (track), 246 Dino GT, 550, 575, 360, 360CS (track), 360 Challenge (track), 430, 430 spider, 430 Scuderia, 430 Challenge (track), F50, Enzo, 612, 612 Sissanta, 599, 599 GTO, 458 (track). While at the Porsche end of things I've driven 914, 930 Turbo, 964, Boxster S, 996 C4, 996 Turbo, 996 GT3 (track), 997 3.6 GT3 RS (track), 997 3.8 GT3 RS (track), 997 4.0 GT3 RS (track), 997 GT2 (track), Carrera GT. Others include a Radical SR3 (track) & Lamborghini Diablo VT (197mph at Bruntingthorpe).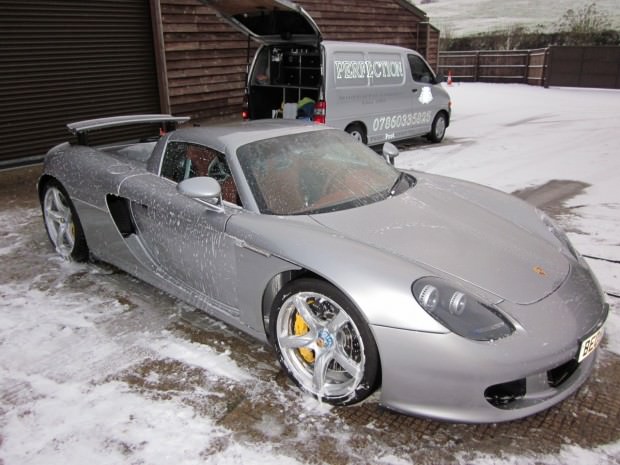 Q. No doubt you've been called to work on some impressive collections, do any particulars stand out?
I do work on several large collections, although the 250 GTO was part of a very valuable and exclusive collection of classic and modern Ferrari I must say it's another clients collection that sticks in my mind as being my favourite. He has managed to aquire almost every car on my dream list! Not only is each of the cars a perfect example of what I would buy but they're also in the exact colours that I would choose, needless to say I am incredibly envious. It consists of a BMW M3 CSL, BMW Z1, BMW M5 V8, Porsche 968 CS, 928, 996 GT3, 997 GT3 RS 3.8, Carrera GT, Ferrari 550 Fiorano Pack & a Caterham.
Richard is very passionate about his work but he also shares his often hectic life on Twitter and is well worth following if you want to see some very rare metal from time to time – @perfectionvalet. You can also contact Richard by email at [email protected]