Spinning The Rear: MotoGP Race Report – Le Mans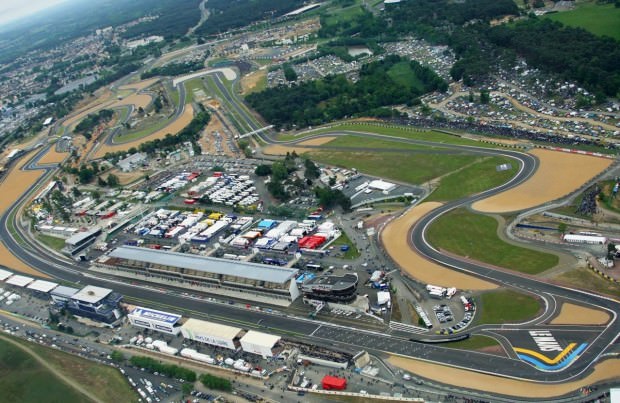 Le Mans hosts the French round of the MotoGP world circus and it's a chance for all of us to drink too much wine, not shave our underarms and enjoy the sunshine. But like a peeved Parisian, France wasn't playing ball and the thunder clouds were rolling in. The biggest of them all being the thunderbolt of Casey Stoner's announcement at the press conference.
Casey had decided much like France in the early 1940's, that he'd had enough and was giving up. Stoner, who is undoubtedly the best rider in MotoGP at the moment, and never shy of a little whinge, rode the media shockwave perfectly allowing him to effectively blame everyone in and around the MotoGP paddock for leaving.
With the dust settled qualifying was up and it was a strange session with damp/wet/god-knows conditions. The track did progressively dry only to rain in the final 2 minutes relegating last lap specialists Stoner and Jorge Lorenzo to 2nd and 4th and gifting pole to Dani Pedrosa with Andrew Dovisioso rounding out the top three. Elsewhere Valentino Rossi had managed 7th on a Ducati that was looking marginally better than a sick turtle with home hero Randy DePuniet managing 12th squeezing out Stefan Bradl on the LCR just before Bradl's LCR squeezed him off at about 160kph, leaving the German dazed but un-hurt.
Race time loomed and along with it the rain. Now I don't know about you but if you've got something French and its already wet, you know you are in for 40 minutes of fun. This would prove no exception and it was drama from the drop of the lights as RDPs bike got so excited about the start of the race that it prematurely ejected itself from underneath Randy leaving the French rider looking very unsatisfied. He grabbed the spare bike but his race was done. First to turn 1 was Jorge Lorenzo who took the lead with a brilliant banzai style launch from 4th overtaking the HRC duo of Stoner and Pedrosa. Dani, allergic to height and apparently allergic to rain too, dropped away from the lead pack and was swallowed up by the Tech 3 Yamahas.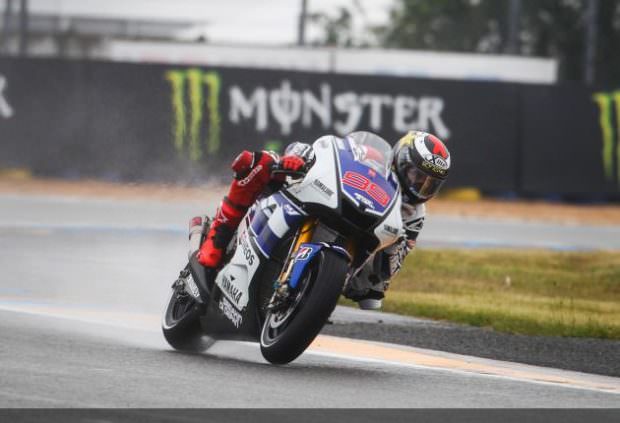 With Cal and Dovi engaging in yet another epic battle it took a while to notice that the red thing behind them was in fact Valentino Rossi closing on the Ducati. Rossi wasted no time in pouncing on the Yamaha's and was chasing down Stoner when his pace suddenly dropped off (later found to be some rogue olive oil in his visor after a particularly good linguine). Dovi and Crutchlow were quick to attack, Crutchlow in particular snatching track position off Rossi like the last meat pie in a room of hungry football fans. The next few laps were glorious as all 3 traded positions. Something had to give, and it was Cal who gave it including himself and his bike to the gravel at Turn 1 before Dovi, who didn't want to be left out, also went pirouetting arse first into the gravel a short while later. They both remounted but their podium dreams were over.
Up at the front Jorge was showing nothing but Grade A class in the wet to add to his Grade A smugness. Stoner, though keen to give up on MotoGP, had clearly not given up on racing and was trying mightily to catch Jorge – all the while Rossi was closing. With a handful of laps remaining Rossi finally bridged the gap to Stoner. The last time the two had met in the wet Rossi had taken out Stoner, would it happen again or was this going to be another Estoril let down? The answer was neither. Rossi struck the first blow in the chicane only to be retaken immediately and for the next few laps the gods of MotoGP tangoed for 2nd position, each move matched and countered in the treacherous conditions. The battle was better than watching Scarlett Johansen vs Jessica Alba in a naked jelly wrestling match and it reminded us all why we watch this sport.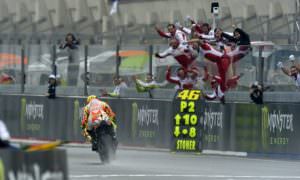 In the end Rossi had the better grip and dispatched Stoner to third as Jorge cruised over for the win. Though the Spaniard drank in the crowd the cheers were for Rossi and Stoner who exchanged thumbs up and handshakes. It was more heart warming than 15 sleeping kittens, (or Scarlett and Jessica making up, whichever you prefer.)
At the CRT end of the field the riders were mostly falling off or in Yonny Hernández's case just getting in the way of the leaders whilst being lapped, which amazingly allowed James Ellison to take out the top CRT spot. Hard to believe but there he was in parc ferme. The most hilarious part was watching one of these famed MotoGP rivalling "bikes" being pushed across the line to finish the race. CRTs, so embarrassing, some won't even ride them!
With a thrilling race over the rider of the race had to go to the number 46. Seeing the ex-world champ battling at the front with Stoner was a joy and considering it's on the awful Ducati, 50to70 salute you.
Winners and Losers
Jorge Lorenzo
After a poor outing in Estoril and an even poorer qualifying here in Le Mans, Jorge had a great race. Easily outpacing future pensioner Casey Stoner to return to the top of the championship standings.
Ben Spies
Cal Crutchlow on a lesser bike, managed to fall off his bike, pick it up and re-join to finish in the Top 10. Ben had to come in to wipe his visor and still finished 16, BEHIND Yonny Hernandez. Considering how incredible Ben was last season you've got to wonder how it's all gone Iraq Pt2 for American.
Next up is Spain (again) or Catalunya to be exact. The scene of some epic battles before. Will we see them again? Probably not unless it's raining, but you never know.
See you there.
JohnnyC