The Volkswagen Up is very 2012. Volkswagen have clearly put a lot of thought, consideration and effort into their new small car and it shows. You see the Up isn't just another micro sized city car, this is a car that will make owners of bigger cars re-think why they need to have a car of that size. 
First there's the mechanicals of it. Under that short bonnet lives a three cylinder engine producing 75bhp which may sound like barely enough to keep your iPhone 4S charged but trust me this engine is a little corker. It pulls very well away from the lights and emits a great engine note as you'd expect from a three pot. Volkswagen's claimed 0-100km/h time is 13.2 seconds but to be honest it feels nippier than that – this is a city car remember!
Equally impressive is the fuel economy. Granted, we all know to take manufacturer claimed figures with a pinch of salt but the Up did return some pretty respectable mileage from its tank – I did almost 400kms in a week that consisted of almost all city driving, lots of first-second-stop-driving and I still had well over a quarter of a tank left. All of this eco-ness drops the Up into Tax Band A which is currently €160 to tax for the year.
Then there's the interior which is rather deceptive. I must try hard not to use the usual cliches such as 'tardis-like' but the fact of the matter is that the designers in Volkswagen have been very clever at how they have approached the packaging of the Up. Pushing the wheels out as far as possible frees up plenty of legroom for front passengers while at the back gives it a deep enough boot (251 litres) for a car of this class.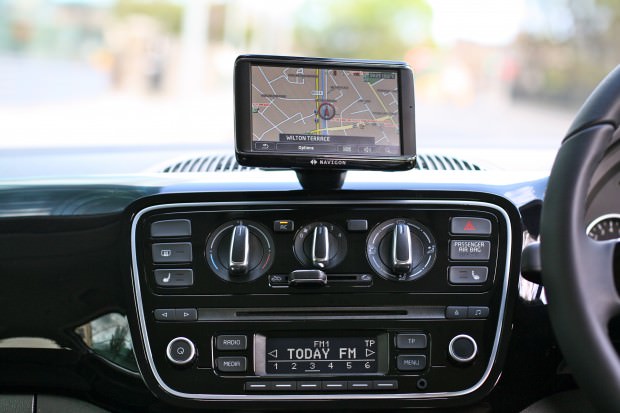 The dash design is minimalist cool and the clocks (same that appear in the new Beetle) are simple and very clear to read. The high roofline helps add the the airy feel inside as do the slim A-pillars and tall windscreen – all of which makes visibility excellent. Its long doors make access easy although I did find them a little long if you were to find yourself in a tight multi-story space. One clever touch I love is the way the rear view mirror is the perfect size in which to show the entire rear window. That's Germans for you.
Despite its diminutive size the Up still comes with plenty of technology too across its three spec levels (Take Up, Move Up & High Up). Standard in all three are electric windows, heat insulating glass, ESP (traction control), a full sized spare wheel (something a lot of Mini owners miss) as well as an emergency brake system which at low speeds automatically brakes if it senses that you're going to drive into the car in front – prevents all those embarrassing tips that you could have when you're creeping along in traffic. Standard equipment also includes body colour bumpers whilst the High Up spec that I drove had heated seats! Maps And More is an optional dash mounted sat nav which also includes Bluetooth functionality, media storage as well as a 'Think Blue' app that monitors your driving and encourages you to drive more economically. Sounds a bit cheesy but its actually kind of addictive.
Volkswagen have really moved the small car game on with the Up. They're made a very practical small city car have enough appeal that I can seriously see people downsizing to this. This is made a more realistic option thanks to just how solid the Up feels on the roads. For a little car its got a reassuringly solid feel to it and even at motorway speeds its quiet enough for polite conversation. My only real gripe is the seeming lack of proper insulation in the rear wheel arches meaning that you can hear everything hitting the inside of them – rain sounds like a car wash while small grit sounds worse! Its nit picky I know but is something that would annoy me during ownership and also bugs me that Volkswagen have made a near perfect car and then overlook this small thing.
That said, for a new car with this much quality starting at just €10,995 must have some manufacturers fairly worried. And I would expect it to be even more popular when the four door version arrives down the line. This car shouldn't just be considered by city car buyers, this could easily replace some bigger models on driveways.
Test Drive Distance: 393.6kms
Road Tax band: €160
Price: From €10,995  (€13,798 as tested)
Available: Now
For more images visit our Facebook page here
Got a question? You can tweet Dave – @lordhumphreys